Athlete of the month: Ellie Bushnell's got drive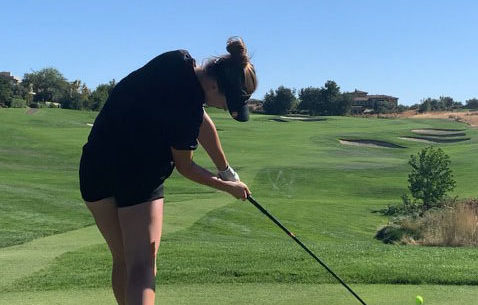 On the course, senior Ellie Bushnell's drive typically takes her 260 yards down the fairway.
Off the course, Bushnell's drive -a mixture of competitiveness, enthusiasm and compassion- has taken her to three top ten finishes at the 2019, 2021 and 2022 CIF State Girls Golf Championship and to Oklahoma State as a Cowgirl golfer in the class of 2027. Bushnell aspires to play professionally.
Though Bushnell had only been playing for four years before becoming a Grizzly golfer, her poise was phenomenal.
Following the footsteps of her father, a college golfer himself and Bushnell's role model, Bushnell entered her freshman season with a runner-up finish at the prestigious IMG Championships and matched her pedigree with one of the best freshman seasons across any Grizzly sport to date. 
If Bushnell's season was a score, it would be best exemplified with her 67 (-5) to claim the Norcals title and the new course record at El Macero Golf Club. 
When varsity girls golf and varsity boys basketball coach Jason Sitterud first met Bushnell, he could already see her potential. 
From the get go, Sitterud saw Bushnell's personality as a strength.
"She's just kind of goofy and you can't help but laugh around," Sitterud said. "I think she also builds kind of comfort, because you always know Ellie's going to (score) well, so it's a bit less pressure on you as a teammate. She's always apt to do anything, try anything and…to help anybody."
Longtime friend and teammate Lauren Pierce notes that Bushnell didn't seem as energetic as she is today; they first met in elementary school at Granite Bay Golf Club's girl's golf championship. 
"My first impression (of her) was that she was not very talkative but I still spent most the round trying to have a conversation with her," Pierce said. 
Half a decade later and Pierce's favorite thing about Bushnell is her humor and, on the course, her uber precise attention to detail. 
Bushnell was inspired by prior captains Hannah Harrison and Anika Varma. Bushnell, her teammates and her coach all describe her leadership styles as "goofy and passionate" and like the "good friend" she aspires to be.
"Ellie is very motivating, and she always tries her hardest to make sure we're on the same level and that we feel like we're a part of a team," Pierce said. 
Varma sees Bushnell's ambition and passionate goal-setting as major players in her success. 
On the course, Bushnell says she's stuck to a "focused and serious approach" and positive mindset for success. Bushnell kept busy after her 2021 high school golf season was canceled— winning five Junior Golf Association of Northern California (JGANC) titles, including the Inaugural Sacramento Valley Women's Amateur Championship at Haggin Oaks Golf Complex, showing mastery of her golf game at one of the places where she had first learned it. 
But Bushnell said her proudest moment over her high school career was in 2021 at the CIF State Championships. 
"Being able to learn to deal with the (high) pressure (moments then) … was tough for me but staying positive through the whole time … and learning from those mistakes I made was really beneficial," Bushnell said. 
Under the watch of college coaches and blustering wind, Bushnell posted a solid score and left with a CIF Team State Championship title on her bag. 
"You earn your trophies at practice," Bushnell said. "You just pick them up at competitions."
"
You earn your trophies at practice. You just pick them up at competitions."
— senior and Varsity Girls Golf captain, Ellie Bushnell
Bolstered by Bushnell and three of her teammates one over par scores (to tie for an seventh in the individuals) GBHS' girls varsity golf team took their first CIF Team State Championship title in a doubly record setting fashion: not only was this the first state championships title in school history in any sport, but the team also broke the state scoring record (+16 with five recorded scores)!
In her senior season, 2022 was a time for Bushnell to finish what and like she had started. 
Beginning the year, Bushnell led the team to NorCals and won the individual title. She then finished ninth in the individuals at the CIF States Championship at the Reserve at Spanos Park. 
In Oct. 2022, Bushnell also formally announced the exciting news of her college signing as a Cowgirl. After a six-month signing process, Bushnell said she's excited to meet her teammates and develop new relationships, while staying connected with the old.
"What I'm really going to miss about Grizzly golf is all of the great relationships I have with all of my teammates, and all the great memories we shared in all of the fun tournaments we went to and all the fun van rides we had," Bushnell said. "I would like to give a shout out to Coach Sitterud and Healy for making the four years of my high school golf career amazing and so much fun and super personal." 
Reflecting on herself at the tee freshman year, Bushnell said after going the distance in high school, her game, especially her mental game, has, too. 
"When she was a freshman it was just kind of a hit and chase but as she's growing she has become more focused on course management, how to utilize your skill set and kind of take what the course gives you the confidence to be able to shoot those scores," Bushnell's high school varsity coach and GBHS teacher Jason Sitterud said.
As Bushnell walks down the fairway, one thing is clear; Bushnell's got monstrous drive on and off the course.
Just how far, will she drive her distance?
About the Contributor
Sarah Yee, Editor
Sarah is a junior and editor of the Features section. This is her third year on the Gazette staff.