Athlete of the Month: Davis Abell controls the court
The years of hard work and dedication that junior Davis Abell has put into his basketball career continues to show as he dominates on the court.
As a child, Abell liked to toss the baseball back and forth and throw the football every once in a while, but it was basketball that had him begging his parents to play in the driveway for hours. 
"It was his calling," Abell's mother Tammy Abell said.
Following in the footsteps of his parents, his biggest motivators, who also played the sport in their youth, Abell joined the Varsity basketball team as a sophomore after playing on the JV team as a freshman.
Having played basketball since preschool, the sport has always been a huge part of his life. Abell gained interest in the sport by watching NBA games with his family and seeing friends play at recess. 
"It was something we could do with him. So we spent many hours out in the driveway playing horse with him," Tammy Abell said.
All the hours spent in the driveway have paid off as Abell has crushed it on the Varsity team since his sophomore year. It's not only his skills that have made him so successful, but rather his strong work ethic that has helped him get to where he is today. 
"Abell embraces his role and he is always there for his teammates; he puts in all the time and effort that people don't always see," Varsity basketball coach Jason Sitterud said.
Even though Abell puts in effort that people might not see, his incredible sportsmanship is something that has not gone unnoticed.
"When he was younger he would go back into [the game] and encourage people and be a good role model," Tammy Abell said.
Off the court, Abell prioritizes his physical health and perfecting his skills so he can perform at the best of his ability.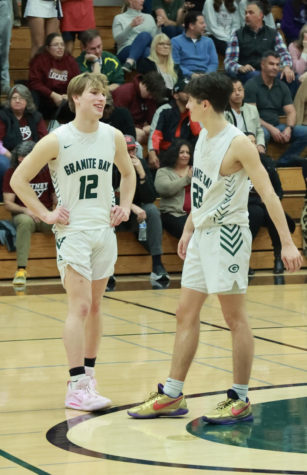 Abell's hard work and dedication to his team is something that can't be replicated. His passion for the sport is what drives him, not the pressures that could come with playing a sport.
"We were struggling against Rocklin when Abell comes out and he says 'just give me the ball, I'm scoring'… and so I passed him the ball and he did just that," teammate Tanner Lawrence said. "That was our big moment of the year."
Although Abell has had many achievements like helping lead his team to the section finals this previous season, to growing and perfecting his skills through the years, Abell's biggest accomplishment speaks more to his character than his abilities as a player.
"My biggest accomplishment has been earning the respect of all my teammates and friends," Abell said.
Beyond just his teammates, Abell connects with another integral part of his game: Coach Sitterud. One of the proudest moments as a coach that Sitterud had was watching as Abell's resilience kept a bad game from getting to him.
"I think he had a rough game with the section finals, but then the next two [tournament] games he played tremendously. So even though he had a rough patch, he didn't pout and he came back and played great," Sitterud said.
Abell's commitment to the sport helps him grow and improve himself everyday, from working with trainers, to dedicating his free time to perfecting the sport.
With a senior year still ahead of him, Abell looks forward to the prospect of college basketball – specifically Clemson University where his father attended 3 decades ago.
However, despite Abell's legacy potential at Clemson, his parents are supportive of any decisions he may come to. 
"When you start talking about playing in college and all that that entails, we just want him to go to the place where he is going to be happy, and it's going to be fun," Tammy Abell said. "I want him to enjoy it."
About the Contributor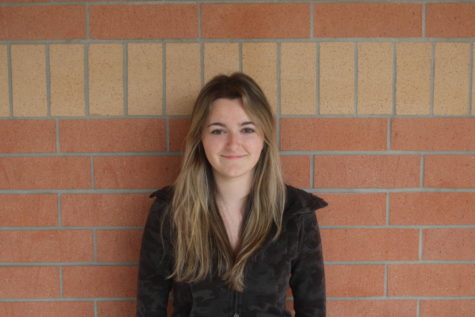 Sofia Baumgartner, Assistant Editor
Sofia is a senior and Assistant Opinions Editor. This is her second year on the Gazette staff.