Athlete of the Month: Drew McKown hits it home
When did you first start playing softball?
"I started playing when I was five years old and then I was on a recreational team before switching to travel ball when I was 10. And then I've just been playing softball ever since."
What was your inspiration to start playing?
"My mom played when she was little, so she wanted me to play too, so she signed me up. But ever since then, I've just loved it."
Who do you look up to most when it comes to softball?
"One of the players that I like to watch a lot is a college player named Sis Bates. She's so fun and athletic, and I just look up to her a lot."
How long have you been playing for Granite Bay softball?
"I've been playing on Varsity for all four years."
Do you play softball outside of the school season?
"Yes, I play travel ball. Every summer we travel around the country and play really good teams, which is super fun."
What is your biggest accomplishment in softball?
"Probably with my travel team in 2021, we won the Premier Girls FastPitch National Championship in Los Angeles."
What has been your favorite aspect of playing softball?
"The competitiveness and the fact that it also keeps me in shape a lot too. Plus, it teaches me a bunch of life lessons that you can use in the real world."
What has been the most challenging aspect of softball, and how have you overcome it?
"You fail a lot – like 70% of the time. So it's a lot of failure, but you just have to learn how to overcome it."
How important is the collaborative aspect of softball to you?
"It's very important because you have to always be talking on the field and communicating with each other. For example, if you're going for a ball, you have to know who's going for it, or else it could lead to collisions. So maintaining communication with my team is really important."
What motivates you to improve? 
"My goals; I'm playing in college next year, so I'm always trying to improve so that I can be the best when I go there because I know it's going to be a big jump. So what really motivates me is trying to be successful now so that it can pay off in college."
What was the journey to committing to Utah Tech University for softball like?
"It was a long journey. I've been emailing colleges ever since freshman year, just trying to get my name out there on social media, tagging coaches and all that. And then (Utah Tech) saw me at a tournament in Vegas and really liked me, so they invited me to their camp. And then ended up liking me even more while I was there. So then, like a couple months later, they gave me an offer. I really loved it at Utah Tech, so in March of my junior year, I accepted it."
Do you feel at all wary about heading into college softball?
"It's always a little nerve wracking, especially going to a different state and being away from my family and friends. But I'm overall very excited."
Do you have any advice for upcoming student athletes? 
"Do your best, always just have that competitive mindset and just push yourself to be the best that you can."
About the Contributor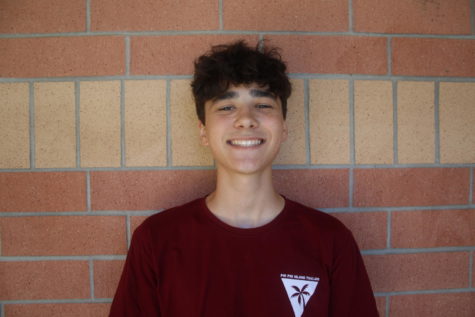 Ethan Shohet, Editor
Ethan is a senior and Editor of the Sports section. This is his second year on the Gazette staff.