Athletes of the Month: CJ Herring & Ellie Bushnell
For March, GBHS students CJ Herring and Ellie Bushnell talk about their achievements in athletics.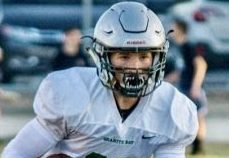 CJ Herring, Football
It's 4th & 1 on the goal line and you need to get the touchdown to win the game. Who should you give the ball to? CJ Herring.
Herring, a sophomore running back for the football team at Granite Bay High, has exhibited great potential in his sport. As Herring and the team get back into their current season, he's looking forward to the continued success of his GBHS football career.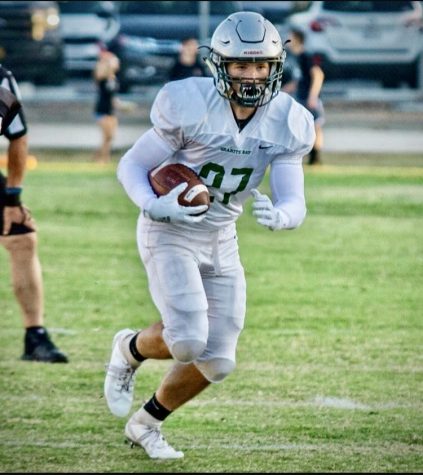 In the next few years, Herring hopes to get a full-ride scholarship to any college for either football or rugby (yes, he plays both).
He is going to have to continue to improve his power, speed, elusiveness and agility; which he believes are some of his strengths as a running back. But Herring also realizes where he struggles.
"Like every athlete I have weaknesses," Herring said. "Sometimes I can be way too hard on myself, and I just need to realize that if I want to get to the point where I want to be in my life, I need to look at how I can improve my weaknesses instead of punishing myself for them."
Outside of football, Herring enjoys drawing, hanging out with his family, drinking G fuel, and playing video games with "his boys."
He looks up to New York Giants running back Saquon Barkley for his perseverance.
 "(Barkley) has overcome a lot of obstacles in his life and has put in the extra work to be a great football player," Herring said.
At school, Herring is not only involved in football, but plays rugby, is a member of the Pink Ladies (Breast Cancer Awareness) Club, and the Car Enthusiast Club. 
As Herring moves forward in life, he hopes to continue to do well in school and become a better athlete and person everyday. If he continues to put in the work the way his idle Saquon Barkley does, he is sure to accomplish big things in his life on and off the gridiron.  
Ellie Bushnell, Golf
A school bus full of puppies is hanging over the edge of a cliff. To save them, someone has to sink a 35 foot, downhill, double breaker putt. One probably thinks, "Oh Tiger Woods could do it." but he can't right now because his legs are broken.
Jack Nicklaus? No he's too old, and doesn't have the sauce he used to. Granite Bay sophomore golfer Ellie Bushnell? That's a pretty good option.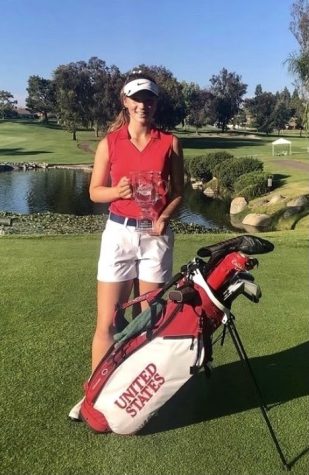 Bushnell has been playing golf since the age of ten and has exhibited great skill in her game for the past six years.
"I really look up to my dad for the amount of time and energy he spends daily to help me improve my golf," Bushnell said. "He also teaches me a lot of the things he knows about the game." 
Last year as a freshman, Bushnell was on the varsity golf team, where she was able get fourth place in the CIF State Championship.
Outside of school, she has played in other big tournaments across the country, including the 2020 Callaway World Championship, the FCG National Championship, and finished second in the IMG Junior World Championship.
In the next few years at Granite Bay, Bushnell hopes to play well enough to get a scholarship at Notre Dame, Stanford, USC, or UCLA.
After college Bushnell hopes to play professionally on the LPGA tour. In her golf career outside of school, her short term goals are to hopefully qualify for the women's U.S. Open this year, and the girls U.S. amateur as well.
Her top priorities currently are to see continuous improvements in her golf game, maintain good grades, keep a healthy, maintained relationship with her family and friends, and to have a happy, stress-free life.
Like all athletes, she considers what she needs to work on and what she succeeds at.
"(I can be) too complacent about things I need to work on in my game," Bushnell said. "One of my strengths, however, is learning from those mistakes not letting bad shots affect me during my rounds."
As Bushnell continues to work hard and become a better golfer, she is bound to be very successful in her sport. Are we going to see her on the LPGA Tour? Only time will tell.