Walkout prompts discussion about LGBTQ+ support
On Mar. 31st, over 120 students, parents and community members called for support for LGBTQ+ students by gathering in protest outside of the Roseville Joint Union High School District office.
The walkout was in response to the district banning the Landing Spot from operating on RJUHSD campuses. RJUHSD announced that it was cutting ties with the Landing Spot after a Project Veritas video was released in which Pastor Casey Tinnin, who runs the support group, was recorded without his knowledge sharing information about the Landing Spot and how it services LGBTQ+ youth.
The Landing Spot is a non-denominational support group for LGBTQ+ students that also holds events and organizes activities for students. The Landing Spot meetings are often held on RJUHSD campuses and are described by many to be the only resource solely for LGBTQ+ students other than GSAs, if a school has one. 
Oakmont High School senior and Gender Sexuality Alliance President Isabel Henderson attended the walkout with classmates and members of the GSA.
Most students in attendance were from Oakmont, due in part to its proximity to the board office. 
"The protest was a way to say we're here, we're not going anywhere. I hope the community can grow stronger by the fact that we're still willing to fight." Henderson said. 
The afternoon walkout took place on International Transgender Visibility Day, with protesters holding flags and posters with messages such as "Landing Spot Saves Saves Saves" and "Stop the Hate" to express their frustration with the district and what they want to see moving forward.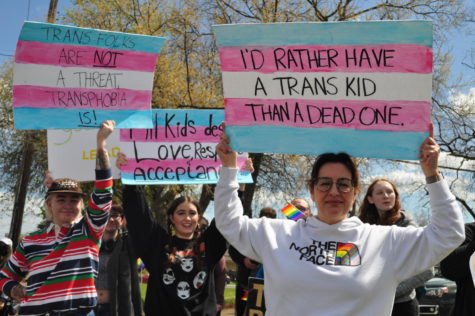 Ellen Dubach-Riley, a resident of Roseville for over 20 years with two children who graduated from the district and walkout attendee, stressed the importance of the Landing Spot for students.
"The Landing Spot was a unique resource that the wellness centers cannot replicate," Riley said. "Students that had developed a trust relationship with the Landing Spot, have lost a vital resource."
Henderson remembers the reaction she and her fellow classmates had when it was announced that the group would no longer be welcome at RJUHSD schools.
"I was hurt. I was mad. I was sad. I was frustrated. I had members of my GSA crying when they found out," Henderson said. 
Riley, a lesbian, said the best part of the walkout for her was the youth turnout. 
"It's not just us old folks, you know, out there still fighting for gay rights. It's the kids themselves speaking up and I truly believe that generation recognizes that people are people," Riley said. 
Michelle Hobbs attended the walkout with her three children, two of which are in high school in the El Dorado Union High School District. 
"This conversation has been with them since they were old enough to understand that you have to be the voice and show support (for) what you believe in and be an ally," Hobbs said. "My eldest child has been to other rallies in Sacramento before, but my other two, this was their first experience and so I thought this would be a really great way to have them go to their first rally…I've always taught them to stand up for what they believe in and this is a huge way to do it, sometimes our actions are better than words."
Daniella Zimmerman is a retired educator in the Rocklin Unified School District and a current Board Member of PFLAG Greater Placer County, a local chapter of PFLAG. PFLAG is a non-profit organization founded by the mother of a gay man in 1973 that is "dedicated to supporting, educating, and advocating for LGBTQ+ people and those who love them." 
Zimmerman says she understands the community desire to protect students, which for some meant removing the Landing Spot from schools.
"If you're really serious about protecting students, then you need to protect all the students, which includes all the LGBT students," Zimmerman said.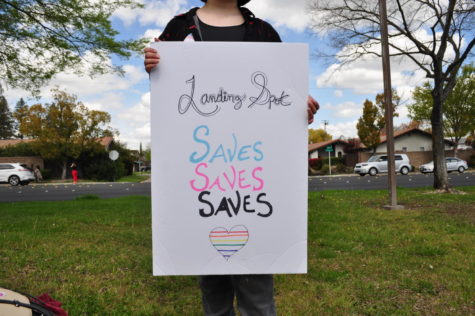 Zimmerman pointed to statistics of suicide rates among LGBTQ+ youth, who are "more than four times as likely to attempt suicide than their peers" according to the Trevor Project.
"One person can reduce the chances of an LGBT teen for example, becoming involved in drugs, becoming suicidal, becoming involved in harmful relationship," Zimmerman said.
For Hobbs, the RJUHSD's decision to remove the Landing Spot from schools was representative of a growing national movement against transgender youth and transgender youth health care. 
"Mental health for these kids is so important and that's why taking away the Landing  Spot really hit a sore spot for me." Hobbs said. "I really do think politicians are using everything that's going on with the news right now, about trans youth (and) trans youth health care… to take away from other issues that really matter. It's not about protecting children… it's about using this group of children as a…deterrent and scapegoat for other issues they're ignoring."
Alongside Zimmerman, Jen Brookover is another former educator from the Rocklin Unified School District (RUSD). Brookover served as the co-advisor of the Gay Straight Alliance club (GSA) at Whitney High School and ran for the RUSD school board in 2022. 
"It was a very powerful event," Brookover said of the walkout. 
Brookover emphasized that the Landing Spot volunteers receive background checks and clearance to be volunteers on school campuses. 
"They were invited by these districts including Roseville (Joint Unified)," Brookover said. 
After the Project Veritas video came out, RJUHSD sent a Mar. 20 email to parents in the district saying that they had contacted Child Protective Services to "advise them of the matter so they can ensure no students have been harmed."
Brookover expressed concern about how RJUHSD responded to the Project Veritas video and their action to cut ties with the Landing Spot. 
"It's beyond disturbing and beyond scary when the Board of Education is behaving in this way and is just adding fuel to the fire," Brookover said.
The Landing Spot has held meetings across 6 RJUHSD high schools for years, including Granite Bay High School. In Feb. 2023, the district revoked their permission to host what would have been the Landing Spot's third annual student drag show fundraiser to fund their summer camp, Camp Fruitloop. The drag show would have been hosted at Roseville High School.
The drag show's cancellation was the focus of the following Mar. 9 RJUHSD board meeting and on the Landing Spot's social media, where they received significant engagement on a post about the upcoming drag show event. 
As to how the district can move forward in supporting LGBTQ+ students, for Henderson and Riley, there isn't one clear path. 
"I think they'll try to take action as best as they can. But the damage has most certainly been done and I don't think that the relationship they have with the students will ever be fully amended because they've deeply hurt us with this," Henderson said.
Riley would like to see a change in leadership within the district, following her meeting with Board President Pete Constant, in which they spoke about the Mar. 23rd board meeting that was interrupted by a Proud Boy and protest from multiple attendees. 
"His perception is that it was the audience at the school board meeting that presented the threat of violence. Not the Proud Boy who was speaking," Riley said.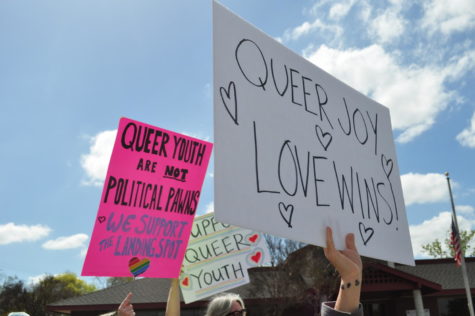 Most attendees reported hearing about the planned walkout from social media or friends. 
The walkout was organized by Parents for Social Consciousness, a group on Facebook and reposted by other community accounts including diversifyyournarrativeargb, a student-led organization that advocates for education equity and represents Antelope, Roseville and Granite Bay High School. 
A walkout was also held by students at West Park High School simultaneously, in support of the one at the district office. 
Brookover, who knows Tinnin, and attends Loomis Basin Congregational United Church of Christ, the church that the Landing Spot operates out of, said the RJUHSD did not respond appropriately to the Project Veritas video of him.
"I would like to see some kind of an apology regarding the impulsive reaction to believing a far-right extremist group like Project Veritas without doing any kind of investigation," said Brookover. "They're adding to the slander of (Pastor Casey,) who's been going to the schools for years and has been part of this county for almost a decade or two and has literally saved lives. 
Zimmerman said while the walkout may not result in action from RJUHSD, it sent a message to the LGBTQ+ community. 
"You are valued. You belong. You are supported by more people than you know," Zimmerman said. 
About the Contributors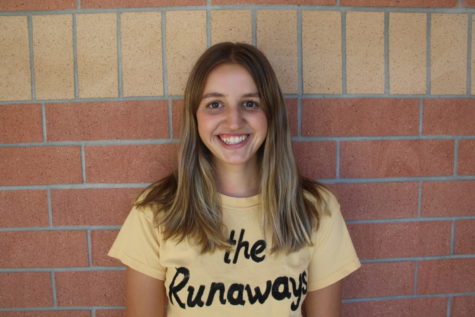 Elise Fisher, Co-editor-in-chief
Elise is a senior and Co-editor-in-chief. This is her third year on the Gazette staff.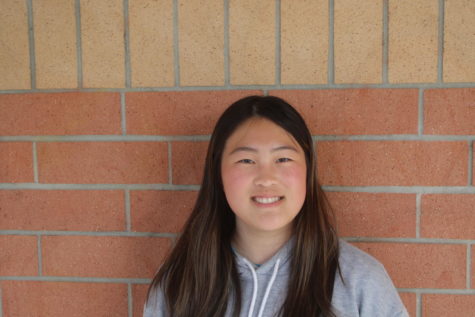 Rachel Guo, Co-Editor-in-Chief
Rachel is a junior and co-editor-in-chief. This is her third year on the Gazette staff.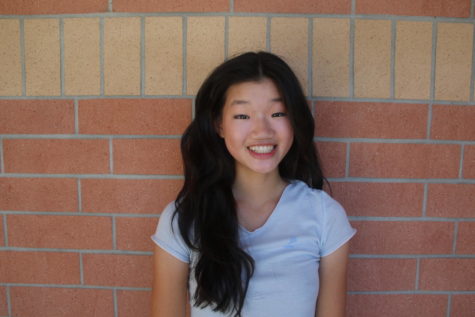 Sarah Yee, Co-Editor-in-Chief
Sarah is a senior and co-editor-in-chief. This is her fourth year on the Gazette staff.