From publication to Proud Boy arrest: Project Veritas video stirs community controversy
A controversial video released by Project Veritas has provoked strong sentiments from the community.
Far-right activist group Project Veritas published a compromising video of Loomis Basin Congregational United Church pastor and Landing Spot founder Casey Tinnin on Mar. 19. The video featured clips of Tinnin saying that he discusses gender and sexual identity with children without parental acknowledgment and calls CPS when parents misgender their kids. 
In the eight minute video, two undercover members of Project Veritas, posing as parents seeking support for their transgender child, meet with Tinnin to discuss the Landing Spot's programs. According to the Landing Spot, the activists illegally recorded their conversation with Tinnin and edited the video to discredit the church.
Under CA Penal Code § 632, recording is a "crime punishable by fine and/or imprisonment to record a confidential conversation without the consent of all parties."
Project Veritas has been involved in multiple lawsuits concerning allegations of deceptively edited videos, illegally recorded conversations, violation of wiretapping laws and repeated publishing of misinformation. 
Last year in a federal civil case, Project Veritas was ordered to pay $120,000 to political consulting firm, Democracy Partners, for fraudulently misrepresenting itself and breaking wiretapping laws. 
Under false pretenses, a Project Veritas member was hired as an unpaid intern at Democracy Partners, where they taped conversations and stole documents. The trial found that Project Veritas heavily edited the videos from its operative to discredit Democracy Partners, which was working with Hillary Clinton's presidential campaign.
In a statement released on Mar. 24, the Loomis Basin Congregational United Church of Christ stated that it is "exploring legal action against Project Veritas."
"In the midst of a national political attack on the LGBTQ+ community, we are committed to walking in the way of Jesus. This means that we stand with the most marginalized communities including LGBTQ+ individuals, and we stand against religious extremism that would cast these beloved people out," Tinnin wrote in the statement. "We understand that the arc of justice is long, and we are committed to building a safer, kinder, and more welcoming Placer County for all of God's people."
Earlier this month, the Landing Spot, a non-religious LGBTQ peer support group, canceled its drag show, scheduled to be held at Roseville High School, after an outburst of public criticism from community members. Since the cancellation of the event, the Landing Spot and Tinnin have continued to receive threats. 
"
We would like to be clear that the video does not represent our district and community values, nor the important work of our Wellness Centers and dedicated staff.
— John Becker, Superintendent
RJUHSD released a statement on the Project Veritas video on Mar. 20.
"We share the concerns expressed by students, parents, and members of the broader community," Superintendent John Becker wrote in the statement. "We would like to be clear that the video does not represent our district and community values, nor the important work of our Wellness Centers and dedicated staff."
Becker also wrote that the District has "no intention of pursuing any contractual agreement of services with, or referrals to, the Landing Spot."
"Given statements by Pastor Tinnins in the video, along with other related concerns, RJUHSD staff has contacted the Roseville Police Department and Child Protective Services to advise them of the matter so they can ensure no students have been harmed," Becker wrote. 
The Mar. 23 RJUHSD board meeting was held at West Park High School. In response to anticipated high attendance, meeting capacity was capped at 175 community members. The board cleared the planned agenda to meet high volume demands for public comment. 
Activists from Project Veritas and the Proud Boys were present at the meeting.
During the public comment section, one community member relayed a written statement from Tinnin.
"I am worried that our LGBTQ+ youth must live in a world so riddled with disdain for them. Unfortunately, the board has so far fanned the flames of hate," Tinnin wrote in his statement. "The statement that Superintendent Becker and President Constant put out was filled with misstatements. It gave legitimacy to the work of discredited provocateurs who illegally recorded video and manipulated it to fit their hateful narrative as they have a long history of doing. It didn't give a fair account of the life-saving work the Landing Spot has been doing in our district for years or the facts that district staff knew at the time … I am disappointed, but I will not be silenced."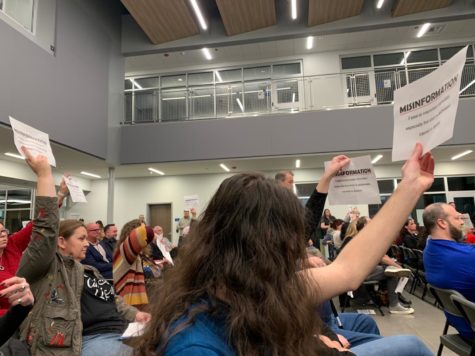 In his message, Tinnin wrote that, following the publication of the Project Veritas video, Proud Boys had been outside of his home, calling him a "groomer" and a "pedophile" through a megaphone. Tinnin also received death threats and bomb threats.
But the meeting was adjourned early after Proud Boys member Jeffrey Perrine admitted to harassing Tinnin at his residence. Perrine said that he was going to go to Tinnin's house again and encouraged the community to join him. During his comment, Perrine also flashed a white supremacist symbol, garnering protest from multiple attendees.
President of the board Pete Constant promptly adjourned the meeting following Perrine's comment. 
Perrine live-streamed the entire board meeting on YouTube, including him leaving the venue and verbally fighting with other community members. A number of attendees also thanked Perrine.
The Gazette has obtained additional footage of the Mar. 23 RJUHSD board meeting and the events that transpired after adjournment.
"School board meetings must be open to the public. The board cannot restrict public access, nor can we control the content of any attendees' speech, as long as the subject matter is within the broad jurisdiction of the school board." Constant wrote to the Gazette.
Constant says RJUHSD is working closely with the Roseville Police Department to ensure the safety of board meeting attendees.
"
Unfortunately, the board has so far fanned the flames of hate.
— Casey Tinnin, Pastor and Landing Spot founder
"I think I can speak on behalf of the board and district to say that no one condones hate groups or white supremacist groups," board member Heidi Hall wrote to the Gazette. "As for board policy changes, I don't foresee a need at this time for any change, as we have the utmost confidence in Roseville PD and will be continuing our partnership there to keep meetings safe and secure. Excellent work was done by Roseville PD to help clear the meeting and keep all parties safe."
Since 2021, Perrine has spoken at more than five school board meetings in the RJUHSD and other local school districts. Perrine recorded his public comments during board meetings from Lincoln High School, Roseville High School and the San Juan Unified School District, then published them on YouTube.
Last year, Perrine was a candidate for Area 5 of the San Juan Unified Board of Education. Perrine confronted Ben Avey, another candidate in the election, at a campaign event. Avey later won a seat as a San Juan Unified school board member in Area 6. Perrine lost in Area 5, receiving nearly 21% of the vote. 
Perrine also ran as a nonpartisan candidate in the November election to represent District 7 in the California State Assembly. He received nearly 19% of the vote.
At approximately 9:00 p.m. on Mar. 23, Perrine began a second live-stream outside of Tinnin's residence titled "Pastor groomers house day 2."
Perrine and a number of unidentified community members protested outside of Tinnin's house with a megaphone and repeatedly called Tinnin a "groomer boomer." 
"I'm going to be here every day until this groomer decides to leave. This fat, disgusting pedophile groomer needs to know that he is not safe in this community," Perrine said on the livestream.
Perrine also released Tinnin's address on the stream.
At one point in the livestream, Perrine alleged that another individual was holding a knife, attempting to harm those outside of Tinnin's residence. This unidentified individual was never shown on the livestream, but according to Perrine, the individual was subdued and maced by another attendee at approximately 9:45 p.m.
"
You think you are going to silence me with a misdemeanor? … I have no problem with getting arrested for doing what is right for these kids.
— Jeffrey Perrine
At approximately 9:50 p.m. Perrine was removed by law enforcement. Before being arrested, Perrine passed the phone that was live-streaming the incident to his wife. The livestream ended approximately eight minutes later.
In a third livestream after his release, Perrine said from his home that he received a misdemeanor on the account of Penal Code § 415, which is applied to a person who allegedly "uses offensive words in a public place which are inherently likely to provoke an immediate violent reaction."
"(The Citrus Heights police) violated my civil rights," Perrine said on the livestream. "My concern is with the lawlessness of these police in Citrus Heights. They did not do their job."
Perrine says that he will continue to go to Tinnin's residence.
"You think you are going to silence me with a misdemeanor?" Perrine said. "You're going to have to be far more violent than you have been … I have no problem with getting arrested for doing what is right for these kids."
On Mar. 25, the RJUHSD administration and board issued another statement, which was emailed to parents and students. The message stated:
"We understand that freedom of speech is a protected right under our First Amendment. However, due to continuous disruptive and inappropriate comments towards others, the meeting was adjourned early in the best interest of our attendees. Given the circumstances from this week, we acknowledge we have challenging work ahead to process and heal, with the goal of supporting our LGBTQIA+ students. Our teachers, staff, and Wellness Center staff do incredible work each day helping and supporting students, parents, and our community."