The jab and Jesus: religion lands a leading role in vaccination efforts
  In mid-August, after companies began mandating vaccinations for employees and the State of California for healthcare workers, Destiny, an evangelical Assemblies of God Church in Rocklin, began handing out religious vaccine exemption letters to members of its congregation. 
   On September 9th, President Biden reiterated support for vaccinations, mandating that employers with over 100 employees, and federal workers, require vaccinations or weekly COVID-19 tests.
   In response, Destiny updated its Facebook page to make it clear that it is still distributing exemptions. 
   Destiny's pastor, Greg Farrington, provides an exemption to those who fill out a form stating that getting vaccinated contradicts their personal religious beliefs.
   California joined the list of 5 states that passed legislation banning personal belief exemptions for required vaccinations in 2015; however, COVID-19 and seasonal influenza vaccines are not yet on that list.     
     Employees can avoid an employer's vaccination mandate if they can prove they have a "sincerely held" religious belief. 
   An employer has the right to investigate whether an employee actually holds these religious beliefs, but these are difficult to question and prove. 
   A survey by Pew Research center of over 10,000 adults in the U.S. found that white, evangelical adults were least likely to get vaccinated, while atheists were the most likely, signifying the relationship seen between getting vaccinated and religious beliefs.
   Tanner DiBella, the marketing director of Destiny church, spoke about the church's perspective on  science and vaccines. 
   "Destiny is not anti-vaccine, and we're not anti-science," DiBella said. "We believe in science, but we also believe in choice."  
     Personal choices are meant to reflect beliefs.
   "Specifically around the COVID-19 vaccination, we have a moral conviction around the way that it was created," DiBella said.
   "They use fetal cells to test to see how a human body would react to a vaccine. For a lot of people in evangelical church… who are against abortion… (the vaccine) provides a morally compromising situation for them," DiBella said.
   DiBella is referring to the use of fetal cell lines. 
   Of the three available vaccines, only the Johnson and Johnson vaccine used fetal cell lines in their development. Pfizer and Moderna did not. 
   According to the LA County Public Health Department, "lab replicated fetal cells" used in this particular development of the vaccine are initially from the '70s and '80s. Cells from these two abortive procedures have since produced cells that are used for the development of various vaccines such as those for rabies. 
   Using these cells in early production of the vaccine gives scientists the ability to verify that the safety of the vaccine in animals translates to people. 
   "We didn't offer these exemptions because we wanted to, it was because…1000s of people were asking," DiBella said.
   Though Destiny's qualm with the vaccine is only applicable to the production of the Johnson and Johnson vaccine, its exemption applies to Pfizer and Moderna as well.
   "Obviously, an employer can decide whether to accept a religious exemption or not, but … our exemption … explains (the) morally compromising situation," DiBella said. 
   In alignment with his own morals, Pastor Mark Meeks from City Church in Oak Park is actively working to get vaccinations for members of his congregation and neighborhood, starting by getting a vaccine clinic for his community this past March.
   "The takeaway from this is … if you see a need, act on it," Meeks said.  
   City Church encouraged vaccinations by making them accessible for as many people as possible, specifically those unable to get transportation to other vaccine sites.
   Meeks worked with Sacramento Vice Mayor Jay Schenirer to establish a vaccine clinic with the help of UC Davis. 
   "UC Davis Health came en masse. There were probably close to 30 people that came that next Friday. We talked and we walked through what it would take to establish a vaccine clinic in the Oak Park community." 
   "Our focus was on those that are being served by organizations like the Wellspring Women's Center, that are on the fringe of making it or are not making it, living homeless," Meeks said. 
   "We did it for 13 weeks and vaccinated close to 2000 residents," Meeks said.  
   Meeks expressed skepticism about the use of religion as a basis to seek vaccine exemptions.  
    "Someone could have some very sincere, genuine, heartfelt concerns over taking the vaccine or not. I understand that and I appreciate that," Meeks said. "But what I saw (on TV)…Congregations in Roseville, Rocklin folks that don't even attend there. I heard they were basically giving away free letters." 
   The role of religion in this process is one Meeks wants considered.
   "All too often, we will use religion or faith as a pretext to do some, dare I say, damnable things," Meeks said. 
   He added that he sees getting the vaccine as an opportunity to do what is right for your community.
   "Our congregation will not do things that we think are beneficial to us, but detrimental to our neighbor," Meeks said.
  City Church is not alone in these beliefs, as the Roman Catholic Church has also voiced support for the COVID-19 vaccine. 
   Pope Francis has urged people to get vaccinated, saying, in a public service announcement, "Getting the vaccines that are authorized by the respective authorities is an act of love."
   While not all Catholics necessarily agree with the Pope, this is the basic guideline that Catholic churches must follow as they are under papal authority, preventing any contradictory actions such as allowing vaccine exemption letters.      
   The Catholic Church has encouraged members to get the Pfizer or Moderna vaccine if possible over the Johnson and Johnson vaccine, but has acknowledged that getting any vaccine is an act of service.
   DiBella believes that the scripture quoted in the exemption form supports Destiny's position and that the church is simply offering resources that allow people to decide whether or not they want to get a vaccine.
   "I provide scripture … (and) a certification from Pastor Greg saying that these beliefs on this document are sincere and held in the church," DiBella said.  "When people get it they sign a waiver basically affirming that they attend church, that they are abstaining from getting the vaccination for a religious reason. This exemption is not and should not be a 'get out of jail free card' from getting the vaccine, this is for people that have a religious conviction about not getting it," DiBella said.
   When requesting an exemption on Destiny's website, there is a  reference to the beliefs stated in the form, requiring respondents to read and agree with them. These beliefs are not listed online.
   Destiny also acknowledged that some people may seek these exemptions for other reasons.  
   "People always abuse institutions and processes and we can't police integrity, but we're doing our very best to make sure that at least on our end that we're saying we're giving this to people who actually feel a religious conviction in their hearts to not get it," DiBella said.    
  Meeks worries that such abuses will further and negatively impact the younger generation's view of religion. 
   "That's why (the younger) generation, by and large, looks at religion like 'you guys are clueless, you're irrelevant to the conversation that's being had now, you're fighting last week's battles,'" Meeks said. 
   While Destiny continues to distribute vaccine exemptions every Sunday, Meeks watches with concern for his community and the future.
   "I was very sad and borderline disgusted by what I saw, that we would…use our faith to promulgate a personal or political or social agenda. My faith affirms, you're going to be held accountable for that," Meeks said.
About the Contributor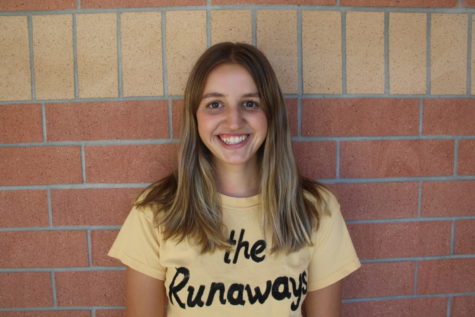 Elise Fisher, Co-editor-in-chief
Elise is a senior and Co-editor-in-chief. This is her third year on the Gazette staff.