GBHS alumni forced to leave colleges after COVID-19 outbreak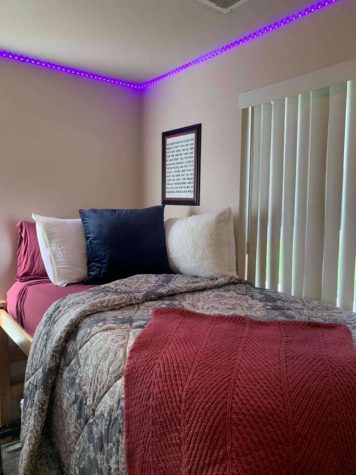 Former GBHS students from all over the country are currently facing difficulties as multiple colleges across the nation are beginning to shut down.
   After the outbreak of COVID-19, numerous universities are attempting to practice "social distancing" by switching to online classes in hopes of reducing the spread of the contagious virus.
   As for now, some universities have chosen to switch to online only for a certain amount of time while others have announced for the rest of the spring semester.
   Class of 2019 graduate Sydney Herrenschmidt is currently a student at Boise State University in Idaho and has had to deal with the dramatic change of her school closing, with very little time to act.
   "It happened so abruptly that it hasn't really hit me yet. It sucks because I didn't get to experience a full freshman year of college," said Herrenschmidt.
   Herrenschmidt among many others has been a part of the issue of kids who were living on campus and are now being told to either stay or leave. Since the shut down of Boise was between the timing of spring break, students are to be put in a two week quarantine if they choose to come back to Boise from their vacation.
   Maddy Fitch, also a class of 2019 graduate and current student at Boise State, has been experiencing similar issues of navigating herself back home.
   "I had to quickly pack up all of my things within 48 hours. It (was) a stressful situation," said Fitch.
"
I had to quickly pack up all of my things within 48 hours. It (was) a stressful situation.
— Maddy Fitch
   The two freshmen are still being offered refunds for housing and meal plans amidst the chaos of getting up and leaving for the rest of the semester.
   In addition to the students facing the abrupt changes, Jovan Rangi class of 2017 graduate and current student at the University of North Carolina, was across the country during his break when his school announced the closure.
   "Because this all happened during break, they said that anybody who has left campus is encouraged to stay away from campus and anybody on campus who didn't leave for break and depends on the university for food and housing, they will continue to operate for those things," said Rangi.
   Besides the unfortunate closure of his school for an unknown period of time, Rangi has also had to face the cancellation of visiting New York for a business school event where they would have visited multiple firms on Wall Street in order to benefit students' networking abilities.
   Rangi also fears that with classes being moved online, he will begin to feel unmotivated since being at university helps the feeling of needing to get stuff done throughout the day. 
  "For me, being an out of state student coming home always meant I've been on vacation or break and I've been able to take it easy. Now, I have to take myself out of that mindset because I'm under additional responsibilities of being home instead of being able to just relax," Rangi said.