The Delta variant brings mask exemption tension to the forefront
Community experts address COVID-19 concerns.
The Delta Variant has dramatically driven the rise in COVID-19 cases among school age children in Placer County since the end of the summer and the start of the 2021-22 school year. 
"It's nearly a tenfold increase (in overall cases) over where (case rates in Placer County) were just a couple of months ago," said Placer County Health Supervisor Rob Oldham.  
As case positivity rates spike in Placer County, hospitalization rates have too. On Jun. 14, a few weeks after the end of the 2020-21 school year in the Roseville Joint Union School District, Placer County COVID-19 Dashboard reported 20 COVID-19 hospitalizations as compared to the 198 COVID-19 hospitalizations on Sep 1—a few weeks after the start of the 2021-22 school year.
While the risk of hospitalization and death still remains low in school age children, Roseville based pediatrician Paul Wang noted there have been "cases of completely healthy children (with no comorbid conditions) who unfortunately require hospitalization and subsequently succumb to the (COVID-19.)"
According to Imran Mohammed, the ICU Medical Director at the Sutter Roseville Medical Center and a specialist in critical care medicine and pulmonary disease, the age demographics in the ICU are broad, ranging from toddlers to the elderly. Once people are in the ICU, the mortality rates and measures taken are more severe. 
"Once (children and adults) are in the ICU, many of them are ventilated," said Mohammed.   
"
"(The average stay in the ICU is a) minimum (of) three weeks, if they survive. "
— Imran Mohammed M.D.
The primary cause of all these COVID-19 crises? Experts, including Oldham, Mohammed and Wang pinpoint the Delta variant. 
"(The virulence) is very different in this variant," Mohammed said. "People get sicker faster and (the Delta variant) is much more contagious, even as contagious as measles."
Oldham, Mohammed and Wang also acknowledged low vaccination rates as another contributing factor in the high spread, urging young adults to get vaccinated. 
Only around 21.1 percent of Placer County residents under the age of 20 have received their first dose of the vaccine, according to the Placer County COVID-19 Dashboard.  
Only five of the 94 patients in the ICU from COVID-19 have been vaccinated. 
Recent social engagements in younger groups were also cited as a possible contributor, with the biggest social engagement of late marking the return of in-person learning. 
"The hyper transmissibility is definitely there now that schools have reopened and younger children remain unvaccinated," said Wang. 
According to Oldham and Mohammed, it is too early to conclude definitively whether in-person learning is a factor in the rising spread. In a few months, however, the case reports from schools will speak for themselves. 
According to Oldham, the brief return to in-person learning schools last year did not spread the virus significantly. But this year could be and is already shaping up to be different, with Oldham mentioning "concerns that with the Delta variant there might be more (cases) than we saw last year." 
Since the start of the school year,  Oldham has already received reports of some classes having to be closed. 
A COVID-19 report from the Rocklin Unified School District reported 47 students and staff had tested positive in the week of Sep. 9 to Sep. 16. Comparatively,  in the same week the Roseville Joint Unified School District reported 43 confirmed COVID-19 Cases.
To mitigate school spread, Oldham and his coworkers have been and will continue to meet with school superintendents on a regular basis, encouraging them to follow the California Public Health Department guidelines and providing information on guiding schools in responding to public needs. 
Oldham noted the feedback schools and the Placer County Health Department have received has left them "kind of caught in the middle," between the "aggressive" and guideline-opposed majority and less aggressive minority advocating for stricter guidelines.
At Granite Bay High School, principal Amber Clark said there has been "typical and expected" curiosity from parents on guidelines along with a few minor concerns about enforcement of student mask wearing. 
The main way Clark said the school has responded to concerns was by doing just that.
"We respond," Clark said simply. 
She also emphasized the importance of timeliness with these responses-often through email or over phone calls- and particularly praised the front office staff.
"They do a great job of listening and providing where to find the information and what the information is," Clark said.
According to Clark, the school had not received a sizable volume of mask exemptions unlike other schools in neighboring districts.  As a public high school under the RJUHSD, Clark said GBHS follows the district guidelines without any additional verification steps. (to learn more about the district guidelines, view the attached infographic)
"If (the student) provide(s) the medical record, then (they) get a mask exemption," Clark said. 
The Eureka Union School District, whose elementary schools often feed into GBHS, has 50 students going unmasked from mask exemptions. 85 percent of these mask exemptions have been written by local family physician, Michael Huang, who maintains all mask exemptions he issues are legitimate. 
According to Wang, mask exemptions, specifically a large quantity of exemptions that may be illegitimate, are "definitely a variable" in the rising case counts. 
Most children over the age of 2 should be able to wear a mask unless they have a "physical or intellectual impairment that prevents them from being able to safely remove the mask," said Wang.
Moreover, Wang added, "(i)n most cases, with the proper counseling and preparation, most patients are able to safely wear a mask," and that in severe cases, he advises consideration of whether in-person learning is really the "right environment" for the child. 
"If physicians are found issuing illegitimate mask exemptions, their licenses could be sanctioned by the California Medical Board," Oldham said. 
With regards to masking enforcement, Clark stressed the school was ultimately, "an institute  of learning," and added she hoped teachers would use their relational capacity with students and their individual professional judgement, especially in tough situations where the student is not responsive. 
"We follow those recommendations for our safety and for the safety of our students," Clark said. "We want to be here with students and we enjoy this time together.  The idea is that we will sustain that by working together, being cooperative."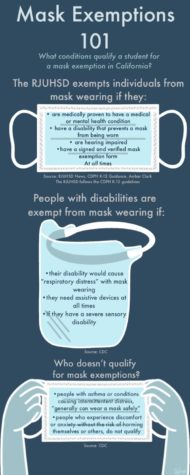 About the Contributor
Sarah Yee, Editor
Sarah is a junior and editor of the Features section. This is her third year on the Gazette staff.