Eric Seidman, former ASB president and 2008 GBHS graduate, remembered by peers and teachers for strong leadership and friendly demeanor
Photos special to the Gazette/ URSUS

---
The parking lot of Temple Or Rishon in Orangevale was overfilled, with cars and people spilling into the adjacent church. A line of people formed and snaked to the side of the building to even reach the doors of the Temple. Mary Seidman, Eric Seidman's mother, stepped out into the warm April day to hug each and every guest.
 The inside of the Temple was filled to the brim; only on High Holy Days is the temple ever this crowded. The memorial, while somber, was jovial and humorous – a reflection of the joyous man it honored.
Rachel Seidman, sister of Eric Seidman and a 2009 GBHS graduate, shared a light-hearted and touching tribute to her brother, which consisted of the top ten things she learned from him. Mark Seidman, father of Eric Seidman, also shared a moving speech – he spoke of his son as a determined, talented young man and shared remorse for those who did not have the pleasure of knowing him.
Hundreds of people gathered to share memories to honor the life of Eric Seidman. A community gathered to reflect. In the words of Jenny Padgett, one of Seidman's high school teachers, Seidman's passing has been followed by "a communal mourning."
During his senior year at Granite Bay High School, Eric Seidman served as associated student body president. After graduating in 2008, he went on to graduate from the University of California, Santa Barbara in 2012, earning a bachelor's degree in mechanical engineering.
Seidman, an active rock climber, was climbing Gibraltar Rock outside Santa Barbara, where he lived, when he fell and sustained fatal injuries. He was 26 years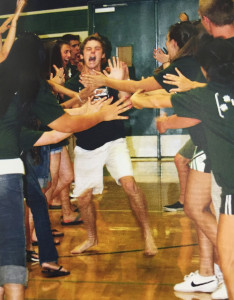 old.
Both Seidman's high school friends and teachers remember his wonderful leadership as ASB president and his overall friendly and positive demeanor.
2007 GBHS graduate Katie Lall served on the student government cabinet, the leaders of the class, with Seidman.
"When I think of Eric, I can't help but smile," Lall said.  "He always made me laugh, and he was a person you looked forward to spending time with because you knew there would be lots of laughter involved. He was genuine and kind.
"I don't remember ever hearing him say something hurtful or mean or negative about anyone. I can honestly only think of positive memories of him. I knew I would always have a fun time if he were around because he made any situation fun and exciting with his sense of humor, goofy personality and genuine concern for those around him. I know I can speak for many about him truly being a one-of-a-kind guy."
Seidman was involved in the student government program his sophomore, junior and senior year. He was also junior class president his junior year.
Activities director Tamara Givens grew very close to Seidman and remembers him for his kindness and warmth.
"SG became his home," Givens said. "He found (his niche) and he fell in love with it, and then he wanted to be ASB president. He was a fabulous leader.  One of the things I told his dad was, 'I adored Eric every day I had him in class.' He was just so kind and loving. I still see him in front of the class being goofy.
"One of the (graduates posted online, saying), 'He was the nicest boy in Granite Bay,' and that's true. He was just such a nice kid, (and) an incredible leader. He was everybody's friend. He had a tremendously diverse friend group (and) was friends with so many different kinds of kids. He was that kid who just reached out."
Ted Marsden, a 2008 graduate, said he thinks everyone in the graduating class of 2008 felt Seidman perfectly fit his role as class president and was a "true leader."
Darrin Pagel, a GBHS precalculus teacher, spoke highly of Seidman's impact on those around him and his involvement in student government.
"Eric was that guy that everyone gravitated to," Pagel said. "He had an infectious personality and was always so positive. He was a friend to all, never excluding people and made sure students hanging out on the fringes were included. I really enjoyed having the opportunity to work with Eric when he was in Student Government, he led well and was a servant leader … and I'm sure his impact on people extended beyond the walls of GBHS. He will be greatly missed."
Brandon Dell'Orto, the Adva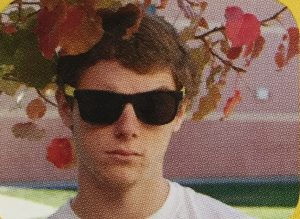 nced Placement United States History teacher who had Seidman as a student, said he remembers how Seidman always kept his activities balanced and had no problem leading his class. Additionally, Dell'Orto said he never remembers Seidman ever being upset or sad, "he was just full (of) energy, enjoying (the) challenges he had."
Many of those in Seidman's graduating class of 2008 mentioned how he went above and beyond his title and truly led their class.
Josie Kam, a GBHS graduate and friend of both Rachel and Eric Seidman, said she remembers Eric as a well-rounded person who was liked by many, including teachers.
"I always remember him as a light-hearted, caring, smart guy," Kam said. "All the teachers liked him and he excelled in academics and sports as well. He managed to also give back – he was in Student Government and was always willing to do anything to help make school a better place , yet still relatable to his peers."
Blaze Russo, a 2008 GBHS graduate, said he always saw Seidman as a key character in his high school years.
"I've always seen him as the leader of our class of 2008," Russo said. "He was always one to come alongside his classmates and inspire them. I think that's one of the reasons this loss has been hard for us – at some point in our high school days, Eric came alongside each and every one of us and shared some encouragement and motivated us to be our best selves. I believe he did this in big ways and small (ways)."
Aside from leading his classmates in Student Government, Seidman was also a leader in his extracurricular athletic activities. At GBHS, Seidman was on the track team.
Pratik Shah, a 2008 graduate who was on the track team with Seidman, said he served as a motivational force even in physical education classes.
"One of my strongest memories of Eric was actually in P.E. sophomore year," Shah said. "Most people would complain (about) the mile runs. However, Eric and I and a couple of the other track kids would use it as a chance to see how we were progressing. I was just starting out with distance running, and Eric was way faster than I was. As the semester went on, I started getting to the point where I could kind of keep up. Instead of being competitive, he would slow down (and) help me push myself so I would run faster than I would have on my own. He was always encouraging the people around him to do better."
Givens said Seidman had "a very witty humor" and would do things just because he knew he would make her laugh. She also said he brought in and played Jewish rap music in the student government room and made the class a CD of songs.
Seidman accompanied Givens on the Senior Europe trip in 2008 along with the entire SG cabinet.
"We were fortunate enough to be in Europe during the Eurocup, so every night we would go and find a pub or somewhere to watch soccer," Givens said. "European soccer fans are crazy about their soccer, and we were in Germany in a pub watching the game and the Germans said all of these chants … and Eric listened and learned them all. So he's chanting them all and we're saying them, but that wasn't good enough for him. He went back and looked up everything on his phone and afterward he came and (told us) what we were all saying. He was so excited about learning those German chants."
Padgett, who teaches International Baccalaureate Theory of Knowledge and Advanced Placement Literature at GBHS, said she knew Seidman through her daughter, Jenavieve Hatch, a 2008 GBHS graduate who knew Seidman in junior high as well as at GBHS and went to Sadie Hawkins with him as freshmen. Padgett also knew him as a student in her English class in his sophomore year.
"Eric was a beautiful person," Padgett said. "He was happy and radiated that. He liked to laugh, he liked to have fun, he wasn't overly serious, but he was a hard worker and a good student. He liked to participate in class, he was one of those kids that would jump in and participate and talk. He would read poems, he would talk about literature, he loved to have those discussions. He was just truly memorable, you wouldn't forget Eric if you had him in class because he left an impression."
Padgett also said that the conversations she has had about Seidman after his passing may sound cliché – his kindness, positivity and general characterization as a good person – but in his case, it's all "just very true." She also spoke of his friendliness.
"Everyone says, 'Eric was my best friend,' and they all felt that way," Padgett said. "It's because he made people feel that way. He made you feel like you were good friends and (that) everyone had a connection and a story. He stayed in touch with people. He was doing cool things.
"He and my daughter spent some time together when (they were both) in London studying in college. He would stay in touch with you on the other side of the world – that was remarkable. That (2008) class stayed really close, and I think he's a big part of that."
Katie Lall said she knows that, after high school,  he was the same kind person she remembered him as at GBHS.
"Even though I haven't seen him over the last few years, I know he was still the same Eric who loved people and made people feel loved," Lall said. "I know so many are hurting over this tragic news, but I hope his family can find some peace and comfort knowing Eric made a lasting impression on me and so many others. His life is a true testimony (to) the importance of being a friend to everyone around you."
Marsden said he was with high school friends at the time he learned of Seidman's passing.
"We were just shocked," Marsden said. "We each shared some memories we had of him, which then turned into laughter – which is exactly how I want to remember Eric. The small silver lining to this tragedy is that it's brought friends and classmates together. He will be remembered as a great friend, a good leader and a beloved dude. He was the best of us."
Givens has been an activities director for 17 years, and Seidman is the first student government graduate who has died. One of the things Givens said she will miss about Seidman is his hugs.
"One of the things (I remember) is he was the best hugger – he would hug you like he meant it," Givens said. "He wasn't afraid to hug people for a long time. He didn't let go right away. That's just something that was a great quality about him.
"I'm just devastated. I can't stay in touch with everybody – I've been teaching a long time and it's getting harder and harder to stay in touch with people – but I know where my ASB presidents are. A lot of them have gotten married and had baby showers and just the fact that he's gone and is not going to be part of that makes me very sad. I'm mostly really devastated for his family, they were very close. Every night I go to bed thinking about him and every day I wake up and I think 'Eric's gone.' We'll see when that stops, but … that's been hard. Just knowing he's not here is sad."
Givens said she remembers Seidman telling her how much he loved living in Santa Barbara and how he wanted to live there forever.
Padgett also said she hopes the community reaches out to take care of the Seidman family and one another during this somber time.
Padgett said she thinks Seidman leaves a legacy of "joy."
"When I think of Eric, I think of joy," Padgett said. "And what a huge thing to have everybody think about you. Let's remember that – life is supposed to be something we're all having a pretty good time doing, and I'm going to remember that.
"In a way, none of us will ever quite be the same. It's final and permanent and it happened and it's a loss in every sense of the word. When someone that young and that beautiful and full of promise dies, I think we all reflect on our generosity of spirit. Eric was a model for living your life and being happy in the moment, and I hope people do that."