A look at the new features of the GBHS football team
Granite Bay High School football team gets new perks in order to further their success on the field.
  Over the course of the past four  years, Granite Bay High School's varsity football team has accomplished a section title, three    playoff berths and a victory in the Honor Bowl.
  The team's strides have not gone unnoticed by players, as many said   their recent success has only pushed them to exceed expectations once again.  
  "The accomplishments we had last year are a really big motivation, and it's something we are trying to accomplish again this year," senior captain Jacob Ellis said.  
  Players have felt pressure regarding their playing abilities.
  "The wins and achievements of last year raise the bar of how well we need to be this year," senior Tannen Vagle said. "It's a little nerve racking."
  Many say there's excessive pressure from the new teams playing in the Sierra Foothill League this year – including perennial power Grant of Sacramento and former Div. 2 contender Whitney of Rocklin.
  The GBHS players said it's going to be very competitive because of the junior players having to step up on the team.
  "We have a standard to do well this year in league, but now it's a new team and new players in new positions," senior Andrew Martinez said.
"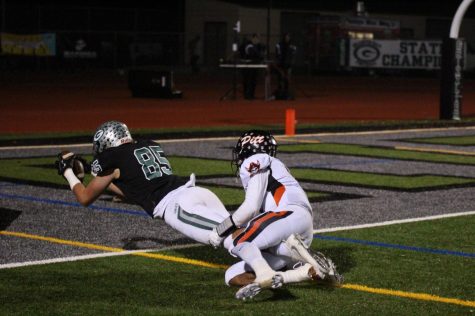 We have a standard to do well this year in league, but now it's a new team and new players in new positions
— Andrew Martinez
  Because of the previous feats the GBHS football team has achieved, there have been many new features added to the program.  
  A new nutrition plan was created for the team by a professional nutritionist.
  "The nutritionist is super cool because he put us on a plan that will make us lose or gain weight around the season," Vagle said.
  The plan helps players physically, as they feel and play better on the field.
  "I like the nutrition plan we are on because it helps with recovery after practice, which has a big impact on my body and muscles," Martinez said.
  Some players look at the nutrition plan as a new beginning toward accomplishments on the playing field.
   "The competition is fierce this year – the nutrition plan is beneficial because it puts us on a whole new level than other teams in our league," senior Bryce Van Order said.
  A major factor of the players' nutrition plan is the protein shakes.
  "The shakes are going to improve our performance in the weight room, which is going to give us the upper hand against the other teams," Vagle said.
  Another addition to the GBHS football  program are the new green and grey jerseys.
  "The jerseys look great on us," Ellis said.  "If we feel good, we play good."
  Seniors on the football team this year say they want to make the most of their year and go as far as possible.
  "I look forward to playing my last year with my brothers and for my dad," Ellis said. "I'm excited about this team because we all bond together, which helps on the field."   
  Despite the team's losing record (the Grizzlies are 1-2 in preseason games, with a home game tonight against Vacaville),  the players are pushing for a winning season.
   "Our team is dynamic (and) still growing," Vagle said. "We're trying to figure ourselves out, and we'll will stick together and get things done so we can finish our season on a better note."
  All the athletes rely on each other to work hard on the field and to earn victories.  
  "This is a special year – we'll get there," Martinez said. "We just have to believe in each other and work hard."