Two GBHS art students participate in local art show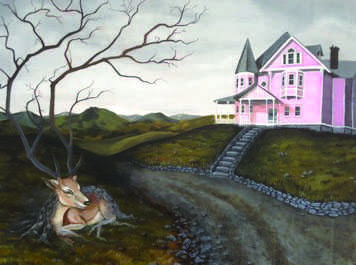 Up to this point, not even state-of-the-art technology has been able to transport humans to new realms, but two innovative individuals have figured out a way to take people to Elsewhere.
Coming February 18, emerging artists Noelle Berexa and Kendall Smith will be featuring an art show, entitled – you guessed it – Elsewhere. The exhibit will display the artists' paintings, photography and other featured works.
Berexa and Smith will hold a reception from 5-9 p.m. at The Studio in downtown Roseville for visitors to come and talk to the artists.
Smith said they were encouraged by their art teacher, Myron Stephens, to gain exposure for their work.
After receiving this encouragement, Smith researched local exhibits and was drawn to a tattoo parlor that also functioned as a studio. Smith said the workers at the parlor were very impressed by her portfolio and told Smith her work was some of "the best quality (they'd) seen from somebody (her) age."
Soon afterwards, Berexa partnered with Smith to create a combined exhibit.
Smith will have about eight paintings on display, along with illustrations and photography. Most of her paintings will be up for sale.
Smith said the inspiration for her art come naturally, while others have difficulty coming up with concepts.
"A lot of things that are in my paintings are either ongoing in my life right now or have been," Smith said. "I used to do songs for my inspiration from one specific band – Death Cab for Cutie – but I don't really do that anymore."
Although Smith also admires landscapes and animal paintings, she focuses primarily on still lifes.
"I really like textures," Smith said, "so all my still lifes have concrete or metal shelves or they have some sort of metal or wood aspect in them."
From start to finish, Smith said a painting takes her about three to four weeks. This includes developing the concept, photoshopping her ideas together, sketching an outline for the project and then finishing with painting.
"The reason I'm happy is because I paint every day," Smith said. "If I didn't, I'd be insane."
Smith's partner, Berexa, will have about ten creations displayed at the art show, including acrylic paintings and possibly some mixed media.
"I want to build recognition as my own brand," Berexa said. "My favorite style of art is definitely realism. I'm really drawn to a picturesque quality and I obsess over the small details."
Berexa's favorite piece is an acrylic still life painting of a wolf that measures 40 inches by 30 inches.
Berexa said she has been influenced by director Tim Burton and by painter Andrea Kowch, as well as by her teacher Stephens.
"Inspiration for my art is drawn from my own life experiences and emotions, films and stories," Berexa said.
Berexa has also had work featured at the 2015 and 2016 California State Fair, the 2016 Congressional Art Competition Show and the Granite Bay public library.
"I want the viewer to feel something while looking at my art," Berexa said. "Whether they relate to it, visually like it or find it interesting, I hope they enjoy the art."
Food and drinks will be provided at the reception. Additionally, the artists will have personal business cards available.