Three OGs (Original Grizzlies) retiring after 27 years
Scott Braly: Biology and Fish & Wildlife
Scott Braly worked in the U.S. Forest Service as a whitewater rafting guide and later as an Alaskan Fishing and Rafting Guide 
In 1996, Scott Braly was  one of the first teachers at Granite Bay High School. But Braly's 27th year in Granite Bay High School comes to a close, so does his time at GBHS. 
"If you can do it financially and emotionally and you're ready to do it, it is time. So I think it's time. I'm quite sure it's time for me to go," Braly said. 
During his retirement, Braly said he is looking forward to having more time for fishing and hunting, as well as spending time with his wife and three kids. With more time for himself and his family, he's also looking forward to traveling for more extended periods of time.
"I don't think I'll retire from helping to educate others," Braly said.
Braly said that he plans on doing some tutoring and volunteering,such as for the California Association where he would assist with educating others on hunter safety and waterfowl.
Braly taught Biology for 27 years and also taught Fish and Wildlife for 26 of those years at GBHS. During class, Braly often takes his students out on nature walks outside of GBHS. Braly would help his class identify birds, plants, and other wildlife as well as share unique characteristics of the wildlife.
"I have a firm belief that a lot of learning takes place outside of the classroom," Braly said. 
Braly believes that nature walks give students a new appreciation of the wildlife around them that they can't get as well by reading a textbook. 
"He's very patient and he explains things very well. He was just more open minded and he doesn't judge people based on different opinions." Jiayin Song said. Song is a Senior who took Braly's Fish and Wildlife class.
Braly often added his own personal experiences into lessons. From telling his class about the different types of fish he's caught on fishing trips to discussing controversial topics such as poaching, Braly was able to bring all his lessons close to home so the topics made a deeper connection to his students. 
Braly has also attended all 25 GBHS graduations since the school's opening.
"That'll be kind of extra emotional. Going to the last one," Braly said, "It's such a wonderful event, seeing the students, many of which I had when they were freshmen when they're quite small, to see them as seniors walking the stage and being with their family."
Ernie Cooper: Weight Training and PE
Earnie Cooper, known as Coach Cooper, started coaching football at the young age of 19, and has kept coach for 42 years. Starting out as a math teacher at Aptos High School, he picked up weight lifting and brought his love and passion for it to GBHS and where he has been since.
"My best memories are probably from freshman football when he was our head coach. He's such a good motivator, he knows what to say to our players." Frank Cusano said. Cusano is a junior who plays on the Varsity football team.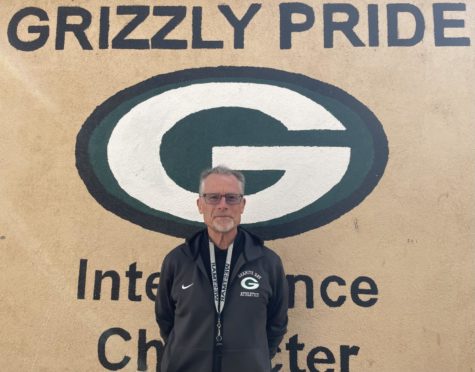 For the first 6 months of retirement, Cooper plans on not having any plans at all besides cleaning his garage. Instead, he'll like to see where the day takes him. What Cooper doesn't plan on retiring from is football. Instead, he would like to be involved with the high school in any way he can and plans on continuing with coaching football. 
"I caught the bug of coaching. Some people would call it a disease. At a very young age, I knew I wanted to be a high school teacher and coach when I was about 17 years old." Cooper said.
Cooper started out as a math teacher, but became a full time weight training teacher at Granite Bay. Cooper praises the school administration for backing up a full line-up of weight training classes. 
"There's been a real commitment to weight training, which if you look at all the stuff going on in the world, young people don't get enough physical activity," Cooper said.
Each semester 3 weight training classes are offered, for a total of 6 per year. .
"I hope they hire somebody to replace me that will be as passionate about weight training and not let this beautiful weight facility and weight training program go down the toilet," Cooper said. 
Some of his best memories at GBHS are from the first years he taught here.
"The first two or three classes were so special. They loved us, we loved them back. They were like our own kids." Cooper said, "27 years later, this is a great high school still because of those first three or four groups, they loved everything about it."
Other than the students, Cooper also enjoys his friendships with other teachers, administrators and others who work on campus. Cooper describes the staff's relationship as a family.  
"He's given a lot to this school," Cusano said, "he's put a lot of his time and effort, especially into not only his football program, but the school. So it's a sad thing to see that he's retiring because he's just done so much for us and he's just been such a great guy"
Cusano says he appreciates how hard Cooper works to plan out his football and weight lifting classes.
"I feel like I've done my job. And now it's time for the next generation to take over" Cooper said.
Jeanne Sampson: IB Business & Management
In college, Jeanne Sampson majored in Business, and received a Bachelors of Science in Business Administration. After graduating college, Sampson turned her focus to business education.
Sampson taught business classes at Oakmont for seven years before transferring to the newly opened Granite Bay High School in 1996. What stood out to Sampson was the growth in size the school experienced within 27 years. Granite Bay started with only a Freshman and Sophomore class which grew into all high school years and was home to thousands of students who are and have attended GBHS.
"We had a vision." Sampson said when referring to the first years of GBHS, "It's just exciting, and we make mistakes, but at the same time, we all supported each other and it was exciting just to watch the different programs grow and succeed."
Conner Taylor, a Junior in the IB Business program described Sampson as a considerate person who makes an effort to get to know all her students.
"She's very caring and like she understands if you're going through something" Taylor said.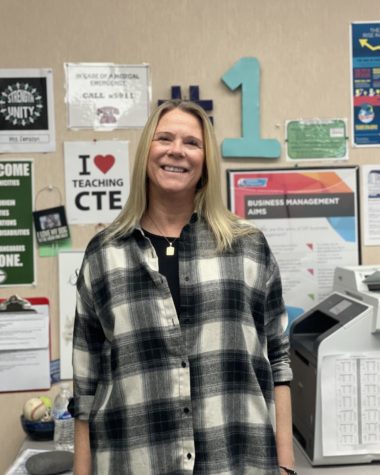 Taylor enjoyed Sampsons class because of how lenient she is with work and the freedom she gives her students. 
When asked about what Sampson enjoyed at GBHS, Sampson said her peers. 
"I started teaching with Mrs. Givens, Mr. Dell'Orto. Mrs. Bacharach, Mrs. Leighton, and it's just been fun to still be teaching with them," said Sampson, "just getting to know people and having those memories throughout the years, that's what's made it amazing."
During retirement, Sampson is eager to visit her four children and spend more time with her new five month old grandchild. Sampson is also looking forward to traveling more with her husband in her motorhome and camping. A destination she has in mind is Montana. Both she and her husband enjoy multiple outdoor activities such as cycling, hiking, backpacking, and fishing. 
Sampson says her biggest retirement plan is to find her  "own niche" and "find a passion project". 
After Sampson leaves for retirement, Mrs. Gossell will most likely be taking over IB Business. 
"I'm a mom, wife and a teacher, and teacher is a big identity and now I'm leaving the profession," Sampson said, "and I'm ending on a good time also because the curriculum is changing."
About the Contributor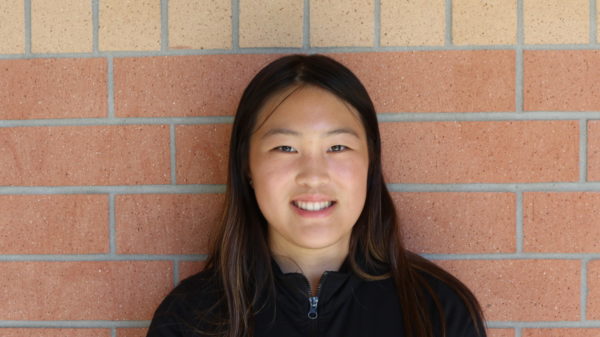 Rachel Guo, Co-Editor-in-Chief
Rachel is a junior and Co-Editor-in-Chief. This is her third year on the Gazette staff.