Hiba Hamdan is thankful her little two year old niece, who is in the West Bank, is safe. She checks in on her everyday through phone calls. Recently, the West Bank has experienced an uptick in attacks from settlers as the safety crisis for residents in Gaza increases.
Hamdan, a doctor practicing in Folsom, attended the Palestinian American Medical Association (PAMA) fundraiser on Oct. 22nd. The fundraiser's goal was to raise money for medical supplies to send to healthcare workers in Gaza. 
From Oct. 7th to the 23rd, over 5,087 Palestinians have perished and over 15,273 Palestinians were injured in the Gaza strip, many of which were women and children. In the conflict thus far, 168 attacks on healthcare have occurred.
"
"I mourned before for Israeli lives, just like I want the world to mourn for the Palestinian life."
— Hiba Hamdan
"I was heartbroken, seeing the Palestinian children dying, but nobody was really crying for them," Hamdan said. "I hope that people have the humanity to think that every child is entitled to wake up in the morning and be safe, and have food, and not worry about their mom or dad dying, and not see their siblings die in front of their eyes."
Story continues below advertisement
Hamdan said she "strongly believes" that every life matters, and advocates for people to help the Palestinians, the children and "all their shattered dreams" in any way possible, which includes talking about the suffering children in Gaza at the fundraiser.
"I mourned before for Israeli lives, just like I want the world to mourn for the Palestinian life," Hamdan said.
Doctors in Gaza are making the impossible decision to save one life or another due to a lack of supplies. On Oct. 21, there were four trucks carrying trauma medicine supplies for 1,200 people and 235 portable trauma bags sent to Gaza from Egypt after the Rafah border was reopened.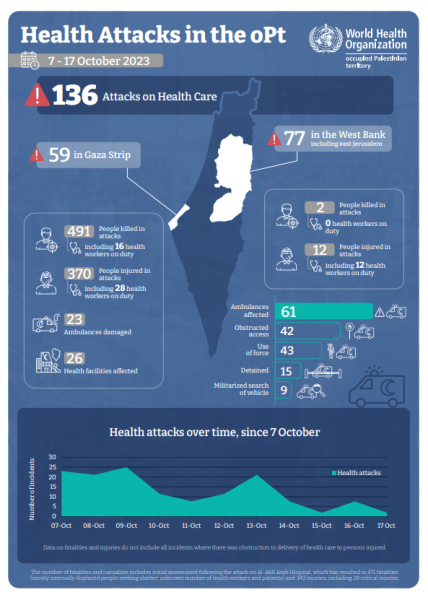 PAMA says their role is to combat this ongoing supply issue, even if it's from thousands of miles away. On Oct.18th, co-founder and board member Yousef Khelfa was interviewed by CNN to discuss the mission of PAMA, gaining more national attention.
Later that day, Khelfa reached out to Sacramentans through a Zoom meeting in order to educate others of the effects of the war on Palestinian. 
"The least thing we can do is to send them the supplies and the donations they need. (All) donation(s) will go only for the healthcare for the physician, for the patient, for the nurses," said Kehlfa.
PAMA is working to form support programs, provide medical relief, education and training to Palestinians living in Gaza and the West Bank.They have specifically focused on helping the children of Palestine in light of the recent collapse of the healthcare system in Gaza. 
Yousef Khelfa spent the first 28 years of his life in Palestine, and began his journey as a doctor there before moving to the United States. Khelfa works to save lives both in Northern California, where he practices as an oncologist, and in Palestine, as he continues to work closely with PAMA as a board member. 
"It means a lot to them because they know that they are not alone. They know that they have some voices here speaking on their behalf. So I mean for the people of Gaza, that's amazing. It means the world to me," Khelfa said to the Gazette.

People from all backgrounds, ethnicities, religions and ages were in attendance at the PAMA fundraiser in Sacramento on the 22nd as the Grand Ballroom was teeming with support and concern for the vulnerable in Gaza.
"Raise awareness. Be the voice of the children of Gaza. They have no voice here, so be their voice," Khelfa said. "Palestinian children are not just numbers."
To donate to PAMA in support of Gaza Hospitals: https://palestinian-ama.networkforgood.com/projects/207250-sacramento-to-gaza-urgent-medical-appeal 
Other PAMA fundraisers: https://palestinian-ama.org/projects