Tattoo who?
GBHS students show off their meaningful body art and piercings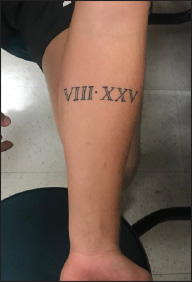 As students walk around the Granite Bay High campus, they see many works of art tattooed onto people's bodies.
Everybody expresses themselves in different ways, but for some students, tattoos are the direction they went.
"I feel like tattoos are a good way to express yourself," said senior Nate Linthicum.
"I like the idea of decorating my body and making it unique," said senior Peyton Sparks.
Other people get tattoos for different reasons.
"I got a tattoo for my grandpa because he passed away and he was my role model, so I got his birthday (on my arm)," said senior Dillon Hamilton.
Others get artwork to represent other significant aspects of their lives.
"Some of my tattoos tell a story," said senior Dalton Craythorn.
"A lot of them are just aesthetically pleasing, but some have moral meanings attached to them," said Sparks about her tattoos.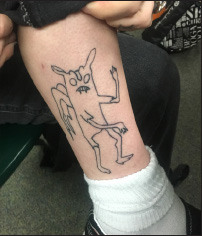 Most students with body art at GBHS do not regret their decision, and they want to get more.
"I want to get my whole arm," Hamilton said.
Tattoos have always been a big part of human culture, and both tattoos and piercings have been becoming more and more normalized. 
"I was 14 when I got my first tattoo, but my parents don't approve of them." Sparks said.
Linthicum was 17 years old when he got his first tattoo.
Some parents don't approve of tattoos, but other parents don't mind  and support their children getting inked.
"(My parents) love it, they signed off (on me getting the tattoo),"  Hamilton said.
Students love to express themselves in different ways. These four seniors decided to make the lifetime commitment with tattoos, but they are convinced it was a great choice for them.