When Granite Bay High School seniors Anna Hooglander and Sabine Kanz stood in front of their table at Club Rush, they weren't surprised to see people were more interested in the pizza they'd brought than learning about ADHD. But when they asked passersby what ADHD stood for, they were surprised by what they heard.
Student answers for the acronym at Club Rush included: apples hydrogen, ammonia disorder. 
ADHD actually stands for attention-deficit/hyperactivity disorder.  This clinical diagnosis can include symptoms that range from struggles with organization, forgetfulness and a short attention span among others.
"It was really overwhelming because students didn't seem like they genuinely cared. It was more so what can you give me instead of what can I give back to the community?" Hooglander said of many that stopped by the Club Rush table. "They just cared about the pizza."
Story continues below advertisement
On the second day, Hooglander didn't bring pizza. 
Gender gaps and a family conversation
Hooglander and Kanz started "ADHD/ADD Club" because they were frustrated with the assumptions people had regarding ADHD. Over three million American adolescents (12-17) with ADHD, according to the CDC.
For both, ADHD is a family conversation. Kanz's younger brother, freshman Julian Kanz, and Hooglander's mother both have ADHD. Both Kanzes were diagnosed in elementary school.
The average age of ADHD diagnosis is 7, though this varies among gender. Boys are over twice as likely to be diagnosed and often are diagnosed earlier.
"(My sister and I) don't really talk about (ADHD) as much, but it's definitely helped me get a full understanding of ADHD," Kanz said.  "Because if I just had it, then I'd feel more inclined to think oh…'this is the only type of ADHD." 
Around 13 percent of boys will be diagnosed with ADHD in their life compared to 6 percent of girls, according to the CDC. Research and media have increasingly highlighted the gender gap in ADHD diagnosis and presentation of symptoms. Post-pandemic, there's been an exponential growth in ADHD diagnoses among both genders, historically males are diagnosed at twice the rate as females–sometimes up to 10 male diagnoses for one female diagnosis. 
Hooglander was diagnosed with ADHD at 15; Kanz and her brother at nearly half that age.
Julian Kanz said he was surprised that girls he knew had ADHD. 
"They wouldn't shift around as much. (The girls with ADHD) wouldn't be as rowdy," Kanz said. "They seemed like they had an easier time. So from my perspective, I don't know if they did have a harder time."
Prescribers and patients in need
"
It doesn't feel harder to focus. It feels harder to focus on the right things sometimes."
— Julian Kanz
This stigma and fear doesn't just impact those with lived experience. 
Sharon Kanz, an anesthesiologist and mom of Julian and Sabine Kanz, continues her childrens' conversations about ADHD online, as a member of a private national ADHD parent support group.
Julian and Sabine's mom, Sharon Kanz said she experiences stigma two-fold—as a healthcare professional, she knows about the stigma that comes with seeking medication and as a parent, she's seen fear with how medication can change children. 
When demand for ADHD medication increased at the start of the school year, providers fell far short. Prices spiked. Physicians like Sharon Kanz cited a rippling supply shortage from drug manufacturing companies.The shortage was recognized last October by the Federal Drug Administration.  
"I'll prescribe medications for patients and then the pharmacy will call and say we don't have it (in stock) and a patient can't necessarily just jump from pharmacy to pharmacy because then the pharmacies get suspicious of the patients," Sharon Kanz said. 
Kanz said pharmacists are hesitant to release information on what medications are in stock to patients. 
"It becomes hard for the patient to get their medications and either they suddenly go without their usual medication which is not good…or we have to switch them, which is a risk because (a new medication) may have side effects," Kanz said. 
Post-pandemic, the Kanzes said the shortage is being felt more than ever. 
In May, when Sabine Kanz was taking AP exams, she had to switch medications because of the shortage. Though Sharon Kanz said her daughter did not experience adverse side effects, this isn't the case universally and the implications of abrupt medicine switches go beyond physiological responses.
Julian Kanz said with medicine, he puts ten percent of his energy, "barely any" effort into focusing, because it comes "naturally." Without medicine, he spends about 75 percent of his energy just trying to focus.
"It doesn't feel harder to focus. It feels harder to focus on the right things sometimes," Kanz said.
ADHD meets academic pressure.
"
"Of course, we don't want it to define ourselves because we're more than just a diagnosis, a word. But I can't deny that it doesn't affect me. It's kind of who I am at this point."
— Payton Griffin
Senior Payton Griffin also has ADHD. She said that medication can ease the symptoms of ADHD, but the stigma and stereotypes have stuck. 
"Of course, we don't want it to define ourselves because we're more than just a diagnosis, a word," Griffin said. "But I can't deny that it doesn't affect me. It's kind of who I am at this point."
Griffin said GBHS' "high-achieving" environment can make academic success stressful. 
"I've definitely had teachers who look at me and it feels like they hate you or there's people who think that you're just lazy and they don't think that you care," Griffin said. "I take so many AP classes (and) I so desperately want to do well, and I tell myself 'Oh, I'm gonna work really hard'…and sometimes I'll just find myself staring at a wall or like taking so long on something because I'm just not here…like your mind is paralyzed and you cannot get out of it. It's so debilitating."
Griffin said she was diagnosed with ADHD in middle school and began taking medication for it in high school. 
"I need to eventually get on medication but I'm scared of how it will affect my personality," Griffin said. This is what she told her middle school self. 
A move more than geographic: conversations about coping
"The people who did get diagnosed younger, they are more fortunate in that sense, because they had more time learning what they are and what tools they can develop," Hoognder said. 
One of Hooglander's favorite tools is acceptance: accepting that she has ADHD and can't change it. She leverages her unique ability to focus for hours at a time in "grind sessions" that allow her to dive deep into material. 
Finding these tools has been a journey.
After middle school, Hooglander moved from Georgia to attend high school in Northern California. Though there's a small difference in her behavior now versus without medicine, it hasn't always been that way. 
 "In middle school when I was not medicated, if I wasn't academically stimulated with the material, I would get disruptive," Hooglander said. "In Georgia, it was definitely more of a struggle. I think everyone is aware of (ADHD), but they aren't aware of what it means and what the struggles are. And that's why we want to break the stigma around it."
Individually, Hooglander said she's combatted stigma against ADHD with self-advocacy.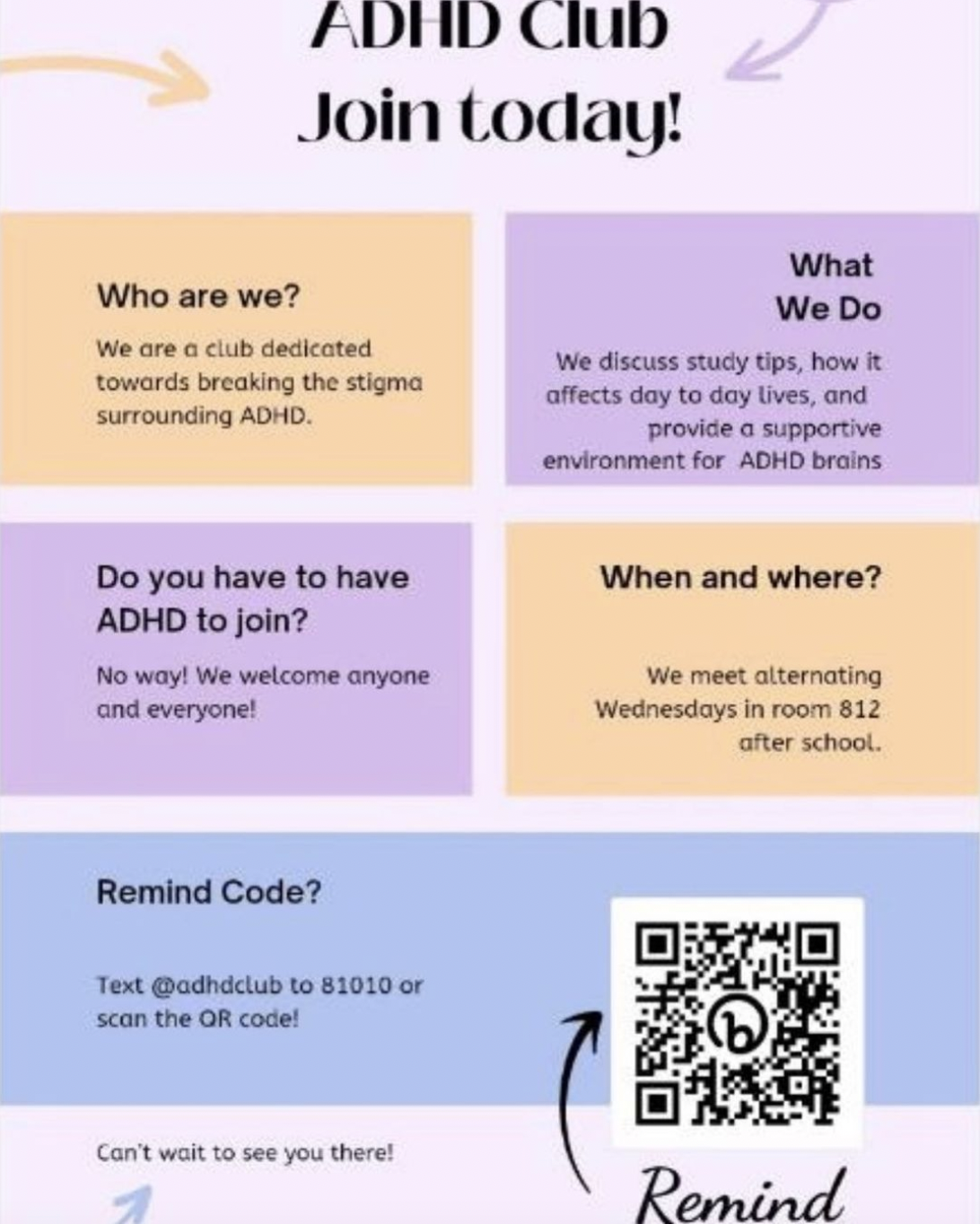 "When I walk up to any teacher the first day, I know that I am my own biggest advocate." Hooglander said. "I will say, 'Hey, I have dyslexia. I have ADHD. Sometimes I can't focus. I would love it if you put the material online.'" 
As she speaks, Hooglander will refer to Section 504 of the Rehabilitation Act  which prevents discrimination against individuals with disabilities: "Student must be determined to: (1) have a physical or mental impairment that substantially limits one or more major life activities; or (2) have a record of such an impairment; or (3) be regarded as having such an impairment," according to the act.
If schools do not comply with a student's 504, according to the act, the national Office for Civil Rights will take action, which includes potential repercussions for the school. 
Griffin and Hooglander both have 504 plans. The Kanzes do not.
Hooglander says the ADHD Club meetings try to provide members with a "toolbox" of strategies and skills that can help symptoms of ADHD and the stress of facing its stigma. 
"If I can share those tools and I can say, hey, look, here's my hammer, and they can go, this hammer doesn't really work for the job that I'm going to do. But I'm going to stash it away because maybe in the future, I might need a hammer," Hooglander said. " Maybe somebody is using just a regular screwdriver and what they really need is an electric drill." 
Hooglander said she couldn't think of a single positive media representation of ADHD, though there were many negative ones, including a popular clip of Bart Simpson which reflects false stereotypes that people with ADHD are stupid. 
She hopes that changes with conversation. This is what she says the ADHD Club brings to campus.
Why does GBHS need an ADHD club?
So when Julian Kanz talks about his ADHD, it's not intentional. Occasionally, he answers questions from friends about his medication. 
"I don't really talk about my ADHD because I don't want it to define me," Kanz said. "The people I've told haven't really cared that I had ADHD because I never started off (with) 'Hey, I'm Julian, I have ADHD.'"
The ADHD club meets every other Wednesday from 3:30 p.m. to 4:30 p.m. in room 812.   Their next meeting is on Nov. 8th.
Now that his sister started the "ADHD Club," Kanz said he's become an advocate. 
"Not everybody with ADHD can just go out and talk about it." Kanz said. "Having a space like that really helps."