State mandated shelter-in-place affects working students
Teenage employees of local businesses worry about their sources of income
As the coronavirus pandemic continues to consume the majority of the country: cities, counties and states are demanding changes be made. 
These changes include statewide shelter-in-place practices, as well as the closure of favored hang-out spots such as restaurants, gyms and entertainment-centered locations.
"I think quarantining is good because it's going to help keep everyone safe and (slow) the spread of the virus," senior Reagan Dolan said. 
Many schools such as Granite Bay High School have closures extended through May 1, which some students have interpreted differently. 
"It's super annoying to see everyone hanging out, especially the underclassmen," Dolan said. "Because nothing is going to change if we keep living our lives the way we did before." 
Not only that, but students employed by local businesses have faced rising unemployment. 
Senior Tanya Barot works at Villa Sports Athletic Club and Spa and has not received any hours in weeks. 
"It closed due to mandatory lock-downs as gyms were considered non-essential," Barot said. "We have been closed for a while now and I have yet to receive any notices about reopening."
As local businesses are struggling to stay afloat during the corona pandemic, many have resorted to laying employees off. 
"I work at Tricks Gymnastics and they closed since we work with kids who could be (potential) carriers," Dolan said. "We aren't getting hours, so I signed up for unemployment to get some money," she said.
Although some students have been able to receive unemployment, others are concerned about the amount of time they will not have a steady income. 
"I was thinking about getting a summer job before, but now I will have to (get a job) because I want to save as much as I can," Barot said.
Seniors Erin Larson and Peyton Zimmerman were both laid off from child entertainment facilities such as Rockin Jump and Bounce U. 
Fortunately, both qualify for unemployment.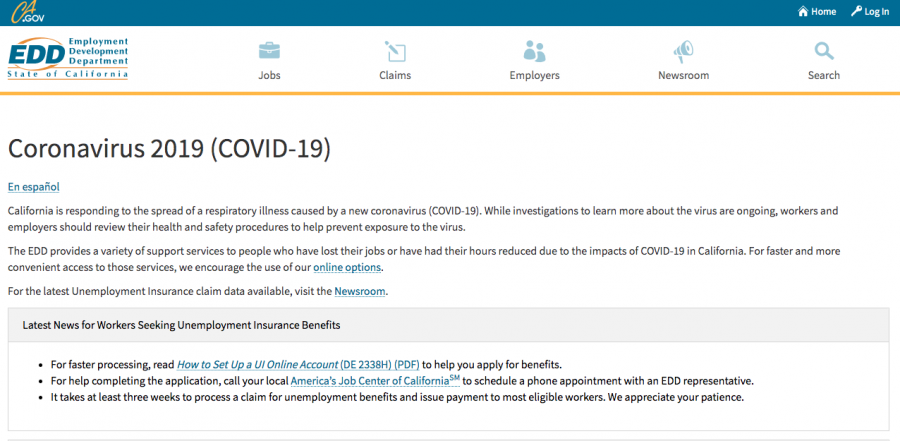 As more local businesses are being forced to shut their doors, many are concerned about the stability of the local and state economies. 
California Governor Gavin Newsom recently expressed some anticipation over schools not resuming and a lengthier shelter in place. 
"I took school for granted and I really want to be back with our class and finish out senior year," Dolan said.
In addition, seniors are anxiously awaiting concrete information about the status of senior events. 
"Being a senior, it really sucks that we won't get to make any lasting memories of high school," Barot said. "I'm just hoping there will be some ceremony to celebrate our twelve years of hard work."