Stabbert brothers: Athletic siblings thrive in sports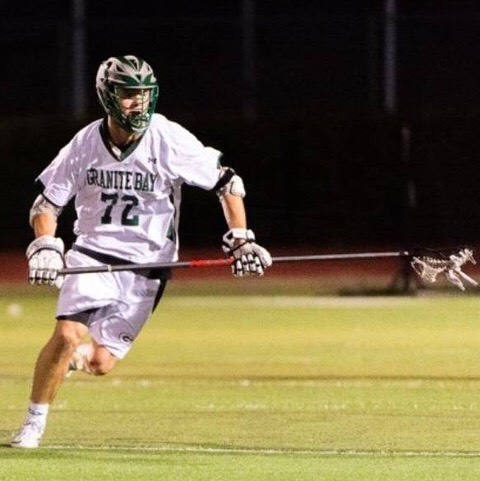 In the history of Granite Bay High School, star athletes have shown through each sport, leaving a legacy behind. Three of these athletes come from the same last name – Stabbert.
  The beginning of the athletic careers of the Stabbert brothers began in Pennsylvania before they came to Granite Bay, where new sports were introduced were introduced to them.
  "Living in Philadelphia definitely contributed to my pursuance of lacrosse," Will Stabbert, the middle of the Stabbert brothers, said.
  The wide popularity of lacrosse on the east coast was new to the family before moving to Philadelphia.
  "Nobody in my family had ever heard of the sport," Will said.          "When I told them I wanted to play lacrosse, they didn't know what to think.  Luckily they were supportive of it."
  This support system that the brothers received were a large factor of their success.
   "We owe all of our success in sports to our parents," Will said.  "Our parents put in so much time coaching our teams and helping us after practice."
  This is one of the main driving factors towards Will's success.
  "(My parents)  have invested so much time, money and effort in all of us athletically, so in that right I always felt the need to make sure I put in the same amount of effort into being the best I could (in sports)," Will said.
  Coming to Granite Bay, Will was automatically implemented into the lacrosse team due to his past experiences in Philadelphia.
  The second youngest brother, Nolan, began playing his sports at a young age as well. Unlike Will however, Nolan specialized in wrestling.
  "Wrestling has always been a main sport since I was five years old," Nolan said. "My dad signed me up for the local wrestling club, and after my first practice I was hooked."
  Watching his older brothers play sports was a large role into what he played.
 "(I wanted to play lacrosse) after watching my brother Will play. There was one play in particular that got me and that was when he ran up and leveled this one kid," Nolan said. "After that I stopped playing baseball and started lacrosse."
  The oldest Stabbert brother, Andrew, has had a lot of success in Granite Bay athletics, playing soccer and track.
  William Pink, the Granite Bay varsity lacrosse head coach, has seen Nolan and Will go through the program.
  "They have made great contributions to our lacrosse program," Pink said.
  Nolan and Will are both multi-sport athletes – Nolan playing football, lacrosse and wrestling, and Will with lacrosse and football. These sports tie in with each other, adding an element to each of their play.
  Coach Pink noted that the brothers playing multiple sports have assisted his lacrosse skills, more specifically face offs, where Nolan is nationally ranked in.
  "Nolan's experience with wrestling makes him an outstanding face off man because he can utilize the skills of leverage and power," Pink said.
  Pink, however, is not the only coach of the Stabberts to notice this.
  "If you look at the top players in most of our sports, you will see multi-sport athletes," Jeff Evans, the head coach of Granite Bay varsity football, said. "The mental and physical toughness, along with the focus that another sport requires (benefitted them in football)."
  The often questioned comparison between an older and younger brother is definitely prevalent, but Evans looks at them through a different scope.
  "Will was Will. (He was) a great player for football and lacrosse.  Nolan is Nolan, one of the top wrestlers in the section, in one of the most difficult weight classes and an all-league football player along with his brother," Evans said.
  The success Will had in high school lacrosse, gave him the opportunity to play college lacrosse for Drexel University, one of the top programs in the United States.
  "It makes us very proud to have helped nurture and develop a player that has achieved success in lacrosse after high school," Pink said.
  The achievements Andrew, Will and Nolan are leaving Granite Bay with, has paved way for the youngest brother, James.
  "James has a lot to live up to when he comes through these halls," Evans said.
  Despite these expectations, Evans believes he will fill them due to who is behind him.
  "Knowing the parents and having coached both Nolan and Will, I have little doubt in his ability to create his own legacy here at Granite Bay," Evans said.
  The legacy that stands behind the Stabbert name is overwhelmingly positive, which is well deserved, but more than athletics stands out.
  "The only legacy I would want the Stabbert name to have is that more than being good at sports, we were good kids, and respectful to coaches and teachers.  That will go way farther than being good at high school sports," Will said.