School Spirit: Are Juniors ready to take the lead?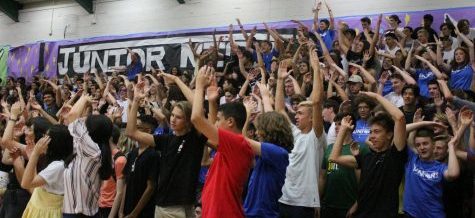 Although juniors are one step away from becoming seniors, from preparing for SAT/ACT to applying for colleges, the priority of these juniors is whether they are prepared to set a good example for other classmates or not. 
"They need a good example from the seniors this year to kind of show them how to do it," Alexander Alizadeh said. 
At the start of 2022, the juniors didn't have any representatives for either president or vice. The juniors are slowly losing their empathy towards the school environment. 
Kale Karres, a former rally spirit leader for sophomore year, had concerns regarding the leaders who represent the class of 2024.
"I think it's because of the leaders," Kale Karres said. "They don't really try to get people to be loud, so the juniors aren't loud."
Natalie McGuckin, a current junior rally spirit leader, had a different approach to the junior section.
"I feel like it could be a combination of both.," McGuckin said, "I feel like some of the leaders could feel a little discouraged in that like when we have tried to get people excited, the crowd still doesn't get excited. I feel like it's a little mixture of both. It's hard to like stay motivated to want to make people feel excited when no one's matching the same energy that makes sense." 
McGuckin saw that the main solution for juniors to start participating in events like the games was to be benevolent to one another. 
Alexander Alizadeh, an Associated Student Body President for GBHS, has the similar mindset as McGuckin and has the potential that the juniors will set a good example as a senior. 
"They need a good example from the seniors this year to kind of show them how to do it," Alizadeh said. "And then also, they just need to kind of put themselves out there and realize that it's fun to show school spirit."
Many students misunderstand the true meaning of student government. Alizadeh explains thoroughly on what the value of it is and what it means to be one. 
"A lot of people think that the purpose of student government is just to plan events, and just kind of make dances and stuff like that and do rallies but I kind of like the core of it all," Alizadeh said, "It's really a leadership class … teaching you skills that are necessary to move on, but I think the purpose of Student Government is probably to help others feel involved and get everyone on campus involved in something." 
Alizadeh also believes that many students, especially juniors, aren't signing up for student government and it's inconvenient for them to not sign up.
"I know it's not a ton because the junior class is a little lacking," Alizadeh said, "But I think that it can definitely change like next year, I think that they can definitely do good senior year."
About the Contributor
Sam Lee, Staff Writer
Sam is a junior. This is his first year on the Gazette staff.