Sarah Thompson: The 14-year-old star
GBHS freshman shares her passion for dance
Some people might think they are professional dancers, and some people are Sarah Thompson.
As a freshman at Granite Bay High School, she has been dancing with superstars since a very young age.
She has rocked out with Kendrick Lamar, Maren Morris, Justin Bieber, Missy Elliott and many more famous artists.
Thompson has also been on "So You Think You Can Dance" and has appeared on several more dancing TV shows. 
She credits her grandma for getting her started in hip hop.
"I went to a ballet class and I hated it, so then my grandma took me to a hip hop class, and I sort of fell in love," Thompson said.
Since then, she has been sticking to hip hop but incorporates ballet into her hip hop dances, too. You can find some of her hip hop and ballet videos on her Instagram account, @sarahlilminiphoenix. 
One of her favorite videos was performing with Missy Elliott.
"I really liked the Missy Elliott video because it was a life-changing experience and it helped me grow as a dancer and as a person," Thompson said. 
Her most famous music video was with Maren Morris for a song called "The Middle."
It has reached the top 10 in the U.S. charts and in several other countries. It was nominated for Record of the Year, Song of the Year and Best Pop Duo/Group Performance at the 61st Annual Grammy Awards. 
"
(My) mom calls me Mini, as like a nickname."
— Sarah Thompson
"They just had really good energy, and it was like the entire cast was just really, really nice," Thompson said.
Thompson has not only done music videos, but she has also been on some dancing TV shows. 
She has been on "So You Think You Can Dance" two times, "The Voice" in a performance with Missy Elliott, "Lip Sync Battles" and "Lip Sync Battles Shorties." She has also done "Kids Choice Awards Mexico."
This little superstar has also modeled for some local clothing stores in California. 
"I did Athleta for a while," Thompson said. "When I was really young, I used to do a lot of little (modeling appearances). But I've done Nike, Athleta, Uniqlo, Old Navy and Pottery Barn Kids."
Lil' Mini Phoenix – Thompson's name when she performs – has traveled around the world for her dancing career, going as far as Mexico and New York.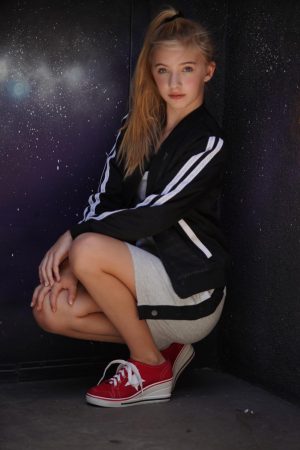 With such a big commitment to dance, balancing it with school can be very challenging at times.
For Thompson, the constant work between dance and school can get very tiring. 
"The catch up is pretty hard with missing days and having to come back and doing homework, like in the car or on the plane," Thompson said. "It's just difficult sometimes."
Thompson's family also puts in a lot of effort to get her to practices and dancing events.
"Sarah and I are gone a lot, so we miss her sister, her dad and our dog. But we FaceTime a lot," said Stephanie Thompson, Sarah's mom.
Sarah's friends also support her dancing career and somehow find time to hang out with her.
"Between sports, school and her dance, it is hard to find a time to hang out, but we always try to make it work," said Avery Moll, one of Thompson's good friends. 
You might be wondering about how Sarah got the nickname, Lil' Mini Phoenix. 
"So my mom calls me Mini, as like a nickname. And then we had to make it cool, because it had to be hip hop. So we added Lil, in front of it … so then my teachers (started calling me), Lil Mini," Thompson explained. "As time went on, I thought it (got) a little too babyish, because I didn't like being called that. I mean, I really liked the X-Men character, (Phoenix). She was sort of everything I wanted to represent as a dancer."
Thompson has stuck with the name ever since.
Thompson's hard work and dedication to dance has gotten her very far by the age of just 14, and she has high hopes to continue dancing her way through high school.