Music Review: Blackpink embraces era of exploration with "Born Pink"
Blackpink is back "in your area." 
The girl group marks their territory with soft but striking susurrations of "Blackpink," that coil from "Pink Venom," to "Ready for Love."

In their sophomore album, Blackpink has risen from their two-year slumber in a creative commemoration of their past work and tantalizing promise to the future. 
"Born Pink," keeps even longtime fans (dubbed Blinks) like myself on their toes. 
"Pink Venom," the group's Aug. 9 prerelease opens to refrains of Jisoo playing the gayageum, a Korean traditional instrument. Although some have criticized the song's production for its drawbacks to Blackpink's "love it or hate it signature Teddy style," —characterized by booming EDM trap beats, onomatopoeia and song title chorus chants — "Pink Venom" sets itself apart. 
Moreover, the short track hammers home Blackpink's spicy and sweet duality, the "black" and the "pink."
"Born Pink" even pays homage to a classic…violin piece—Niccolo Paganini's "La Campanella," (The Little Bell). It's masterfully incorporated as the recurring hook in the girl's title track "Shut Down." 
"Shut Down," the title track of the album, is not a testament to the end of their music careers — in fact, far from it. Throughout the song, the girls spitefully "shut down," the criticisms and controversies they've received since debut, instead reveling in emblems of their revolutionary successes. At the end of the video, the group enters an elevator that encapsulates multiple garage-like storage areas, symbolizing their ascendance to new heights while paying homage to their past sets —from Jennie's bedazzled tank in "DDU —DU DDU —DU" to Rose's lounging on top of the world in "Whistle."  
With Blackpink, there's no good or bad, black or pink, only a blend of both.
Blackpink brings this attitude to "Typa Girl" and "Tally,": as Gen Z's "it girls," they proclaim to the public that they "say f*** it when (they) feel it."
These few but fierce expletives dispersed throughout the album, especially reverberate in Kpop's notoriously conservative culture. Blackpink's choice to cuss is confident, vulnerable even —evidence of the bridge they've built between American and Korean culture. 
The punchy unparalleled disses in "Typa Girl'" left my mouth hanging open — particularly Jennie's early quip that "both my body and my bank account, good figure." The innuendos inserted heavily imply that the girls' licensure in embracing their duality, dominance in their sexualities, language and triple-threat identities.
Blackpink brings its signature sweetness with songs like "Ready for Love," — which features a music video in collaboration with video game giant, PUGB mobile and the girls are animated figures — and the nostalgically saccharine, "Yeah Yeah Yeah" with its simple synth chorus and even simpler fadeout conclusion. "Ready for love," is the daytime version of "Yea Yeah Yeah," both the affirmative choice for city car rides against sunsets and well-intentioned but garbled karaoke.
If "Born Pink," had one faltering, it would be the magnificent-ly ill placed Rosé solo — "Hard to Love." Rosé's delectably "pink" vocals breathes a fun and fresh sound to the trite EDM some associate the group with. In the already compact album (an eight track total), a solo insertion feels like a cheap rerun and callback to  group's entertainment company's loathed spartan release style.  
"Blackpink is the revolution." 
If there's one thing "Born Pink" proves, it's that Blackpink has nothing to prove. 
In many ways, "Born Pink," is a rebirth and retrieval to both the fans and the performers. 
While  "The Happiest Girl," is reminiscent of other "obligatory" sad ballads,  the girls' fragile refrains vocalize the truth behind Blackpink's braggadocious performances with more vulnerability than before.
"Tonight I'll be the happiest girl in the world. You'll see like it never happened," the girls chant, their voices low in a monotony that harmonizes with the tried and true lifestyle they address.
Time after time, Blackpink models as the "happiest girls," onstage: as the world's biggest girl group, they've broken records and arguably even K-pop into American mainstream with their acclaimed 2019 Coachella perf0rmance.
But has Blackpink ever really had a break from the performances, the constant scrutiny of their lives on and off the stage?
"The Happiest Girl," directly questions the impact of international it-girl status on their mental health.
"I can't stop the tears if  I want to,"  the four girls chorus.
Lisa. Jennie. Rosé. Jisoo.
The world may be their stage but there are some acts they don't want to perform. 
My only disappointment, per usual, is that there isn't more.
About the Contributor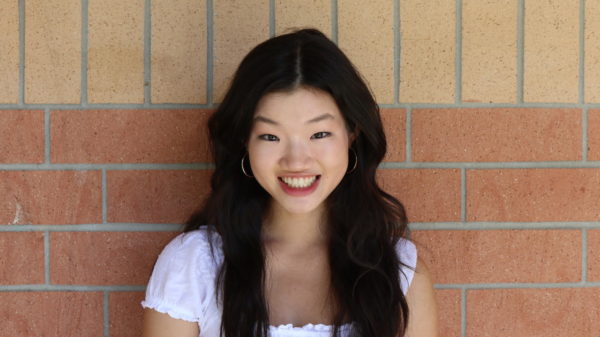 Sarah Yee, Co-Editor-in-Chief
Sarah is a senior and Co-Editor-in-Chief. This is her fourth year on the Gazette staff.