Incident interrupts cool summer
Car accident in front of frozen yogurt shop leads to rising tensions, threats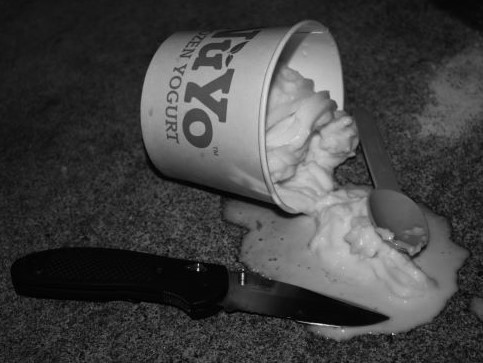 Sydney Sewell, Photo editor
September 1, 2018
Hang on for a minute...we're trying to find some more stories you might like.
Last month, a few students just trying to enjoy the last few days of summer at a local food eatery ended up getting more than just fro-yo.
  On Aug. 1, senior Ryan Pizzo and 2018 Granite Bay High School graduates Alyssa Sewell, Janelle Cruz and Owen Box were sitting outside of Nuyo in Granite Bay when their conversation was interrupted by a loud sound. It was the sound of tires screeching – two cars had crashed.
  As they looked out to the street, they saw it was cluttered with broken car debris and glass.
  But what went wrong?
  One car mistakenly turned left on a red light, hitting another car going straight on a green light.
   "As I witnessed the crash. I was completely caught off guard and thought it wasn't really happening," Sewell said. "The initial crash was very loud and scary, and I just wanted to make sure everyone was OK."    
  Sewell said, after seeing all the damage, she and her friends began  looking around to see if anyone had been injured.
  After making sure everyone was OK, the friends returned to the sidewalk, believing the chaos was over – until suddenly one of the cars tried to drive off.
  It was the same driver who ran the red light.
  "After a little bit, the lady started driving backwards into traffic and nearly running over people," Cruz said. "I was … freaking out and shaking and stuff. It was crazy, someone could have died." 
"
After a little bit, the lady started driving backwards into traffic and nearly running over people"
— Janelle Cruz
  As tensions rose, Cruz took her phone out to video the whole event, focusing on the woman in the car who  was attempting to drive away.
  The students also made sure to notify authorities.
  "Owen called the police to notify them about (the event), and they said they (would) send firemen there," Cruz said.  
  Meanwhile, as Box called the police, the others warned the people passing on the sidewalk and those driving by the scene.  
  "Ryan Pizzo and I stayed on the street with people coming out from Nuyo to explain what happened," Sewell said.
"We saw more cars get involved and it looked like one person was there to help get the lady calmed down and (get) her (information) at least."
  However, the woman did not seem to calm down – she instead got out of her car holding an object in one hand and wielding another object in her other hand. The woman also began yelling at the people around her.
  After hitting several people, the lady then got back into her car and succeeded this time in driving away from the scene she had created.
  Initially, the friends said they thought  the lady was holding a baby in one hand and some weapon in the other, but after talking to the victims of the crash, they were informed otherwise.
  "After the crash," Sewell said, "the victims told Janelle and Owen that the lady was holding her dog and was waving around a knife and threatened to stab them if they got close to her."
  Only then did the group begin to process the intensity and severity of what they had just witnessed.    
"That was a crazy moment of realization that she had not only been trying to hit the other people and their car, but she had a knife and she was trying to stab them," Pizzo said.
  After the woman drove off and the police came, the four students forwarded the video taken by Cruz as part of the evidence.
  "When I was driving away, there were multiple police helicopters with spotlights that were looking for her," Pizzo said.
  After the event, the group reflected on what they had just seen, wondering if they could have done anything differently.
  "We were all shaken up," Cruz said. "It was definitely a new experience for all of us, and we didn't really know what to do."
About the Contributors
Sidney Zabell, Co-editor-in-chief
Sidney is a senior at Granite Bay High School who is in her third year on the Gazette/GraniteBayToday.org staff. She is one of five co-editors-in-chief...