Granite Bay football receives new players that help the team to victory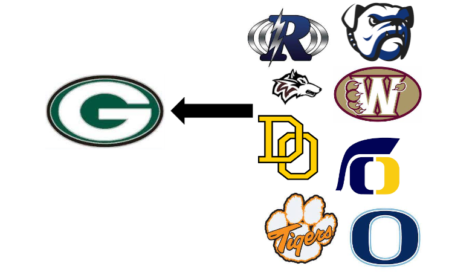 Granite Bay High School's football team has received more high school transfer students during the 2022-2023 school year than they have in five years.
The football team's stats have skyrocketed with a total of 108 points in just three games. So far, in those three games, Granite Bay has been undefeated.
Last year the Grizzlies started the season with just two wins and a loss against Jesuit. 
The season is looking bright for Grizzlies. Could this have something to do with the new team Granite Bay has managed to build?
Sophomore Nick Harris is a Rocklin High School transfer. Harris came over to Granite Bay because it was closer to home. 
"Everyone is really cool ... even the seniors," Harris said. 
Having a good team that makes us "fit right in" has helped many other student athletes recognize Granite Bay. 
In other words, student athletes are not allowed to just change schools because they want to be on a better team. 
GBHS has been fortunate enough to receive excellent student athletes that just happen to have the will and talent at their sport. 
According to the CIF Sac-Joaquin Section Constitution, it states that "any student who submits a limited eligibility application to their respective Section may be made eligible to play at the sub-varsity level in any sports in which they have participated at any previous school in the twelve months prior to this transfer."
If the student meets requirements in the Constitution then the student transfer does not have a "sit out period." 
The sit out period occurs when  a transfer student does not meet requirements and they have to sit out of their spot for a certain time in their season.
Luckily for GBHS, all of the  transfer students meet these requirements and all are able to play on varsity.
The new Granite Bay football team, composed of new transfers, has gotten the attention from parents, coaches, teachers and students around the community due to the strong performance and high scoring rate. 
About the Contributor
Anna Jenkins, Staff Writer
Anna is a junior. This is her second year on the Gazette staff.