Granite Bay Drops Close One to Folsom
Grizzlies start off their season a semester late as parents continue to question safety
On Friday night, Mar. 19, the Granite Bay High freshman football team opened up their season by playing the Folsom High Bulldogs.
They got off to a slow start by not converting on a fourth down play turning the ball over to Folsom. 
Folsom capitalized on the stop and took the ball down the field and scored on a fourth and goal run putting them up 7-0 in the first quarter.
The GBHS Grizzlies started the second quarter off strong with freshman Frank Cusano scoring a one yard touchdown to get them on the board. They did not get the extra point which made it a 7-6 game.
 FHS answered right back by scoring two touchdowns on offense and getting an interception on defense holding the Grizzlies to six first half points.
The Grizzly defense came out ready to play in the second half stopping the Bulldogs on their first drive.
At the end of the 3rd quarter, GBHS took the ball down the field and capped off their drive with a four yard run to score by Cusano. They then went for the two point conversion and freshman Lucas Gruia completed a pass to Cusano making it a one touchdown game.
It was more back and forth in the final quarter. GBHS got some late life though as Gruia completed a 62 yard touchdown pass to Cusano. They attempted to go for a two point conversion again and failed making it a 21-20 game. 
GBHS kicked an onside kick and Cusano recovered giving the Grizzlies the ball back with 22.5 seconds left in the game.
The Grizzlies decided to throw up a deep pass that was intercepted by the Bulldogs as time expired. The Grizzlies fell just short as they lost 21-20.
"There was a point in the game where (Folsom) could have probably could have blown us out but our guys bowed their necks and said ain't gonna happen,"  said Coach Ernie Cooper.
"This is the most fun I've had in a long time, our team's looking great. We all worked hard. We've been working off all offseason for like nine months, put in the work, and it showed on the field," said Cusano. 
Gruia said, "I mean it was awesome for all of us, we're all super happy about it".
With numerous board meetings discussing sports and even a protest, high school athletics are finally being played again. How do the parents feel about their children's safety on the field?
Larry Caldera, a father of wide reciever Peter Caldera said, "I am not concerned at all. The school and individuals involved are taking care of everything that they need to to ensure that the can do stuff like (athletics) and continue progressing as the cases continue to decline".
Sean Randall, father of outside linebacker Kai Randall said, "I think they are doing a great job. The protocol has been having to have their masks on and been doing a decent job with the social distancing. I feel like this stuff has done a great job in creating a safe environment as you can in the midst of it".
About the Contributor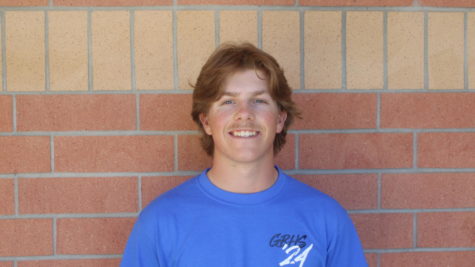 Andrew Goozen, Staff Writer
Andrew is a junior. This is his second year on the Gazette staff.