Freshman on varsity football known as Hurricane Zay receives 3 D1 college offers
If you are looking to watch a great football player on an undefeated team you probably should be watching GBHS' number 24.
Isaiah Ene (#24) is a freshman on the GBHS varsity football team. The only freshmen on the team. This is a rare sight with such a high-level high school team.
Ene has been playing football for seven years and has already been noticed not only by the Granite Bay community but by colleges around the country. 
So far Ene has received offers from the University of Nevada Reno, the University of Arizona and the University of Utah.
"Those caught me by surprise…although that was the plan all along. It was still mindblowing to get one so early," Ene said. 
Being only a freshman with these huge offers has given him a lot of praise on the field. 
If you were to go to a football game you might hear the GBHS section chanting "he's a freshman," referring to how good he is even at the young age of 14 years
"I'm willing to go (to school) wherever there is the best chance for me and…willing to let me do what I want to do while playing football," Ene said.
Friday Night Football games consist of stands filled with parents, friends, coaches and lots of students. It can be intimidating to be the youngest on a team and to know that there are at least 200 people watching you.
Even with seven years of experience and as much practice he has put into the sport, he said, "Every game, going right into the game, like my first step on the field, it still makes me nervous, (just like it was my first game)…but I'm mostly happy about where I am at the moment."
Even with all those people in the stands, all Ene can think about is his number one supporters- his parents. 
"They sacrifice a lot throughout the years…so like almost every Friday before the game I always look back at what they've done for me," Ene said.
Not only does he have his family supporting him, but 14-year-old Ene also has his teammates who push him to be the best he can be.
"(To be on the team) you need to be physically fit…and be able to match up with a lot of the kids, but I feel like the biggest part is the mentality you need," Ene said.
His teammates really enjoy having him on the team. 
"He is all-around great at football and really just fun to be around," inside linebacker Stelio Lenakakis said. 
The GBHS football team will have Ene as a member of the team for three more years being a Grizzly.
"I love the fact he is so humble and more surprised about how mature he is for his age," outside linebacker Bryan Bogue said. 
After his football career, he wants to do bigger things with his skill that may have impacted people around the community.
"(I want) to give back to the Sacramento community and to help the kids out that are wanting to play ball," Ene said. 
About the Contributor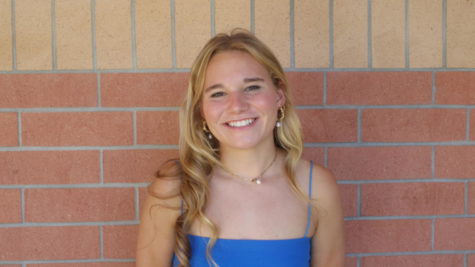 Anna Jenkins, Staff Writer
Anna is a junior. This is her second year on the Gazette staff.