Fan of the Month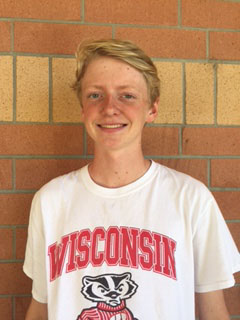 Andrew Dolan, a freshman at Granite Bay High School and avid sports enthusiast, has been attending GBHS sporting events all year and through the spring season.
   Out of all sports currently played,  Dolan enjoys attending one in particular.
  "I really like going to baseball the most," Dolan said, "mostly freshman guys baseball."
 However, Dolan's interest in baseball mostly revolves around his friends, which is primarily the reason why many students like to attend games. Student fans and the tribe often go to school sporting events not just to support the school, but to cheer on their friends on the court and on the field.
  "(I go) because most of my friends are on the team, that's the main reason why," Dolan said.  "Baseball is also one of my favorite sports to watch."
  Dolan loves being out in the stands cheering for his peers and close friends, one of whom even created Dolan's favorite memory so far of being in the fan section.           
  "My favorite memory would probably be seeing my friend hit a double in the first game I went to," Dolan said.
  Due to the fact that this is only his first year at GBHS, Dolan still has many opportunities to attend more sporting events.
  "I do plan on attending more games, just as long as my friends do it," Dolan said.  "I wouldn't go as often if my friends weren't in it, but I would still go to games."
  Dolan looks forward to being at more than just baseball games in the future.
  "I'm looking forward to the rest of the baseball games and track meets this year, and football next year," Dolan said.  "I enjoyed football in the fall and would like to see a basketball game next winter."
  However, Dolan said he would agree that there has been limited attendance in the fan section, especially at games where freshman teams are playing.
  "I would like to see a few more people there," Dolan said.  "It's kind of a small audience."
   Dolan enjoyed attending baseball games in particular this 2016 season, and looks forward to supporting his fellow GBHS athletes in upcoming years.
  "Students might be a bit less supportive of freshman teams," Dolan said. "I think it's pretty equal overall."