Counseling in quarantine
GBHS students seek virtual mental health counseling in order to cope with the stresses COVID-19 has imposed.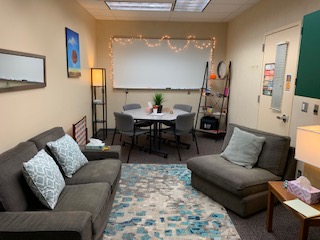 Amidst the worldwide pandemic, protests and the economy tanking, it is easy to forget about one's mental health. The quarantine's repetitive "Groundhog's Day" structure can leave people feeling depressed and unmotivated.
In a study done by the University of Toronto in 2004 that included 15,000 subjects, around 31 percent of subjects experienced depressive symptoms after being in quarantine for 10 days. Now in 2020, half of a year into quarantine, the effects seemed to have exponentially increased..
"I think being in quarantine has 100 percent affected my mental health," said sophomore Isabella Jarmaillo. "I was struggling a bit with being depressed, but after the first couple weeks that subsided with the help of my therapist, routine and the medication I take."
Unfortunately, getting professional mental health advice can be challenging during the quarantine. Many counseling offices have been shut down due to COVID-19 which not only affects the counselors' livelihoods, but their patients' livelihoods as well.
Despite services like Better Help and Talk Space, which provide secure, online therapy with licensed therapists, getting counseling over the Internet can still be tough. For many people opening up through a screen is less than desirable.
"I would much rather meet in person than over Zoom. It's easier to communicate and share my emotions that way and I develop a much better relationship with my counselor," anonymous said. "I actually haven't met my counselor in person before since I got a new one right after quarantine began."
Local therapist, Kristine Hardey, is meeting with people both socially distanced and over Zoom, but it is apparent that counseling on a computer can't beat the in-person experience.
"99 percent of people have wanted to come in even though they were afraid," Hardey said. "Vulnerability is a lot harder over Zoom than in person."
"
99 percent of people have wanted to come in even though they were afraid. Vulnerability is a lot harder over Zoom than in person."
— Kristine Hardey
Environment also plays a large part in one's enjoyment of digital counseling. 
"…you can be comfortable talking because you have a comfortable environment where you choose where you are," a separate anonymous source said.
For some though, receiving therapy at home can cause privacy concerns.
"I live in a small house with thin walls," said sophomore Lee Randolph. "I do feel more limited at home because I'm scared of other ears hearing my emotions." 
While the quarantine is making counseling less than ideal, the Granite Bay High School Wellness staff is doing whatever it can to implement its services and provide the resources the student body needs.
Mental Health Associate, Emily Belgarde, is one of the staff members who is working tirelessly to provide individual and group therapy, crisis intervention and case management. She is just one of many staff members who is providing professional help to those in need.
"I think the majority of people have experienced some level of anxiety during quarantine. This can be attributed to a lack of stability," Belgarde said. "There are so many unknowns right now."
Due to the pandemic, the Wellness staff cannot meet students at the Wellness Center, but they are hosting many individual and group online therapy sessions. Belgarde recognizes that counseling is more challenging at this time, but is hopeful that the online format will attract more students seeking help.
"Sitting face to face with a student allows me to read body language and pick up on subtle cues about their well being," Belgarde said. "However, I think we are seeing more students than ever access Wellness because virtual therapy allows a level of anonymity that students seem to like."
Another one of the benefits of meeting on a screen is the accessibility. Meeting your counselor through Zoom can eliminate distance and schedule conflicts.
"For other people it might be easier on their daily lives just with their personal schedule to do it at home over the phone," Jarmaillo said. "I definitely think that more people should be utilizing counseling and therapy resources if they are struggling. It makes a huge difference and can really help."
Quarantine is a psychological maze and for many people it is critical to have a support system that will help them navigate these trying times. Mental health is just as "real" as physical health and getting advice from a professional is of utmost importance if needed.
"I was dangerously suicidal and depressed for all of middle school and therapy literally saved my life," Randolph said. "There is no way I'd be here without it."
About the Contributor
Justin Ha, Co-editor-in-chief
Justin is a senior and co-editor-in-chief. This is his fourth year on the Gazette staff.