Commentary: BLM protests are incomparable to the Capitol raid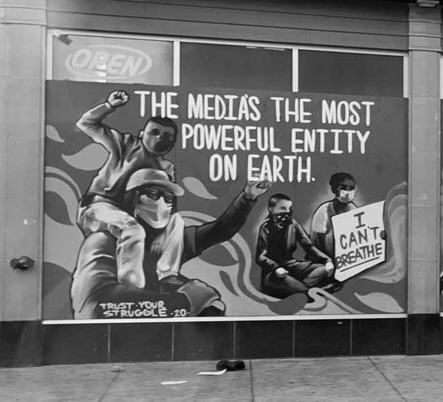 The freedom to assemble; one of our foundational rights and the basis of the many laws America has been founded upon.
Living in a free country means we the people are here to uphold democracy, but at what point in time did the democratic foundation of America begin to crack? When did our unity turn into division?
When did our mutual respect end?
The Black Lives Matter movement, founded in 2013, was created "in response to the acquittal of Trayvon Martin's murderer," according to the official Black Lives Matter website.
The recent Stop the Steal movement was created in an "attempt to overturn the 2020 United States Presidential election."
Now what I believe is important to keep in mind is  that one group of individuals is trying to fight for their right to be seen as equal among their counterparts in society while the other was brought together by a misinformed belief that they were disenfranchised through a "stolen election."
But is there really room for this in a democratic society when there is loads of evidence that the American people were in fact NOT disenfranchised in our last presidential election?  
I want to emphasize that the Black Lives Matter foundation was created in fact, with very real evidence, while the plight of election fraud was not.
So why is it that an attempted insurrection was able to take place at our very own Capitol building and so many citizens still think that these two groups of people are comparable? 
I believe that although violence was seen within both groups, it is important to recognize how both bouts of violence were incited.
A sheer, terrifying truth unfolded in front of the American public the day that George Floyd was killed, the hands of police brutality on him for 8 minutes and 46 seconds. 
This same day, many of us questioned what constitutes greatness in America. This was the day when so many of us said, "enough is enough."
These protests, mainly led by Black activists, soon erupted all over America in response to the numerous murders of Black citizens. Any sort of violence attached to these protests was never intended by organizers.
BLM activists everywhere recognize how incorrect it is to ambush businesses that had nothing to do with the injustice, but, regardless, why do officials put businesses on a pedestal while Black lives are held on the ground? 
"
BLM activists everywhere recognize how incorrect it is to ambush businesses that had nothing to do with the injustice, but, regardless, why do officials put businesses on a pedestal while Black lives are held on the ground? "
— Ria Dhamejani
It amazes me everyday that people don't understand how simple it is to truly read the message this movement is sending. Black citizens across America have to live their lives in fear of being killed everyday, and yet we as a society seem to oversee this time and time again.
How are we supposed to compare looting to the exponential number of Black lives killed in America?     
So, yes, protests did get violent in this plea for change. People are sick and tired of having to fear for their lives and that is the bottom line of this situation. 
But creating havoc in the capitol building over a misinformed belief about an election? There is nothing to change nor is there any reason to have created violence for such a cause.
The violence that was seen on the day of the failed insurrection was led by right wing populists and far-right armed militias.     
As barriers were breached and an angry mob of Trump supporters stormed the capitol, Americans watching from all over would soon realize the fury held in these individuals.
As I watched the terror unfold from the comfort of my home, I understood that the violence portrayed that day was something that no news source could distort. Every media outlet could only show the same destruction.
The Capitol raid was covered by many news publications compared to thousands of peaceful protests across the country regarding Black lives being at risk that were somehow only covered when violence began.
But of course, the media needs viewers which is why they would rather paint a picture that seems fearful rather than inspiring. 
To them it is most important that they have people who turn the TV on and choose their channel.
Although we were able to see in real time that items were destroyed, historic possessions were disrespected, and people were assaulted due to a shared belief that the election was unfair, for some absurd reason people still believe that the way both of these issues were incited should be compared.
Absolutely ridiculous.
How can one even justify the chaos that came at the cost of this attempted insurrection? Are we really going to continue to make Black Lives Matter protests our standard of comparison when violence surfaces in this country due to a cry for change?
The businesses affected by BLM protests may not have done anything to deserve the ruins they were left in, but neither did the numerous Black victims of police brutality. 
So what is a Target building compared to the Capitol building?
A big corporation has the ability to build another building and more if they would like. 
The Capitol building is the source of so much of American history and a symbol of what this country has endured to get where it is today. 
While violence may not be the answer, it is crucial that we as a country identify why violence had been created in these situations.
Stop comparing a ridiculous misconception to a marginalized group of individuals fighting for change. 
It's time we wake up and open our eyes to the years of injustice against the Black community in America.
Lives are on the line.