Campaign interns invest in their community
Leading up to Election Day, this Nov. 8, Granite Bay High School students have involved themselves in the campaigns of Congressional District 3's candidates.
Kermit Jones (Democrat) and Kevin Kiley (Republican) are on the ballot for Congressional District 3 whose district lines expand hundreds of miles and have recently been redrawn. 
"Since the district has been redrawn, there are many unique and different areas within District 3 from Death Valley to Tahoe," junior Avery Wu, who interns for Kiley, said. "From small towns to big cities, the 3rd Congressional District has it all. This means there are a lot of different viewpoints and beliefs that will all factor into the election."
Wu, who started interning in October, said as part of the Kiley campaign team, she goes every Tuesday and Thursday for two hours. 
Application to intern were rolling and accessible through Granite Bay's newsletters or media videos. Junior Ilan Sankar, another Kiley intern and junior Payton Griffin and sophomore Siya Mishra, who intern for Jones, started in August. There are also several other GBHS students and alumni on both campaigns.
Wu chose to intern with Kiley because she "liked his views on education."
Griffin chose to intern with Jones because she felt he was for, "people over politics," a concern she saw in Placer County.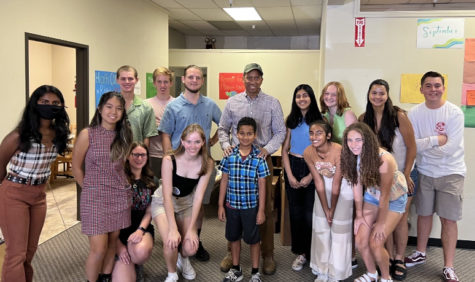 Griffin said she was especially passionate about issues like climate change, abortion rights and LGBTQ rights, issues she saw challenged at the national level. 
"What stands out to me is that Dr. Jones doesn't just blindly take political sides," Mishra said. Mishra interns for Jones three times a week. 
"He truly understands what leadership means by being willing to stand up to both extreme Democrats and Republicans in order to create meaningful change…Issues aren't just Democrat or Republican, oftentimes we are in the middle or mixed in between both."
Sankar said that his decision to intern with Kiley had, "less to do with political views or what I'm passionate about. It's more about learning how it works."
Sankar said he also enjoyed the flexible schedules and overall structure of Kiley's campaign.
As an aspiring politician, he said his passion is to tackle fire management and make it more efficient and safe for Californians. 
Regardless of the campaign, the students said their primary activities as interns was canvassing.
Griffin, who recorded around 30 hours interning on Labor Day weekend alone, said that though she loves canvassing now, she was initially overcome with "fear" and "anxiety."
One out of every eight doors she opens typically answers, she says. 
"Every once in a while, I'll knock on someone's door and (have)  30 to 45 minute conversations with voters just talking about our current issues," Griffin said. "Those long big conversations that I don't expect to have are so heartwarming and they make me feel like there's people out there who believe…understand (me)…because (we) live in this political climate where it is dangerous to speak out when you believe because you can lose friendships and families."
"
"We don't have forever to make these decisions, we have to act now and by discussing politics at a young age."
— junior Payton Griffin who interns for Kermit Jones
An aspiring political consultant, Griffin said she hopes to increase transparent communication from politicians to people-noting that as an intern, she's observed most people don't know their local party candidates and vote by party color.
In preparation for today's momentous election day, Wu said that the campaign has shifted voting gears slightly. 
"When I first started, we were mostly targeting adults who were either unaffiliated, undecided, or in favor of the opposite party," Wu said.  "As election day got nearer, we were responsible for talking to people who usually do not vote at all, as well as more undecided people." 
For Griffin, Mishra, Sankar and Wu, though they had been interested in politics, this was their first time hands on in a political environment. Sankar and Mishra are also on the acclaimed GBHS speech and debate team. 
Sankar, who has been involved in the school's Speech and Debate team for about a year, said both the transition and translation between the two activities are seamless.
"You already know about politics, how your systems of government work..so you do carry that knowledge with you, when you go into the political campaign," Sankar said. "It does help when you're really trying to understand what's being said, why it's being sent and who it's being sent to."
All interns said being a campaign intern is a constant learning experience, both on and off the canvassing ground. 
"You do learn a lot of things, not just about campaigning, being able to reach people but also about how your country works. And the side of politics you don't really see very often because normally politics is very like this side, that side, but as soon as you join a political campaign, it becomes a lot more about the bigger picture," Sankar said. 
Though all are under the voting age, they are passionate about growing youth civic engagement. Many have political aspirations. 
"With politics, there are so many different viewpoints. I always try to listen to both sides of the arguments and discussions to be as knowledgeable and well-rounded as possible," Wu said. "Even though I am not able to vote yet, I can still educate myself in the meantime." 
Wu said if Kiley is elected, she will pursue other opportunities to work with him or other elected officials.
Although Wu said her political views haven't changed much as an intern, for Griffin, interning with Jones helped her become more "open minded."
"I was closed minded," Griffin said. "When I started the internship I didn't see the good in people because of all the bad things that are happening in the world."
 "They say once you meet people, you judge them within the first seven seconds. As a political intern, you talk to people all the time, and you don't know their background, you don't know where they're from," Griffin said.
"
"Nobody, especially nowadays, aligns with exactly what you want (politically). You're always going to want something a little different…so the best way to do that is to learn how it works. Do it yourself. "
— junior Ilan Sankar, who interns for Kevin Kiley
Sankar said he encourages people, students included, to join a political campaign to gain "useful knowledge," and "get familiar with the way you enact change in your country."
"Nobody, especially nowadays, aligns with exactly what you want," Sankar said.  "You're always going to want something a little different…so the best way to do that (is to) learn how it works. Do it yourself."
Mishra and Griffin encourage youth to take personal political action now. 
"We can't just be quiet about it," Griffin said. "A lot rests on our shoulders, especially as a young generation with climate change and a lot of our rights being tested right now. We don't have forever to make these decisions, we have to act now and by discussing politics at a young age."
Griffin also offered three pieces of advice to aspiring campaign interns. 
"Have confidence. Be educated and well rounded and never judge people right away."
About the Contributor
Sarah Yee, Editor
Sarah is a junior and editor of the Features section. This is her third year on the Gazette staff.