Winter Ball — COVID-19 edition
Committee of Granite Bay High School mothers and students plan senior events throughout the school year, stirring controversy.
Corsages, tuxes, and dresses fill Instagram feeds, paired with captions of "Shhh!" and "Best winterball ever."  As high schools have not been allowed to plan functions throughout this semester, confusion inevitably arises when students are outwardly attending a dance.
The coordinators of such events are not a mystery, however.  It has been well-known among the senior class that a committee of Granite Bay High School mothers along with their teenagers have been planning events since the beginning of the school year. They began with the Senior Sunrise in August, adding on a Decades Dance in October and the Winter Ball on December 4th.
Kaitlyn Adams*, a senior student who is an involved member of the planning process, aspires to bring back the sense of normalcy seniors desire for their last year of high school.
"We have been waiting so long to have our senior year," Adams said, "so the goal of these private senior events is to give us something to look forward to."
Melissa Dunn*, a mother on the committee, reflected on the process by which the group was able to coordinate the events.
"We reached out and brought together like-minded parents who wanted to create memories for our senior class in a safe and inclusive way," Dunn said. "We leveraged our kids' network and social media channels to get the word out on our events. It was certainly challenging with managing the size of the events to ensure the safety of all the participants."
Yet, despite good intentions, concerns of provoking hazard rather than ensuring safety sparked.  With the recent gathering of 125 students at a Winter Ball that didn't require masks, it naturally becomes difficult to believe in the safety of these private events even if they are outdoors.
Dr. Daniel Williams, a community emergency physician, works on the frontlines, being exposed to COVID cases on a daily. Through his lens, it is clear that the virus is a lot more serious than some students and their parents at GBHS make it out to be.
"You have to see somebody who is really sick from (coronavirus) to know you don't want it," Williams said. "That makes a big difference — if you see people that are truly sick and young even. You don't want to be the young person who comes home and brings it to your parents or grandparents. We've seen cases where people lost both parents, and it probably could have been the kid who brought the COVID home."
"
You don't want to be the young person who comes home and brings it to your parents or grandparents. We've seen cases where people lost both parents, and it probably could have been the kid who brought the COVID home.
— Dr. Daniel Williams
These concerns have resulted in backlash from the community, much to the disdain of the parents and students planning the events.
"Granite Bay admin has been trying to involve themselves in events that are being put on privately," Adams said, "so they are basically going out of their way to make sure they don't happen. They are crossing into people's private lives which is not ok at all…
I just think it's kind of unfair to the people that still want to have events when people try to cancel and sabotage them."
It appears that the GBHS administration has an indirect role at most in such efforts.
Jennifer Buschmann, an assistant principal at GBHS, said that the administration is aware of the parents planning large gatherings, however, they don't have the power to intervene.
"We don't have jurisdiction over the private senior events," Buschmann said, "but we have had other parents make us aware of these events. We've just encouraged those parents to reach out to (the parent coordinators), but we don't have the authority to ask them to comply with the county and state mandates, unfortunately."
Gabriel Fisher*, a student at GBHS, agrees that the committee's freedom to continue its large gatherings without intervention is unfortunate as the greater community is being put at risk.
"(People attending these events) aren't wearing masks and they definitely aren't keeping any social distancing guidelines in mind," Fisher said, "certainly raising the risk of spreading the virus."
Those on the committee, however, assert that there should be no concerns associated with the gatherings as everybody is entitled to their own personal choice.
"There are no cons because it is completely optional," Carly Adams*, the mother of Kaitlyn Adams and a participating member of the committee, said, "and you have just as much of a risk of getting COVID if you went to dinner or a grocery store or other activities."
Her daughter holds a similar perspective.
"I don't live with anyone who is high-risk," Kaitlyn Adams said, "so if I got COVID, we would be okay. If somebody is at risk or lives with their grandparents, they can choose to not attend. I think it just comes down to your personal circumstances."
The Placer County Sheriff's Office also maintains the attitude that individual liberties grant families the right to make their own decisions in regards to COVID-19, so they will not enforce any guidelines.
The concept of "personal choice" is not applicable in this case to several, however. 
"The purpose of these private events is social interaction," Fisher said. "When partaking in other daily activities, however, people are masked and focused on social distancing, so the risk is a lot smaller. 
Getting the virus is not a personal choice. These guidelines were designed to help others who are at risk, so even if your personal circumstances are in your favor, you are still contributing to the spread of the virus to people who have personal circumstances that aren't in their favor."
Being open to contracting the virus due to not being "at-risk" is also questionable considering the coronavirus statistics in Placer County. So far this year, there have been 1242 cases between ages five to 17 and 3629 between 18 to 34, alarming numbers that only make up about 40% of the total cases in the county. Clearly, teenagers and young adults are contributing to the spread.
"Placer County has had close to 9000 cases and 92 deaths," Dr. Williams said. "That's 92 people who would have been here that are now dead because of this virus. COVID is real. It is a very fatal virus, and I just wish people would take it more seriously…
This is just Placer County. This is not the rest of the state. This is not the rest of the country. This is not the rest of the world. That's important to keep in mind."   
Despite the statistics, ignoring social distancing has still become more of a norm as the pandemic progressed. Dr. Erin Ambrose, associate professor of psychology at William Jessup University, said that pandemic fatigue has a large influence on such carelessness.
"I mean, we are all tired of the pandemic," Ambrose said, "and we are social creatures who were created to be interactive. This pandemic has stopped us from being our normal selves. So we can keep on doing this for a certain period of time, but since we are social creatures, we just fall back to the norm for people, which is interaction.
It's unfortunate because we still need to be following guidelines."
Several students seek out these events in order to ameliorate their mental health through social interaction. Despite the obvious importance of mental health, Ambrose does not find it a worthy excuse.
"There are lots of other ways that we can take care of our mental health without compromising someone else's mental and physical health.
…I hate the term 'social distancing'. We don't need to be socially distanced; we need to be socially connected. While we are physically distanced, we can still be socially connected with masks on and six to ten feet away, or through phone calls, zoom, and other virtual means. There are so many ways to get those emotional connection needs met without compromising health."
During these times, it is crucial to work together in order to regain normalcy.
"Just be selfless," Williams said. "It takes the whole community to reduce the spread of the pandemic…People need to educate themselves. While people are entitled to their opinions, it is important to follow the data.
…I also recommend that people get the vaccine when it is available. The benefit outweighs the risk if any."
In regards to the ongoing problem of pandemic fatigue, Ambrose said that a change in mindset is necessary.
"Part of the reason why people struggle with pandemic fatigue is that they focus so much on what we can't control," Ambrose said. "I can't control when exactly the vaccine is going to be available to me. I can't control when exactly I'll be able to fully interact with people safely. What I can control, however, is exercise, eating well, calling friends — things that are good for my mental and physical health.
If we focus on positive things, then we draw in positive emotion, and that's something we can control."
*name changed for the purpose of anonymity
About the Contributor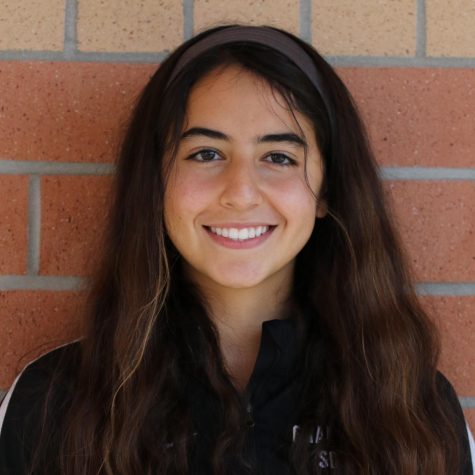 Heba Bounar, Co-Editor-in-Chief
Heba, a senior, is one of the editors-in-chief, and this is her third year on the Gazette staff.