Uncertainty over poster policy prompts student-admin dialogue
After Granite Bay High School administrators took down a series of student posters regarding the recently contested English curriculum supplemental materials during the week of Sept. 25, administration approved the posters and they were put back up on walls and columns around the GBHS campus.
Sela Sangwin, senior, made the posters. Collectively, these posters were taped up using blue painter's tape around the English department as well as around the 100s building and in its stairwell.
On the morning of Wednesday, Sept. 28, Sangwin put up the first set of posters, which consisted of  approximately 10 posters that state "BANNING BOOKS IS FASCISM" and adjacent ideas. Administrators removed the posters that were around the English department buildings on Thursday, Sept. 29, at around 1 p.m. The posters that Sangwin taped in the 100s building remained up.
"I think that literature is the most important form of communication and that the avenue and the medium of expressing yourself through literary devices allows you to communicate emotions and experiences that might not be otherwise experienced," Sangwin said.
Sangwin put up a second set of posters on Friday, Sept. 30. Eighteen of the posters in the second round each presented a poem that was subject to Site Council approval and which parents commented on as concerning. Administrators removed posters from the second set by the end of first period on Sept. 30.
"I was pretty horrified by (the list)," Sangwin said, "so I knew that I wanted to do something to spark conversation and make sure that as many people as possible were aware of the situation and if they were also concerned by it, that they would go to the (Oct. 12 site council) meeting to express any sort of viewpoint they might have."
During their Oct. 12 meeting, the GBHS Site Council approved the list of supplemental English materials to advance to further review by the Curriculum and Instruction Leadership Team.
Sangwin contacted administration on Sept. 30 and discussed the removal of her posters with GBHS principal Greg Sloan.
"In trying to avoid the wrath of these parents (who expressed concern about the supplemental materials up for approval), and trying to avoid any fight that they might have about my expressing my opinion and promoting campus-wide discussion on that," Sangwin said, "(Administrators) sort of neglected the fact that in taking down posters expressing my freedom of speech that I have grounds for some sort of lawsuit."
Sangwin said that during her conversation with Sloan, he stated that when putting up posters, she should inform the school of how many posters she has and how long she wants them to be left up. According to Sangwin, Sloan stated that she needs to disclaim on her posters that the opinions expressed are hers, rather than the school's.
"Time, place, and manner were established by the Supreme Court to allow for the establishment of local government regulations related to the First Amendment," Sloan said in an email to Granite Bay Today. "We would encourage any student who had specific questions about something they were considering to ask administrators if it was allowable."

On page 23 of the GBHS Student Handbook, the Posting of Signs/Distribution of Literature subsection states: "All signs, flyers, etc. must be associated with the school or a school organization. Blue painter's tape is the only allowable manner to post signs. Students distributing literature must exercise this right within the time, place, and manner established for the school. The full text of the policy is available on the district website. Please note that the policy prohibits the distribution of commercial advertising and flyers advertising parties."
Various posters around campus do not appear to have a disclaimer stating that they represent students' views rather than the school's. For example, on Oct. 5, posters for the GBHS Sunrise Movement were observed as stating that the Sunrise Movement is "GBHS' MOST POLITICALLY ACTIVE ENVIRONMENTAL CLUB." The posters had no visible indication that they represent student opinion.
"I understand that procedure on hanging up posters and art and things around the school would of course vary from school to school, but there was no indication anywhere (that posters had to be approved)," Sangwin said.
"
"The handbook policy (previously) referred to is the only one students would find. As a result of this recent situation, we are looking at adding some language to our handbook that would help clarify.
— Greg Sloan, GBHS principal, via email
Additional commentary about Roseville Joint Union High School District students' right to freedom of expression may be found in the Board Policy Manual under Policy 5145.2: Freedom Of Speech/Expression.
Policy 5145.2 states that "The Board of Trustees believes that free inquiry and exchange of ideas are essential parts of a democratic education. The Board respects students' rights to express ideas and opinions, take stands on issues, and support causes, even when such speech is controversial or unpopular."
Per Sangwin, she put the posters up again on Oct. 3 after getting them approved by administration that day. An assistant principal approved the previously removed poetry posters by reviewing each one to, per Sangwin, "make sure the content was appropriate for school" and to ensure that each had a disclaimer that it represents student opinion. On the same day these posters were approved, Sangwin put the posters up around campus.
"The handbook policy (previously) referred to is the only one students would find. As a result of this recent situation, we are looking at adding some language to our handbook that would help clarify," Sloan said in an email to Granite Bay Today.
About the Contributor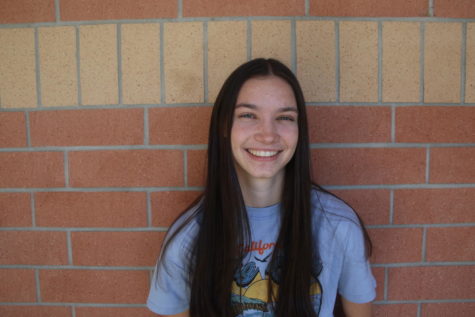 Kate Rowberry, Editor
Kate is a senior and Editor of the Opinion section. This is her second year on the Gazette staff.