Theater's Back!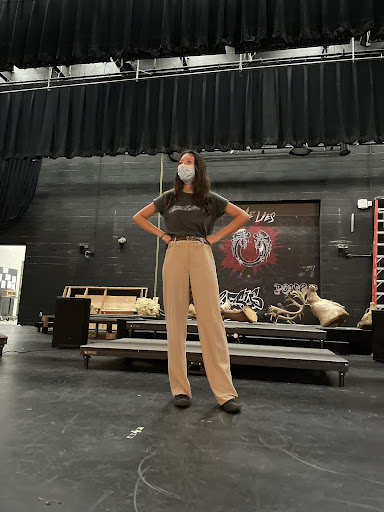 A girl yells "from the top!" to the booth at the back of the theater, and rushes to the top of the stairs. As the music begins, the girls file down the aisles, one step at a time, carrying invisible trays of delicacies to the stage. 
Musical Theater International is an organization trying to bring actors and theater lovers back to theaters by giving away song rights to schools for free. There are over 5,500 performances, with over a million people coming to see them worldwide. MTI is in all 50 states and 40 countries/territories across the world.
Since the world shut down for COVID-19, theaters have been closed and Granite Bay High School's drama and choir have had a very difficult time performing for the GBHS community. MTI gave an opportunity for choir and drama students to get together and make a collaborative performance. 
In just one month, the Granite Bay choir and musical theater put together an incredible performance featuring solo, duet, group and ensemble performances, along with choreography for almost every song. It was quite the time crunch for them, but they managed to scrape together the bits and pieces in the days leading up to the performance and throw a show together. 
"We didn't know what was going on until the day before the concert," Serene Cheng said, a junior who is in both musical theater and choir. "(but) we did great … in the end." 
In the week leading up to the performance, they had just begun choreography and most songs weren't "stage-ready." Cheng stepped up to the plate. She started organizing dancers and choreography, with only a few hours of stage time she and her dancers were ready to perform in their first number. 
Cheng led a group of dancers for the song "Be Our Guest." Since they had such little time, they stuck to simpler dances, but learning them in time with the music still proved difficult. 
"People didn't know the words," Cheng said, "It was really hard to stay on top of things."
Without the words, it was harder for Cheng to tell her dancers where choreography was in the song.  However, many of the students who knew the song best where up in the front dancing, rather than simply singing. 
"It was our first combined drama/choir performance since I've been at GB," Susanna Peeples said, the choir teacher of Granite Bay for four years. 
Most of the well-loved choir teacher's career at Granite Bay  has taken place during Covid. 
"Choir is usually about singing as a group, and musical theatre is mostly about solo singing, so it was nice to have a combination of both in this instance!" Peeples said.
Having solos and group singing took the best of both worlds, letting students choose how much of the performance they participate in. Students with solos got to learn what it's like to have all the audience's attention on them, and the importance of standing on their own while singing. 
"The emotional acting I got to explore with the song and getting to sing something so real and naturalistic (was my favorite part)" Christine Corry, a senior who performed a solo piece in MTI said.
Over an hour later, those same girls bow in front of a booming audience. As they are clapped off stage, they meet with smiling faces of parents and friends, and the room fills with excited voices and exchanging flowers.