The festival of colors lives up to its name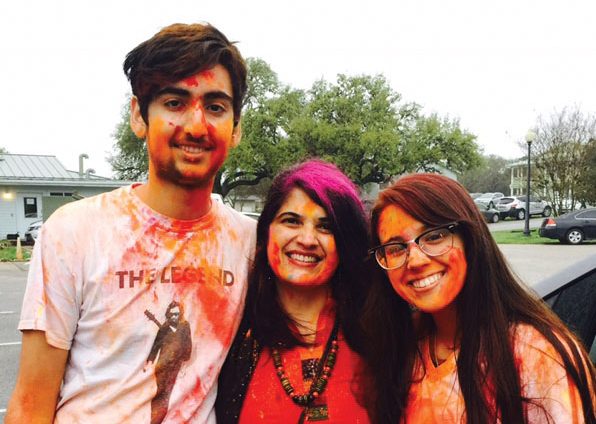 This year, March 13 marked the Hindu religious holiday, Holi. It is a day to forgive and forget, and celebrate the victory of good over evil.
Holi derives from an ancient Hindu story, where a god by the name of Vishnu, uses his power to overcome the evil that is facing individuals.
The concept of colors comes from Krishna, who was afraid that he would not be loved because of his blue (or dark complected) skin. His mother jokingly suggested to him that he should color the face of the one who would eventually love him, Radha (who was very fair skinned). He takes it to heart and plays this prank on Radha by coloring her face, and they become a couple.  
"This love is celebrated in the form of throwing colors or spraying squirt guns filled with colored water in a day long celebration of fun and pranks," David Tastor, Granite Bay High School IB World Religion teacher, said.
Celebration outside of the religion is represented through the spring time color runs or the Holi music festivals, where color is thrown into the air and a rave ensues.
As activities like the color run uphold the philosophy behind Holi, the portrayal of the ancient mythological story is rarely thought of while participants joyfully get color thrown at their faces.
However, with popularized events like these, the question must be raised – what is the religious and spiritual purpose of Holi?
"The spiritual purpose for Holi is to add more color into someone's life," sophomore Manvi Bhapkar said. "This festival is meant to add happiness to a person's life."
As vibrant colors brighten the lives of the celebrants, they also knit the social fabrics of our country. By bringing people of all races, gender, ages, etc. together, Holi provides unification and an enjoyable time.
Sophomore Avisha Shah emphasizes Bhapkar's statement and also pushes the notion that Holi holds cultural significance.
"Holi is a special holiday for Hindus because it's a triumph of good versus evil," Shah said.
Rooting back to the beliefs of Hinduism, the overall moral of the legends revolves around the idea that good will always upset evil.
Ideals such as these prove to be applicable to the modern world, where an individual is expected to practice good conduct and believe in the virtue of being truthful, rather than resort to evil doings.
The country of India, notorious for its elaborate celebrations and color plastered streets, is the place to be during Holi.
GBHS students, who celebrate Holi religiously, seem to find it harder to perform Holi here in Granite Bay.
"Because it isn't a holiday that we get the day off for, we aren't able to perform as many traditions used to celebrate the event," sophomore Anvita Gattani said.
As the holiday is not gifted a day off here at GBHS, Gattani draws on the issue of school interfering with the celebration of Holi. Bhapkar, however, proves that when there's a will, there's a way.
"We have a whole day dedicated to the celebration. We all make tons of food and then we meet at a park with the other 20-25 families (total 200 people) and we play Holi there," Bhapkar said.
Though it may be harder to carry out some of the same traditions one is used to, many find a way to make it happen.
"I do think that celebrating Holi in GB is different than how people celebrate Holi in India," Shah said. "But I think it still has the same purpose of gathering everybody in one place and just having fun with family and friends."