Teachers reminisce on their senior years
GBHS faculty share memorable stories from their own high school years
As the semester drags on, the days getting longer and longer, seniors begin to wonder if everything interesting has just been drop-kicked out of existence by the California Department of Education.
Calculus just isn't what it used to be.
What ever happened to the epic high school adventures that Disney Channel movies promised?
Well, fret not, because there are still a solid three months left in the 2019-2020 school year, a generous period of time for some wild adventures.
For those who have already accepted that this year has stagnated and see no possible increase in excitement, don't be too quick to make assumptions – the senioritis hits hard, but not hard enough to stop all crazy opportunities in high school.
Don't believe it? Just ask some of the teachers at Granite Bay High. 
"Me and about 20 of my friends decided we were going to be sick … so we went on a skiing trip," said Advanced Placement U.S. History teacher Brandon Dell'Orto.
An alumni of Calaveras High, Dell'Orto recalls how tired he was. He even lost hold of the energy necessary to tie his shoes and brush his teeth.
At least, that's what he said.
And so, because of this loss in energy, he and his friends started on a 45-minute trip up a hill to their ideal skiing destination.
That's when things started to go haywire.
"The (truck) in front of me had four kids in the front seat, because it was the age of seat belts just starting to be required, and three or four kids in the back of the truck, just kind of bouncing around," Dell'Orto said.
It had snowed the night before, so the roads were slick. As Dell'Orto drove behind the truck, it suddenly hit an ice patch and began to spin out of control, going over the edge of the road and smashing against a tree.
"As it spun, it threw one of the girls out from the back, and she ended up hitting a tree. The car sat on its side … we all stopped and pulled over immediately," Dell'Orto said.
One of the girls had cut her ear open, causing her to bleed out, however her injury wasn't fatal.
"It looked a lot worse than it really was," Dell'Orto said. "It was just a blur … so we never went skiing. Nobody did."
Dell'Orto checked up on the girls when they were in the hospital, and they turned out to be alright.
Upon going to a Board of Education meeting, for which Dell'Orto was a student representative, he came clean about the incident, only to get chastised by the board members.
While neither a fun nor ideal trip, it was definitely something to wake him up in the middle of his senior year.
Dell'Orto isn't the only teacher on campus, however, with some crazy scenarios from their senior year of high school. 
AP European History teacher Mike Valentine had a run-in with his own life-or-death scenario in the American River back when he was a senior at Cordova High.
"The river was high. It was spring, and it had finally rained after two years of a drought … (my friends and I) weren't paying attention to where we were, and we bounced off a wall," Valentine said.
"
It was spring, and it had finally rained after two years of a drought … (my friends and I) weren't paying attention to where we were, and we bounced off a wall.
— Mike Valentine
What seemed like fun for Valentine and his friends during a rafting trip turned out to be more dangerous than they thought.
While they weren't paying too much attention, a different raft came up to Valentine's, bumping into them and taking a turn for the worse.
"We were just humming along … (the other raft) ran into us while we were bounced up against the wall, and the current flipped them," Valentine said. "All I saw was the raft. I didn't see anyone in it."
After Valentine watched the scene of the raft flipping over, he didn't see anyone until a man surfaced from the rushing currents.The only thing the man told them to do was to "get the old lady."
"I didn't see anybody," Valentine said. 
He recalled not being able to see anyone, until a girl in her early 20s came up from the water.
"I reached down, and (my friend) and I started pulling her up, but we still didn't know where the (old) lady was," Valentine said. "She was under the raft, and the raft had been flipped upside down."
Valentine quickly realized that the older woman was drowning.
Three of his friends, who were all big guys with Valentine being the smallest of them, dove between the rafts to get to the woman.
"By now, we were going down the river while trying to get the raft off, and she's yanking them down," Valentine said. "She was panicked, turned upside down and turning blue."
There was a struggle to get to the edge, but they managed to make it on time, Valentine and his friends leaving this adventure with their heads held high, knowing they'd just saved a life.
As crazy senior years go, GBHS teachers are no strangers to the concept of wild life-threatening situations or even weird little things to happen throughout the day.
Science teacher Lisa Goldsmith has her own list of crazy stories from her senior year.
Some of it was small and funny.
She took up the opportunity of senior ditch day, though it didn't go quite as expected.
"I went to the local lake with my best friend," Goldsmith said. "We were swimming and I ran into a dirty diaper floating in the lake."
Her other experiences were a bit shocking, to say the least.
"The power went out and I was in the library. I left to go to the bathroom, and when I came back out, a bolt of lightning struck the power lines next to the building," Goldsmith said.
Her friend Vince had watched the scene from afar, calling it "too close for comfort."
"Long story short, I was almost struck by lightning," Goldsmith said.
With all this happening in just a few teachers' senior years, it's not impossible for some wild memory to come out of any day in this final semester of high school.
So, the best thing for seniors to do instead of succumbing to senioritis is to just keep their heads up and look for new, exciting opportunities.
Who knows, they might just save a life.
Even if it's the last day of school and it seems like nothing exciting has happened at all, don't worry – graduation isn't even the end just yet.
"At graduation, when we threw our caps in the air," Goldsmith said, "I watched mine – and it hit my friend Chris in the eye."
About the Writer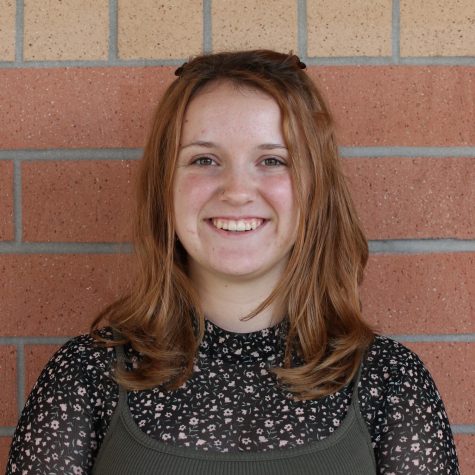 Piper Bacon, Co-Editor-in-Chief
Piper, a senior, is one of the editors-in-chief, and this is her second year on Gazette staff.