Students "verse" each other in local Poetry Out Loud competitions
In the hushed theater of Granite Bay High School, six students from GBHS and John Adams Academy (JAA) each stepped up to the microphone and delivered emphatic, gesture-filled performances—but they weren't acting in a play. They were reciting poetry.
Poetry Out Loud is an organization that promotes poetry among youth by hosting a nationwide poetry recitation competition. The Placer County Poetry Out Loud competition, hosted by the Arts Council of Placer County, was held in Granite Bay High School's theater on Feb. 18. Additionally, the school-wide Poetry Out Loud competition at GBHS was held on Feb. 2.
At GBHS, teachers Julie Francesconi, Samantha Lasarow and Robert Prichard judged the schoolwide competition. Sophomores Anushka Kalyan and Rithika Bhat were among the competitors in the school-wide Poetry Out Loud competition this year. They also participated in 2022.
"In the beginning, I probably thought of poetry as something you can analyze in class and for the meaning of it, but (until competing in Poetry Out Loud) I never thought about, you know, 'How does it sound?' and 'How can you perform it?'" Kalyan said.
Kalyan and Bhat noted similarities between speech and debate and poetry recitation. They stated that Speech and Debate teacher Robert Prichard encouraged his students to participate in Poetry Out Loud.
"The type of speech I do is called interpretations and a really big aspect of that is finding the emotion and connecting and making a point using that emotion," Kalyan said. "That's the biggest crossover I found (between speech and Poetry Out Loud), and also the…creative liberties you can take with words."
At JAA, students participate in Poetry Out Loud in their humanities classes, and the classroom-level winner can then opt to participate in the schoolwide competition. Secondary humanities teacher Karin Anderson is JAA's Poetry Out Loud coordinator.
"I've watched students who are pretty hesitant about the whole process become much more confident in their abilities," Anderson said. "I've had some students come up to me who are concerned about being in front of a class and they've really been able to work through those concerns, because it can be intimidating to have to recite something in front of other people.… They start to get the fun side of poetry and realize, 'Oh, this poem is speaking to me, and I'm enjoying this experience, and I want that to happen again.' So they start seeking out poetry for themselves."
Students memorize one poem to perform at local Poetry Out Loud rounds in front of the judges and audience. At the state level, competitors must have three poems prepared to perform, and the poems have to meet specific criteria. 
"The first challenge for me is memorizing. I'm not very good at memorizing. So that was, of course, first and then after I had it memorized, I kind of familiarized myself with the words and their meaning," Bhat said. "With my poetry recitation, I want it to seem kind of natural. So it's a little bit like acting in that way."
There were seven judges for this year's Placer County competition. As with all Poetry Out Loud rounds, participants were evaluated on criteria including "Physical Presence," "Dramatic Appropriateness" and "Evidence of Understanding." Each judge scores the performances independently, and a third-party individual tabulates the results to determine the competition winner.
"I think (for) a successful competitor, there's a couple of things that are going on…. The more they enjoy the poem and the more they're able to deliver that meaning to the audience, the better they will do as a competitor," Anderson said.
Second and third place at the county competition went to JAA students Sarah Baker and Madilyn Webster, respectively. GBHS junior Sarah Yee won both the GBHS and Placer County competitions and thus is eligible to compete in the state-level competition. California's 2023 Poetry Out Loud State Finals will be held from March 19-20.
"It's not necessarily just about winning. I think if you wanted to do (Poetry Out Loud) for the experience, it's not a huge commitment in the beginning…. You can also learn what other people are doing and just try something new because you never know what you might like," Bhat said.
About the Contributor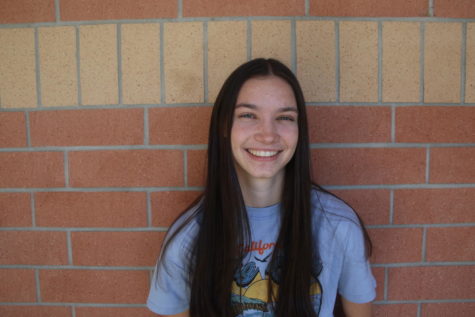 Kate Rowberry, Editor
Kate is a senior and Editor of the Opinion section. This is her second year on the Gazette staff.