Students are exposed to unique questions on college applications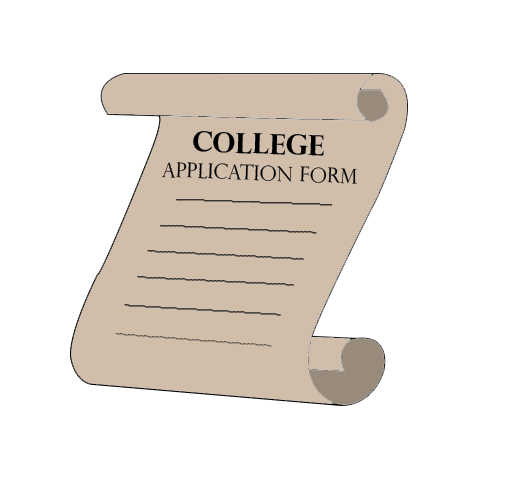 It's that time of the year again. No, not the holiday season, though the similarities are uncanny – people panicking, deadlines and a lot of self-reflection. It's the season seniors dread most: college application season. For many students, the fight to complete college applications is a long one.
Aside from typing in the endless numbers and course titles, and making sure all teacher recommendations are turned in, students must complete personal insight questions can vary greatly. From the standard six questions given through the Common Application, to the specialized questions that each college offers, the questions can go from completely serious – "What is your favorite academic subject?" – to lighthearted – "Describe your life in a hashtag."
A Picture's Worth 1000 Words
After having battled every question that came his way, the one that challenged senior Jacob Newman the most was the one that didn't even
require any words. While working on his application to Rice University, Newman came across a strange request. Rather than typing a 350 word essay, Newman was asked to paste an image into a box to represent himself.
"(The picture) is supposed to say something really deep about you," Newman said. "And you're not allowed to use any words. The problem was that when I actually got to the question, I was like 'oh, snap,' (because) I was just answering these essays and all of a sudden it was like a whole new project."
Luckily, Newman said he has archives of photos he has taken throughout the years that he can choose from, but thinks that this question is unfair to those that don't collect images the way he does.
"People that don't have files or archives would probably just pull up a Google image," Newman said, "and it probably wouldn't be that good or it probably wouldn't be taken as seriously."
However, despite the oddity of Rice's prompt, Newman said he understands why Rice University decided to include it.
"I get their point," Newman said. "(I know) they probably wanted a nice change between all the essays. Since writing essays may not be a strong point for everyone, this is a nice way for them to make sure they don't get a skewed view of a student."
But there are changes he would make, Newman said.
"I feel like we should be able to add words," Newman said. "Just a short to describe the image, so we can talk about what it might represent."
No Prompts Needed
While Newman said he found the Rice application amusing, senior Sanjna Saini described a much different situation.
Exasperated, Saini recounted immense frustration and disappointment when doing her California State University application.
"There was this question that asked if we had any leadership opportunities, job experience or volunteer experience," Saini said. "But they only had you answer 'yes' or 'no.'"
Though she said she found it easy to complete, and not particularly strange, she was shocked that the application didn't ask for more.
"I got really upset," Saini said. "I couldn't go in-depth with what I had and it didn't help me stand out in comparison to other people."
Despite not requiring writing supplements as the Common Application or the University of California Application, Saini said she did not appreciate the "basic" character of the CSU Application.
"(It made me feel like) they only care about the numbers," Saini said. "They should allow me to elaborate on the questions."
Lost in Translation
"Choose a word, tell us what it means, and then explain why it cannot (or should not) be translated from its original language," the University of Chicago Application states. This the question that immediately caught senior Jonah Zahnd's attention.
"I chose the word 'fresa,'" Zahnd said, "because when I lived in Mexico, I was the only white kid at my school of, like, a thousand … 'Fresa' is a slang word for the rich Mexican kids that were usually pretty light-skinned. Fresa was seen as a bad thing, but they would call me that … 'Fresa' literally means strawberry."
Zahnd also described "fresa" to mean someone who was "nerdy." Despite the negative connotation, Zahnd still wanted to write about it.
"It seemed like something that defined me at the time as kid growing up in Mexico," Zahnd said. "But also, I wanted to show some part of the culture that you wouldn't understand unless you lived in the town I lived in."
Zahnd said he found all the prompts given by the University of Chicago to be unique and interesting.
Other prompts, such as "Find X" or "So, where is Waldo?" are also offered. However, Zahnd said he found the prompt he chose most appealing because it's the most moving.
"I think (the University of Chicago) wanted to see how you express your emotion," Zahnd said. "It's really easy to look at someone's GPA and test scores, or even read a resume, but this is about an intimate aspect of someone's life."