SFL Coverage: Granite Bay vs. Oak Ridge
Tight competition was seen Saturday, March 6 at the fifth SFL Cross Country meet as all female runners were put on Varsity
   Saturday, March 6 held the 5th SFL Meet for Cross Country at Springview Park. 
   This race would be the last of the five Dual Meets that took place this season before the final race: League Championships. The 5th SFL Meet showcased some good strong effort and strength.  Looking ahead to the final meet, most Granite Bay High teams should place well.
   The first race of the day was the Frosh/Soph Girls 3K which was combined with the Frosh/Soph Boys 3K.  
   Because GBHS decided to place all of its girls in the varsity race, they did not have a Frosh/Soph girls team. Oak Ridge High placed only three girls in this race, meaning neither team actually had a full group to compete with.  
   Due to this, the three ORHS girls competing in this race ran as individuals, not scoring as a team. On the boys' side of things, GBHS came in front winning 22 points to 36. 
   Freshman Tony Sperandeo was the first place finisher with a time of 10:36 for the 3K race, converting to a 11:22 3.2k run and around a 11:26 two-mile.  
   As per individuals, freshman Zach Azouz came through in second place with a time of 10:49. Freshmen Sean Coontz and Sam Engott came in at third and fifth place clocking 10:57 and 11:07.  The bigger look was sophomore Josh Allen who ran 11:14 for the race.  
   Allen has only just started coming back from injuries, and hasn't actually been able to train for very long at all before racing. 
   With a very little work load, he's been able to grit his way through the team and move himself up with force.  There's no telling just how good he can be in the future with a proper work load, 
free of injuries.  
   For now, he continues to improve off of what he's got.
   The third race of the day was the Varsity Girls race. This race was set to be tight, with sophomore Carly Foster leading the way for GBHS's team and Abigail Fletcher setting the tone for her ORHS girls team.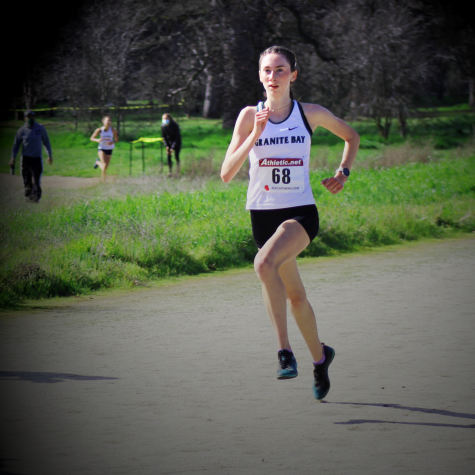 The difference was five other ORHS girls being included in the top seven for this race, meaning Foster was going to have her hands full up front.  
   In the end, it happened just like that, with ORHS getting six of their girls in the top seven, and Foster being the only GBHS girl in that top seven mix. 
   Fletcher came away with the win, coming through at a very solid time of 18:09. 
   Ava Maier hit the second place mark, just passing Foster on the finishing kick with a time of 18:21. Foster got the third spot at 18:21.8.  
   Freshman Morgan McKenna was second for GBHS hitting 19:33 and freshman Ava Bemrick getting 19:41.  This girls' team has won every race up to this point, but going up against the top girls team in the league, they fell short.  
   Though the Varsity Girls took their first loss of the season on that Saturday, they are projected to come through at a solid second place at the League Championship Meet. 
   The final race of the day was the Varsity Boys race, which was thought to be much lighter with less stress than the girls' race.  
   Senior Gavin Vance took the first place victory, outkicking junior Brian Lew in the final stretch to get a time of 16:47, while Lew finished with 16:48.  The ORHS Boys Team took this race pretty easily, scoring 21 points to GBHS's 39.  Through this team defeat though, senior Otho Johnson of GBHS did walk away with a PR, timing 17:35 for the 5K.