Setting up shop: Ashley Chen's glass painting business
Students discuss the positive and negative realities of owning a small business.
With the world on hold, anime provided a way to escape reality. Ten months into quarantine Ashley Chen, a junior at Granite Bay High School, found a way to bring pieces of this reality to life for others by starting her Etsy shop — SparklySweetArts.
"(Over quarantine) I started painting for fun and then I realized people liked my work," Chen said. 
Chen creates glass paintings of anime characters, as well as taking on custom commissions. 
As a result of discovering other's affinity for her work, Chen found that she had to overcome the logistics of setting up a business during a time of isolation whilst balancing the load of being a high school student. 
"I never really figured out necessarily how (to manage a business)," Chen said. "I kind of (just) used common sense. I learned and got inspiration from other businesses." 
Though, Chen does have previous experience as a business owner.
"I (used) to sell locally, though none (of the previous businesses) were as organized or as successful as my current business," Chen said. 
Previously selling on Instagram, Chen decided to switch over to Etsy, a platform where handmade items can be sold. 
Local businesses often turn to social media platforms to market and sell their products. Though, Etsy is also widely used by small business owners as a retail platform.
"Personally, I find it easiest to take orders through direct message on Instagram," said junior Jashan Singh, a local owner of the sticker and jewelry business "Just Jashann". "I also did a poll and more than 90% (of my customers) preferred ordering through (direct message)."
"Etsy wasn't difficult at all to figure out," said Gabrielle Camba, the owner of the viral frog-themed business "Gdlcharms". "Etsy is really great for built-in traffic flow if you can't drive your own customers to your shop since it's already an established base for customers." 
Chen continues to sell her products on Etsy, but to gain a larger reach marketing-wise especially with quarantine, she turned to the social networking service app, TikTok. 
"Having more people stuck in quarantine causes them to spend more time on their phones and they may be at a higher risk for impulsive shopping," Chen said.
"
Having more people stuck in quarantine causes them to spend more time on their phones and they may be at a higher risk for impulsive shopping
— Ashley Chen
By using specific hashtags, creating anime-oriented content and posting videos of her painting process, Chen has been able to reach her niche audience — people who enjoy anime. 
"TikTok in particular has helped me grow tremendously, and there are certain tricks to gaining more views and likes including good lighting, shorter videos, trending sounds and consistent hashtags," Camba said. Camba has over sixty-seven thousand followers on TikTok, with a viral video getting about 3 million views. 
Creating a single glass painting alone takes Chen a minimum of four hours, aside from having to create content to market her products. 
"(As a teen-run business), it's stressful because I also have to get my schoolwork done," Chen said. "My free time also diminishes so I get less time for my hobbies." 
At the end of the day, Chen finds devoting time and effort into her business to be rewarding even with the strains it puts upon her personal life as she is able to connect people further with anime.  
"Anime is a form of entertainment that helps (my customers) escape reality for a bit," Chen said. "I feel like it portrays the entertainment and people we deeply desire, helping us feel comfort and creates a different world in our minds." 
Chen plans on continuing to manage her business alone and plans on selling more products in the future such as keychains, plushies, stickers and art prints. 
In retrospect, Chen gained knowledge which she offers as advice to aspiring business owners.
"Please do research," Chen said. "Study the product, …sell something that has a higher chance of success while also doing something you like…and I strongly advise (using) social media platforms as they are an easy and cheap way to market your business." 
As a teen business owner, Chen urges her peers who are interested in starting their own business to pursue their interests.  
"If you're a teen wanting to open up a business, do it," Chen said. "Don't be afraid to take risks, you'll never know the outcome until you try it."
"If all fails, it's ok. As humans, we learn from our mistakes in order to improve ourselves," Chen said.
About the Contributor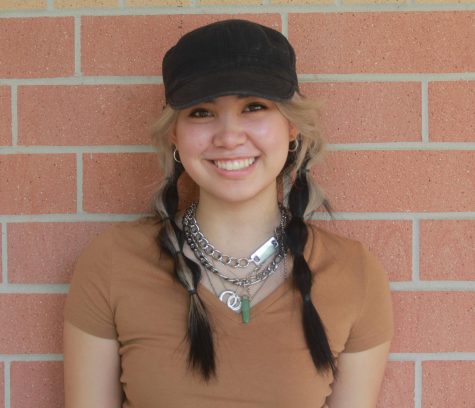 Chloe Docto, Assistant Editor
Chloe is a senior and assistant editor of the Sports and Entertainment section. This is her second year on the Gazette staff.