Senior Ball is here for class of 2019
As the event approaches, many students begin the planning process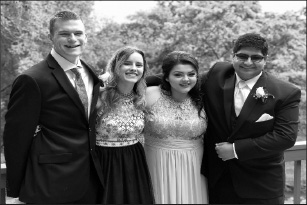 Every spring, Granite Bay High School holds one special night dedicated to the senior class. The girls get their sparkly dresses while their dates get a suit to match. The event is a night where the sole purpose is to enjoy yourself and make lasting memories.
  "I'm so excited to see everyone dressed up and to see what dresses all the girls wear!" Senior Faith Glover said.
   Student government, an elective at GBHS that puts on events and promotes school pride, is fully in charge of Senior Ball. Students that are in the class take on all of the responsibilities to give the seniors a memorable night.
  "I love planning events because I get to work with really fun and great people," Senior Ball commissioner Karissa Hodson said. "I also love the little things like decorating and designing invitations, it's so fun!"
  It's not  a simple task. Months of preparation go into planning a spectacular night for the GBHS seniors. Each component of the night is chosen and planned by seniors in the Student Government class. Those in charge of this important night feel the pressure mounting when the date of senior ball approaches.
  "Some obstacles we face is finding things we want at the dance that are too expensive, so we have to find alternatives," Hodson said. "I am also very busy so it is hard to set aside a lot of time for the planning of senior ball."
  Some students find themselves feeling uneasy as they add up the financial burden Senior Ball brings them. Questions arise among the seniors on how they will manage to afford the expenses of the dance.
   "Senior ball costs so much money! The prices for everything is definitely overwhelming but it will be so worth it!" Glover said.
  Senior class president, Gaby Williams is also in charge of commissioning Senior Ball and perfecting each detail for her class of 2019.
  "The funds from the senior ball tickets are used for the actual venue, the meals, the dance floor, the music and basically just the whole dance,"
Williams said.
  This year the price of 80 dollars is ten dollars lower than the normal price seniors expect to pay. In recent years those who would like to attend the dance had to pay 90 dollars.
  "We saved a lot of money this year. We didn't spend a much money as we usually would for homecoming, and senior 5th quarter, etc," Williams said. "That's why we were able to lower the price."
   This perfectly constructed night for the class of 2019 is given high expectations by the seniors. Some have been preparing for this dance and anticipating the special night for a long time.
    "I've been fantasizing about senior ball for years," Senior Faith Glover said. "I remember being a freshman and thinking about who I would go with and what I would wear and now it's finally here!"