Reflecting on post-COVID-19 education
After one quarter in the 2021-2022 school year, it is time to reflect on what was and what is, in a post-COVID-19 world.
Granite Bay High School students are in-person this fall, but the school structure they've returned to is only one of the four they have experienced over the past three years.
The frequent changes have deprived both students and teachers of interpersonal connections due to virtual learning, lack of lunchtime and shorter periods. Furthermore, these factors have impacted students academically.
"I am a teacher because I love being around teenagers," math and leadership teacher Katie Farias said, "and (teaching) virtually is just not the same."
As of May 2021, 65 percent of parents were also worried about their K-12 students' missed social interactions, claims a study by Echelon Insights.
Online learning, also called distance learning, has been detrimental to students' academic success throughout the pandemic. Online learning in spring 2020 alone has damaged academic progress.
According to projections, "returning students are expected to start fall 2020 with approximately 63 percent to 68 percent of the learning gains in reading and 37 percent to 50 percent of the learning gains in mathematics relative to a typical school year."
These statistics reveal that, compared to a normal year in which the learning gains would be considered 100 percent, even the few months of distance learning at the start of the pandemic led to knowledge deficits.
"(Students are) not (sufficiently prepared for the next level of classes) in math," Farias said. "We have noticed a significant number of students who are struggling from the gaps that distance learning has created." 
"
… even the few months of distance learning at the start of the pandemic led to knowledge deficits."
— Kate Rowberry
She attributes students' difficulties with the content taught during distance learning to both a lack of academic integrity and the online format.
GBHS students, such as senior Kennedy Cope, have expressed frustration with managing classes while learning online.
"On Zoom it was… so hard to pay attention," Cope said.
Even though many have embraced the transition back to in-person school, it has necessitated adaptability.
Oct. 12, 2020, marked the start of the hybrid schedule, in which students could opt to attend school in-person twice a week according to cohorts assigned based on last names.
When the spring semester started on Jan. 5, 2021, students were invited to in-person classes but were offered one final month of Zoom classes.
However, class periods were reduced to 60 minutes from the usual 80. There also was no designated on-campus lunchtime.
"I liked (the shorter periods and) the shorter day," GBHS junior Elijah Wyatt said, noting that his homework load did not change significantly due to the fewer instructional minutes. 
However, the current 2021-2022 school year is the most similar to pre-pandemic school years. On the other hand, it is dissimilar to the past two school years in one key way: the district is offering independent studies, rather than Zoom, to quarantined students due to a legal change.
The waiver that allowed schools to offer distance learning in the 2020-2021 school year expired on June 30, 2021. At the same time, a new bill further outlines how independent studies should be carried out during this school year.
Although all these district schedule changes may seem excessive, they are carefully deliberated by Roseville Joint Unified High School District board members. 
After being presented a decision, board member Pete Constant researches the issue and comes to a personal conclusion. Then the board votes to determine how the district will proceed.
"(You) try and make the best decision you can make based on the rules, the regulations, the process," Constant said. "And (based on) what people want as well." 
Constant explained that part of his research process includes talking with students and teachers.
"The only way we can do our job is if we hear from the people that we're trying to serve. So reach out to us," Constant said.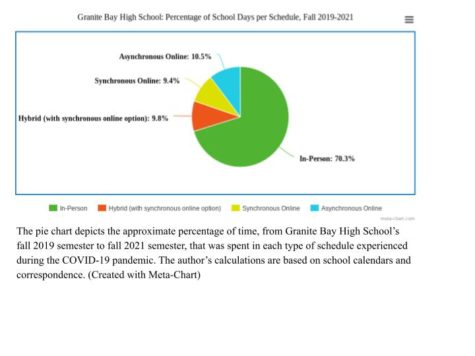 About the Contributor
Kate Rowberry, Editor
Kate is a senior and Editor of the Opinion section. This is her second year on the Gazette staff.