Pre-College Programs: Paying for Prestige?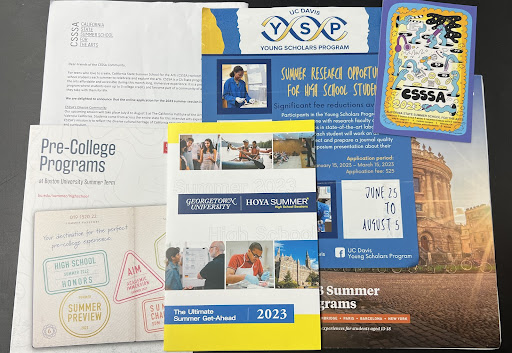 To many high school students, the idea of spending your summer at a prestigious college can be an incredible opportunity they can't pass down. Popular colleges like Harvard, Stanford and Yale offer summer pre-college programs for high school students where they can get an understanding of what college life is like, while taking college-level courses.
   At Granite Bay High School, in particular, dozens of students apply every year to summer programs. The most popular programs among GBHS students include UC Davis' 4-week "COSMOS" pre-college program, Harvard's 2-8 week pre-college program, and Stanford's 2-8 week pre-college program.                   
   The programs are designed to give students a chance to experience life on a college campus, whether that means exploring the dorms, networking with college professors and of course, taking college courses alongside their high school peers. 
   "Summer programs are good if a student wants exposure to research, engineering, biology," GBHS College and Career Center director Teri Keeney said, "They help in seeing if a student is ready to be exposed to a line of work to see if it's something they want to go into or not."
Senior Giselle Gutierrez attended Stanford's 8-week pre-college program during her summer prior to senior year.
"
   It's what you do with your time there that's important. I want to be an astrophysicist, so I took a class in astronomy and I was taught by a real astrophysicist who worked at NASA."
— senior Giselle Gutierrez
   "It's what you do with your time there that's important." Gutierrez said, "I want to be an astrophysicist, so I took a class in astronomy and I was taught by a real astrophysicist who worked at NASA."
  Most pre-college programs do not offer college credit to those who take its courses, but Gutierrez says having gone to a summer program shows the dedication that matters most.
   "Having a transcript that says I took a course at Stanford, in the field that I want to go into, is totally going to boost your chances," Gutierrez said, "I even got a (recommendation) letter from the professor who taught us."
   Program prices range in the thousands. 
Gutierrez's eight week summer program had a price of roughly $15,000.
   "15 thousand was a big…commitment.," Gutierrez said, "Stanford is… close to home. And it's my dream school, so I would say it was absolutely worth it, even if it costs a lot."
   Stanford's summer program also offers one two-week program, which comes at a lower price of roughly $5,000. According to the Stanford website, both experiences are perfect for challenging one's interpersonal competency, self-directedness, and ability to commit to expanding their horizons.
   Junior Kimberly Song attended Harvard's two-week summer program.The program advertises the benefits of college immersion particularly to aspiring juniors and seniors. 
   "Although this program is just the same as any other colleges, just it being called Harvard gave it so much more hype," Song said, "It really is…just a program that, you know, is very generalized and just for the college to make a bit extra money."
Both Gutierrez and Song said the program was a memorable and enjoyable experience that performed as advertised. 
    "Pre college programs are a bit costly, but they still give you a very good outlook," Song said, "They give you the best perspective on what college is like better than any other program, especially when it's in an area or at a school where you actually want to go to."
About the Contributor
Ryan Kim, Staff Writer
Ryan is a junior. This is his second year on the gazette staff.