Penpal club connects with elementary students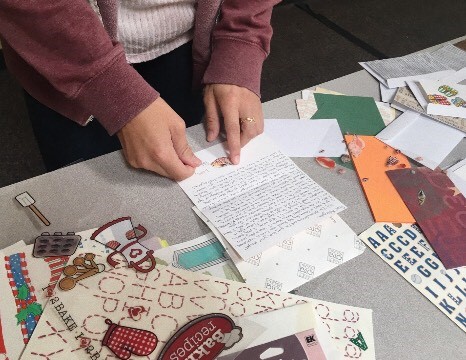 A simple way of communication, sending handwritten letters to kids from other parts of California is the Penpals Club's way to bond with 3rd graders at Ethel I. Baker Elementary School.
  Penpal president Sydney Sewell said she started the Penpals Club because she wanted to reach outside of herself and the Granite Bay bubble to find ways to help people that's different from the norm.
  "I feel like writing letters is (…) kind of an old art or tradition that people would do and it's kind of losing its touch. But I think writing letters versus just texting people or calling really helps add a certain special aspect to it. And doing that with elementary students really creates a cool bond," Sewell said.
  According to Sewell, the main purpose of the club is to help students at Granite Bay be  more selfless and more understanding of others in need. The elementary school they are penpals with, score an average of 9% in proficient mathematics and 15% in reading reported by an online review website, Niche.
  "They really need to feel loved. And so by doing this club, kids at our school are able to reach out to others who are in tough situations and help them feel loved and cared for through these letters and help them build a friendship," Sewell said.
  Having been in a penpal-type club before, freshman Hailey Erickson, a Penpal club member, said she really liked that she was going to be writing to kids in less fortunate areas.
 "I thought it would be cool to get their insight on their life and get to know them," Erickson said, "My penpal has told me so many stories of her family and her life and stuff. So I just always feel so happy getting her letters."
"
They really need to feel loved. And so by doing this club, kids at our school are able to reach out to others,
— Sidney Sewell
  And freshman Abigail Peterson, agrees. She said a lot of times, she couldn't read the letters sent to her, but it makes her happy to know that her penpal at least tried.
  " I think it's important that we do our share and I think this is a good way of helping lift spirits of others," Peterson said.
   "Also , we sometimes don't recognize how fortunate we are and to have what we have. So when we do these things that may seem small, it can help benefit others."
  For freshman Julie Jenkins, she thought the club was a really good way to give back to people who needs it. The kids seem like they really appreciate the letters she wrote.
  "It's fun to communicate with people who are from a different demographic than us and different environment than us. (…) I think it just made them happy because they have someone to talk to and it gave them hope to pursue a future," Jenkins said.