Every morning, a loud clicking echoes throughout the campus. Softer staccatos bounce off the walls, following the clicking. You turn the corner and are met with students marching in time, the clicking noise keeping the tempo. No, this isn't the military – this is band.
Band contains over 100 students, devoted to their trade. With long practice hours and rigorous training, there is no reason why band should not be considered a sport.
1. The big time commitment
Band devotes so much time to practicing on-and-off the school year. Practices begin over the summer with various band camps; each go for one week from nine in the morning to five in the evening. Every band member is required to go to at least one camp. The last four days of summer, practice lasts for twelve hours. 
When school is in session, the average band member will practice for at least two hours a day – and that's only the required practice times before school and after school. Students are required to have band as their first or second period. Similarly, students who wish to participate in varsity football or other sports must participate in Athletic PE, also sacrificing one of their class periods. Band also has required practices called "Super Saturdays," where students spend Saturday practicing from nine to five. 
On top of their own practice, band is the foundation of many school activities. They cheer along with the student section at every home game and perform at every pep rally. Every morning of a football game, percussion arrives early to walk around campus, hyping up the student body through drumming. If that didn't seem like a lot of time, band also attends competitions and shows on Saturdays and they typically don't arrive home until midnight.
The band homework load varies from student to student. For a seasoned band member who has participated for a couple years, 30 minutes is an ideal extra practice at home. For those who are newer or need to practice their marching, the recommended time is even longer. And if you are in drumline? The time increases to include three required hours after school on Mondays and Thursdays.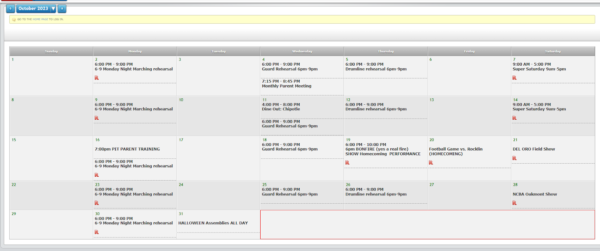 2. Different walking style
Studies have shown that intensively playing a sport will change your gait or how you walk. Band students must change how they march to eliminate head bouncing and shaky note playing from breath changes, as that deducts points. The foot steps in a way that absorbs the impact through the heel to the toe. Band members must stay on the ball of their foot when walking backwards, to prevent a loss of balance. They must change their stride length to match others and maintain equidistance between each other, or risk losing points. Additionally, depending on the instrument, the orientation of the body can change, as it is required for competition that students must face the judges for a majority of the time.
Additionally, shoulders constantly must be parallel to the ground and postures must be lengthened. A lengthened posture is when one has a straight back and hips leaning back slightly for balance and increased lung capacity for playing instruments while maintaining an elevated chin to enhance their stage presence on the field.
3. Competitions
There are five competitions per marching season, which runs from July to November. Just like other sports, band competitions are day-long events. Typically starting early in the day, students won't get home until midnight, with only ten minutes of actual competition. The rest of the time is devoted to practicing, waiting and traveling. The requirements for competitions are also very intense, as judges not only analyze the uniformity between band members, but also the grandiosity of your performance, or whether your layout or note-playing skills impressed and engaged the audience and judges.
4. Injury Dangers
Every day, when the band kids take to the field, they stretch. On top of warming up their lungs and tongue for playing their instruments, band students lunge, twist and reach depending on the different activities of the day, or else they risk injuring themselves and pulling a muscle, just like the rest of us athletes. With the duty of lugging around heavy instruments, it's no wonder band kids can suffer from injuries! Alongside the typical wounds of tripping and falling or someone accidentally smacking you with an instrument, band kids also run the risk of chronic injuries. Certain instruments like percussion require braces that place strain on the lower back muscles. 
With these comparisons in mind of the time expectations and injury risks, the sacrifices made by band members are equal in stature to those of athletes, thus band should absolutely be considered a sport.
Story continues below advertisement