Music Review: Tickets to My Downfall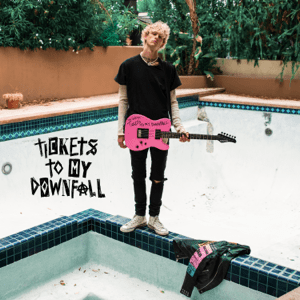 Pop-punk is back.
   At least that's what the comments say under all of artist Machine Gun Kelly's latest music videos.
   For those of you unfamiliar with pop-punk, let me give you an overview.
   Pop-punk began in the 70s alongside punk-rock. What differentiates the two is pop-punk's usage of many elements found in traditional pop music, such as catchy lyrics, simple song structure and short to medium-length tunes.
   Pop-punk also commonly falls on to teenage themes of young love and growing up, along with lyrics that are typically pessimistic and self-deprecating.
   The genre did not gain widespread attention until the release of the album "Dookie" by Green Day in the 90s, which catapulted both them and pop-punk to the forefront. 
   To get a real taste of pop-punk at its prime, I listened to about half of "Dookie". Can't say I was a fan, but that's for another album review.
   So now let's talk about "Tickets to My Downfall" and Machine Gun Kelly.
   Kelly emerged onto the scene as a rapper but began his descent into pop-punk in 2019 with the track "I Think I'm OKAY", which called on the talents of Blink-182 drummer Travis Barker and artist YUNGBLUD.
   "Tickets to My Downfall" is the first album that Kelly has released fully under the genre of pop-punk. Barker acted as a producer on the tracks, obviously providing the seasoned opinion of a pop-punk veteran.
   And that experience definitely translates with this album.
   The lyrics are insanely catchy and the instrumental melodies are able to change enough that you, for the most part, don't get sick of the primarily drums and electric guitar-focused backings.
   The first song on the album "Title Track" gives you an idea of what you're in for, an emotional roller coaster in the best way possible. On this track and all the other songs Kelly bounces from emotion to emotion, many times contradicting what he just sang. This contradictory manner does not take away from the album but instead seems genuine and real through Kelly's determination to not make up his mind.
   "Bloody Valentine," the lead single off the album, is filled with adrenaline and angst as Kelly sings of not-quite-reciprocated love. It's the type of song you want to shout in the car with the windows down and the volume up.
   "Tickets to My Downfall" simultaneously feels like Kelly is allowing his listeners to see a softer side of him. Tunes such as "Lonely" and "Play This When I'm Gone" are raw and vulnerable. They create immense tone shifts around the heavy-beated, intense songs that surround them, as if Kelly has run out of energy to shout out his problems.
   Kelly also admits how much of a mess he is on "All I Know," a refreshing song that shows how Kelly is not ashamed to admit his recent struggles despite his immense success.
   The interludes, including Kelly's close friend Pete Davidson and girlfriend Megan Fox, are both sweet and funny. At first glance they seem pointless, but they further contribute to the feeling that Kelly is letting listeners inside of his life with few bounds.
   Tracks such as "Forget Me Too" and "Concert for Aliens" are definitively low points on the album, falling a little too hard, almost to the point of irony, on the stereotypical ideas of pop-punk that you can't take them seriously.
   The guitar riffs and drum hits begin to feel dull and all-too-familiar near the end of the album, but Kelly is fortunately able to prevent more than a hint of boredom coming from the instrumentals before the album comes to a close.
     "Tickets to My Downfall" is definitely reminiscent of pop-punk at its prime, but it's also clear that Kelly has attempted to build and carve his own place in the genre, bringing his own twists and taste to the album.
   Kelly has adapted pop-punk so that it's consumable to a new generation, which is nice to receive a more modern rendition of the genre.
   I hope that Kelly will continue his journey into pop-punk, but we'll have to see if he contributes in any capacity to a mass return of the genre.
   Overall score: 8.5/10
   Best tracks: Kiss Kiss, Bloody Valentine, Lonely, My Ex's Best Friend and Play This When I'm Gone
About the Contributor
Ali Juell, Co-Editor-in-Chief
Ali is a senior and one of the editors-in-chief for the Gazette. This is her second year on the Gazette staff.