Music Review: MONTERO
   With a swelling belly in hand, pop-rap artist Lil Nas X proclaimed that he was 'expecting'. 
   Nas hinted fans towards the 'delivery' of his sentiment regarding the pressures and consequences of fame in the form of an album.
    Nas is renowned for his hit singles, particularly 2019 smash successes "Old Town Road (feat. Billy Ray Cyrus)" and "MONTERO (Call Me by Your Name)."
   Nas is no stranger to eye-catching marketing campaigns. Earlier this year, Nas was involved in a lawsuit with Nike around the controversial release of 'satan shoes' that contained human blood which led to the release of his single "INDUSTRY BABY (feat. Jack Harlow)".
    This time around Nas teased fans on Instagram with a 'pregnancy photoshoot' on Sept. 2, 2021 to accompany his debut album "MONTERO."
   The title of the album itself, "MONTERO" pays homage to Nas' given name, Montero Lamar Hill.
      In his debut album, Nas allows exploration into his headspace as an openly queer Black man in the public eye.
   Throughout the album, Nas maneuvers through different genres in order to discuss heavier baggage and topics ranging from self-doubt instigated by his years in the closet to his experience with a broken family.
    Nas' pregnancy 'birthed' 15 tracks and collaborations with big names in pop such as Jack Harlow, Doja Cat, Elton John, Megan Thee Stallion and Miley Cyrus. 
  Production was manned by production icons including Kanye West, Take a Daytrip, Nick Mira and Carter Lang. 
   Nas' iconic instrumentals are laced throughout this album from the blaring brass in "INDUSTRY BABY" to the guitar propelling "THATS WHAT I WANT."  
   Nas is able to blend anything from a trap beat to a slow rock instrumental to curate the perfect atmosphere to deliver his lyrics.
   Triumphant and self-assured, the first half of the album is a bass-driven, big brass bonanza. 
   The first half is victorious and prominent with an impending trumpet-ridden beat. In "DEAD RIGHT NOW" Nas addresses thoughts of suicide, self-doubt and the fake people surrounding him in the beginning of his career
 The album takes a new, more pensive tone in  "ONE OF ME (feat. Elton John)". Here, Nas speaks to the conformity, people-pleasing and the one-hit-wonder label others have deemed upon him as one of the industry's rising stars.
   Nas continues to get introspective in the latter half of his album.
    "TALES OF DOMINICA" deceivingly juxtaposes its upbeat pulse with Nas' lyrics regarding his broken home. 
   His previous confrontational attitude then dissipates with a bleak-strummed guitar which highlights Nas' vulnerability in "VOID" acting as a letter to his past self. 
   The outro, "AM I DREAMING (feat. Miley Cyrus)" is a refreshing moment for Nas to 'bask in the glory' of his success and concludes the album on a high note.
  Still,  "Scoop (feat. Doja Cat)" and "LIFE AFTER SALEM", fell short in memorability and refinement. The tracks also felt too indecisive in whether to be prominently lyrical or rhythmic tracks.
    But Nas' infectious self-confidence and zealous creativity ultimately makes the title of his debut album feel so right.
   Already Nas has established himself to not only be beyond a one-hit-wonder but an icon capable of curating an effortlessly cohesive album. 
   Looking forward, we can only keep an eye out for this firecracker's next captivating move.
Overall Rating: 8.5/10
Best Tracks: DEAD RIGHT NOW, INDUSTRY BABY and AM I DREAMING (feat. Miley Cyrus)
About the Contributor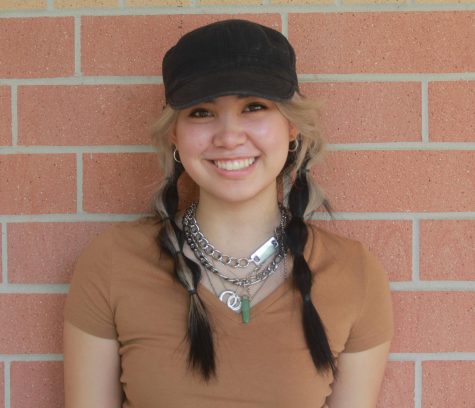 Chloe Docto, Assistant Editor
Chloe is a senior and assistant editor of the Sports and Entertainment section. This is her second year on the Gazette staff.