Local SoundCloud Superstars
GBHS students find a following on popular music sharing platform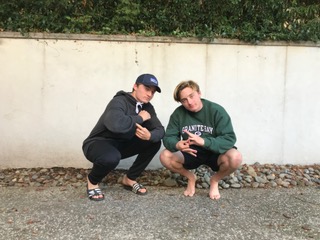 We all just wanna be big rockstars and live in hilltop houses, driving 15 cars – Nickelback's Chad Kroeger might actually have been onto something.
  However for youth today, the classic garage band you form with high school friends looks a little different.
  The music industry has transformed over recent years. Hip hop and rap are now some of the most prolific genres within the younger generations.
  Rapping is an easy creative outlet for many because you get out just as much as you put in.
  All the way from household names like Kendrick Lamar, Nas and Biggie, who have made a career out of music, to no name groups consisting of a couple buddies who hopped on a beat one weekend – hip hop and rap comes in many different forms.  
  Instead of an electric guitar kids are turning towards production software such as Ableton, Logic Pro, Reason and GarageBand.
  Music stores now see more people reaching for MIDI Controllers and ditching a drum kit all together.
  And all of that has been the case for Granite Bay High School seniors Bailey and Cole Diemer.
  The twin brothers started collaborating and producing under their stage names Caviar and Big on the popular music site SoundCloud, which allows musicians to post their work for free to the public.
  "I'd probably say I created the account in maybe 2014, but I didn't start posting music until early 2016," Bailey said.
  In the past year Caviar has released six songs, four of which contain features from Big.
  Of those six tracks, Bailey's favorite is Money Man.
  "I like the chorus, I like the whole meaning to the song, I like the verses and it was a nice beat" Bailey said.
  "Yeah I'd agree, Money Man was fun," Cole said. "Also lil boi was fun because we had another rapper in their – Brazy."
  Completing a song can range anywhere from one productive day in the studio all the way to a few weeks to perfect the sound that they want.
  "The first thing we start off with, is we find a beat. Then we think of the name and the chorus of the song and then Cole usually writes his verse," Bailey said. "After we have it written we go to the studio."
  The studio Bailey refers to is in their garage and contains microphones, a laptop for mixing, headphones and other soundproofing equipment for ideal audio quality.
  Although it may only be a creative hobby, the sky really is the limit for any young musicians who are willing to put forth the time and effort required to push a brand and sound towards success.
  "You know I'm trying to win a Grammy in the future," Bailey said jokingly. "To be honest with you if that doesn't happen it's going to be bad."  
  The majority of the music production is through Cole and Bailey, but working alongside others is one of the more enjoyable things for the two of them.
  "It's fun to collab with different artists, you really get to catch their vibe and they bring a whole new aspect to the music," Cole said.
  However, this brings its challenges as working with other creative minds can be at times difficult when everyone has a different idea of where they want the direction of a track to go.
  Despite the hiccups, the two see themselves continuing this in the near future.
  "I think it would be fun to perform live to see our fans, to see all the support we've seen online, but see it in person," Cole said.
  Caviar himself says it best.
  "The next concert I go to is going to be my own so – when you see me on the Grammy's you'll be like there's Cav and Big," Bailey said.
  As for other local rap groups such as Treelake Tracks Cole said he only considers them competition "if they can compete with us."
  After dropping disses back and forth the two groups have some unfinished beef even though Caviar and Big don't see it as much.
  "I don't really pay attention to the noise honestly," Cole said, "I'm just focused on my art."
  Cole's background in music as a bassist for the local band Offshore has helped him diversify his sound and continue bringing a new fresh take to each song that him and Caviar produce.
   The changes in sound from garage rock to hip hop may seem drastic to listeners, but to Cole it's all in the same realm.   
  "I think I have a very versatile style," Cole said. "One day I'll do this another day I'll do that.
  "It honestly all comes supernatural – it's super easy. So to say I'm doing a different style it's like am I? I don't know maybe."