Local retirement homes deeply impacted by COVID-19
Due to strict guidelines and precautions, many senior living residents lack social contact and interaction with the outside world
Grandparents play an important role in many peoples' lives as they are the people we go to when our own parents say "no"or when we get a bad grade on a test and need some cheering up, like ice cream trips.
Due to health complications, many people over the age of 60 are more at risk for COVID-19. And the pandemic caused many retirement homes in our community to go on lockdown due to the increased risk to its elder residents.
Eskaton Lodge Retirement Homes in Granite Bay has been on lockdown since March 7. They have adopted various health procedures such as wearing masks, staying within social distance guidelines and not allowing visitors in, to ensure that their residents are staying safe and healthy.
Bettie Bartz, a resident living at Eskaton Lodge, has lived in the home for two years. 
"Whenever I am down I have learned to go on walks, or at least do something productive so that I am not just sitting around," Bartz said. "I just do whatever I am feeling like at that time."
Now that rules have gotten stricter over time, some residents are not allowed to be in direct contact with anyone outside of the Lodge, including family members. This rule can vary from person to person based on different reasons including health issues. 
"I am able to see one of my daughters because she comes in to give me my medications, but I have not seen my other daughter in a very long time," Bartz said. "I hope to see her very soon."
When seeing visitors, residents must abide by social distancing guidelines and wear masks. This can be difficult while in the halls and dining rooms, and may even result in anxiety.
Workers, volunteers and even residents like Bartz have worked to keep everyone happy and strong through this difficult time. Bartz has recently been very encouraging in a creative way. 
"I will make little baskets with goodies and leave them on people's doors when they are sad or have just moved in," Bartz said.
"
I will make little baskets with goodies and leave them on people's doors when they are sad or have just moved in.
— Bettie Bartz
Mary Annipert, another resident at Eskaton Lodge has also been very active throughout this pandemic. She recently purchased an ipad, which allows her to stay in contact with her son. 
"I used to have to yell out my window, when (my son) pulled up and that was my way of communicating with him," Annipert said. "Using my ipad is way more efficient than yelling. I also have downloaded games like Solitaire."
These applications allow Annipert to feel as though she is still a part of the outside world, where there is more to life than what there currently is in her community.
Eskaton Lodge has brought many different fun activities to the residents including art, exercise and games such as bingo to distract them from the stressors of COVID-19.
Alternatively, Sierra Regency Retirement Community, another retirement home located in Roseville, has been on complete lockdown since February. This includes a strict regulation on family members visiting and leaving the community. 
Anyone resident of the Sierra Regency currently staying outside of the community, such as those staying with family members or at a hospital for medical reasons must be quarantined for 14 days inside of their room.
Sharon Yeates is a resident at Sierra Regency and has found quarantine to be very difficult, especially around the time she would normally be with family.
"Our family had a tradition of going to Lake Tahoe. I've been a part of the tradition for 47 years," Yeates said. "I wasn't able to go this year. My only option was going but then having to stay in my room for 14 days. It just wasn't worth it."
Church services are very important to many residents at the retirement home as well. Throughout the quarantine, they have had a female pastor just starting to come to the community after six months. She talks to a group of 10 people while wearing masks and staying six feet apart. 
Recently, the retirement home has let some residents from Sierra Regency go to a Catholic church on Sundays. This has been an awesome change for the people and their environment.
Carol Voss is also a resident at Sierra Regency and she expressed the way she feels about COVID-19.
"It's just not like normal," Voss said. "We are all tired of it. I don't get to see the people I love and that upsets me."
About the Contributor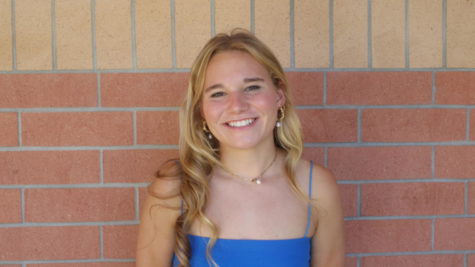 Anna Jenkins, Staff Writer
Anna is a junior. This is her second year on the Gazette staff.