Including the excluded: illuminating Rocklin's dark Chinese history
The ramifications of the 1877 Chinese expulsion of Rocklin have been few, likely because many locals have never known it occurred.
Over a century later, there has been no public commemoration of the event. The only remnants of the former Chinatown lie in maps that still list China Garden road—where some Chinese grew vegetables.
"This terrible event in Rocklin's history was more like a culminating flashpoint of resentment of a minority in hard times," said Dr. James Carlson, who has conducted walking tours to multiple Rocklin's historical sites.
Throughout California, citizens and incensed white workers chased the Chinese and their American dreams of Gam Saan (sometimes called 'Gold Mountain' in Cantonese) the Golden State. 
In 1877 Rocklin, tensions had heated to a boiling point. Across the country jobs for European American workers were scarce and Chinese competition only fanned the flames. The goal across the nation was the same: to get the Chinese out by any means necessary. 
 "It was 'move or be damned,'" said Daniel DeFoe, a retired Sierra College history professor. "The Chinatowns that survived were the largest."
"
 It was 'move or be damned.'The Chinatowns that survived were the largest.
— Retired Sierra College history professor, Daniel DeFoe
Assumptions, accusations were hurled in the terror—the blame pointed towards Chinese cook Ah Sam for the murder of three European Americans at a nearby ranch.
Under the mob's wrath, the Chinese are given 24 hours to leave, the deadline 6 p.m. As the sun inches down the sky by sundown, all have deserted the 25 dwellings that once marked, now mar, the city's Chinatown tucked away behind Rocklin's roundhouse where many of the Chinese worked. 
At 6.pm. an incensed mob descends upon the abandoned structures and rips them to pieces.  
Then after a flame sparks from an overturned stove, the ravaged remnants of the Chinatown burn.  
Their former inhabitants flee, most taking the 22 mile journey to nearby Sacramento.  
A local newspaper of the day, the Sacramento Daily Union, stated that Rocklin's residents had exhibited "a great deal of self restraint." Not a single "China-born" person would return to Rocklin until the 1920s.
Fast forward to the present where the city's climate for change, rooted in Rocklin's youth, is committed to progress. 
When former Whitney High School Senior Diego Leibman learned of his town's and his school's namesake's history of anti-Chinese discrimination, it was "on a whim."
Leibman, researching for a term paper on his former school's namesake Joel Parker Whitney, had approached a presenter from the Rocklin Historical Society.
It was then that he learned about Whitney's anti-Chinese sentiments, suspected history of Chinese exploitation on his ranch and the expulsion. 
"I can't say I was really shocked but it was surprising." Leibman said. 
Leibman said he spent hours poring over historical records. Then he posted a petition on change.org, garnering over 2,000 signatures as he called for the Rocklin Unified School District to include local Chinese history in the curriculum and rename a building at Whitney High School after a Chinese American. 
Then alongside the Rocklin Unified School District's Equity and History Committee, Leibman identified and compiled several historical resources tied to Placer County. 
"Our focus was on broadening the scope of history that's taught…and adding more context to what was already there," said Leibman. 
With these resources, the goal, said Dr. William MacDonald, Associate Superintendent of Elementary Education and Education Services, was to "create three or four different local lessons that offer different perspectives at third and fourth grade in elementary school and eighth and eleventh grade."
And at Whitney High School, interest in recognizing Asian American culture has heightened. 
Plans for a public commemoration—a mural created with the voices of local artists and WHS students —have been underway since 2021, set for completion in the next year or so. The school's Asian Youth Leadership Association club (AYLA) boasts around 400 members, about 20 percent of the total student population. 
Ultimately the RUSD's Equity and History Committee strives to tell "a holistic picture of a history," said MacDonald. 
"Incrementally, we're making progress…to illuminate these other histories of different people who lived in the area," MacDonald said. "We're trying to present a more well rounded and broad picture of history to our students." 
About the Contributor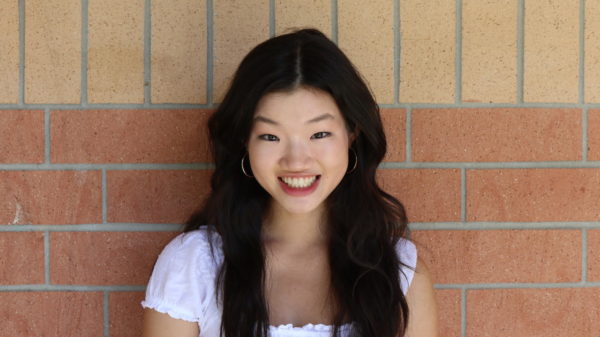 Sarah Yee, Co-Editor-in-Chief
Sarah is a senior and Co-Editor-in-Chief. This is her fourth year on the Gazette staff.