GBHS' mountain bike team rides to success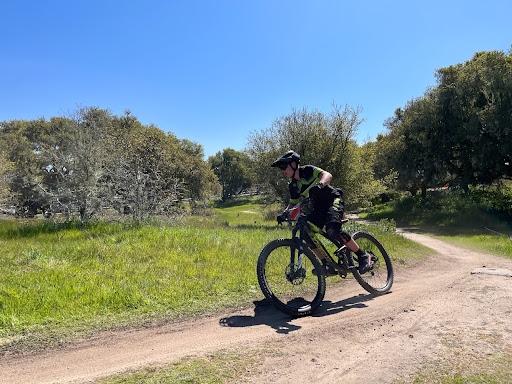 His heart races as he holds at the start line of a Nica biking tournament, his eyes on the track and his feet ready to explode on his pedals. All his fellow bikers beside him, competition or teammate, are just as filled with adrenaline as him as the countdown for their race begins. The counter reaches zero, and Niko Milner, a Granite Bay High School senior, launches forward.
   The race has begun.
    GBHS 'varsity and junior varsity mountain biking team exceeded expectations, placing third overall in the Redwood/Repack region tournament. More than 450 students attended the competition, representing 11 high schools. GB sophomores Dylan Wing and Robert Ward finished in third and second place and junior Barbara Donovan finished in fourth place. 
  "I was actually really surprised," varsity member Ward said. "Last year I got some fifth and sixth places, but this year we have more varsity members so that really helped. It was definitely a team effort."
   This is the GBHS mountain biking team's highest placement since its founding, bolstered by a team lineup of seasoned veterans. 
   "Our team did great, especially with how competitive the racing is," senior JV member Milner said. "I think everyone felt a great sense of accomplishment because everyone scored points for the team."
   The tournament took place at Fort Ord, a course known for its long, grueling trails filled with sand and difficult terrain, from unexpected hills to sharp turns. The experience is designed to exhaust the bikers, even with all their preparation towards conquering the trail.
   "Racing is very tough physically and mentally," Milner said. "It leaves you exhausted at the end and can also leave you with cuts and scrapes with crashing being a common occurrence."
   Before every tournament, every biker makes sure to guarantee their best performance with rigorous training, a proper diet, and endurance training, from hiking to spin biking.
    "We train about four days a week, with a day in the gym…with spin bikes alongside harder workouts," Ward said. "Mountain biking is…different from most sports. While we're racing, people cheer…it makes the experience a lot more fulfilling and easier."
   The competition and physical and mental trial of mountain biking invigorate the bikers. But even when the team isn't biking, they're still bonding at the tournament. 
   "The night before, we always camp together with the teams and have a bonfire and a big dinner," Wing said. "It feels like everybody's on the same team…We're all friendly with each other like there's not even a race the next day, but when the race does happen, we all get pretty serious."
   Immediately after completing the race, every member of each team goes to cheer on their teammates and fellow bikers. A quick refueling of water is all the bikers need to be able to go to encourage their teammates who are finishing soon after them.
   "Right after the race, it's amazing when we all meet up in one big spot and cheer on our teammates as loud as we can," Wing said. "We all know they feel the support, and I definitely know I feel the support when they cheer me on."
About the Contributor
Ryan Kim, Staff Writer
Ryan is a junior. This is his second year on the gazette staff.