Future Business Leaders of America enlightens students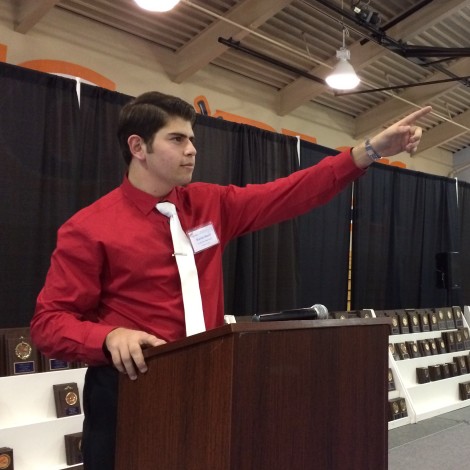 Future Business Leaders of America is a club on campus that trains students who are interested in potentially pursuing a career in business. FBLA is often overlooked and their accomplishments go unnoticed. The members attend competitions and conferences. The club trains for local, State, and National level competitions.
Sophomore Kevin Yang is a member of FBLA and said that the club helps his business and leadership skills.
"I want to put my participat(ion) in the club on my college applications and learn some business skills for my future." Yang said. "I am really interested in business and I think this will help me in my career."
Senior Sona Jeswani is also a member of FBLA and says that she enjoys the projects and competitions of the club.
"I get to learn a lot more about the business world." Jeswani said.
The club attends Section, State and National competitions. Members choose two events to compete in at sections, and to compete in at State and hopefully qualify for Nationals.
"Before competitions we usually engage in different projects and we work on individual business achievement awards." Jeswani said.
Jeswani also said that the Granite Bay chapter is currently working on the Gold Seal award, which the GBHS chapter has tried for but not received for the last 2-3 years.
"(FBLA) gives me a good exposure to the business world, before FBLA I didn't really know what business was, it gave me a background on the business world." Jeswani said.
Jeswani said she gets to learn about business language and business events that will help her in her future career.
Jeswani said she really encourages people to join FBLA and said she thinks it will help students of all kind.
"I would encourage more students to join FBLA," said Jeswani, "It is a club for people who are interested in business or not interested in business. There are different events for everyone, you don't have to be interested in business specifically."
Mitch Khan is a Freshman at Arizona State University studying at the W.P. Carey School of Business, and was a member of FBLA for 3 years at Granite Bay High school.
"I thoroughly enjoyed meeting students from all over the state at the Northern section and State competition." said Khan.
Khan said that being a member of FBLA definitely has helped him in college and out of High
School.
"FBLA has helped kickstart my knowledge of business in the vernacular, explore my interests in various fields of business, and most of all decide my major for college. Ive also been more successful in my basic business courses due to the information I learned while preparing for FBLA competitions." Khan said.
Khan said he participated in FBLA competitions twice in a school year, met with the high school chapter bimonthly, and participated in fundraisers twice an academic year.
The club plans events, prepares for competitions and discuss what needs to be done in order to participate in upcoming competitions and conferences.
"The most important thing I learned while participating in FBLA was how to conduct myself in a manner that demands respect by my peers," said Khan,"and also my superiors through my involvement in the various business conferences."